Facilities for language learning
Find out about our facilities and learning spaces available for students studying modern language and English language courses.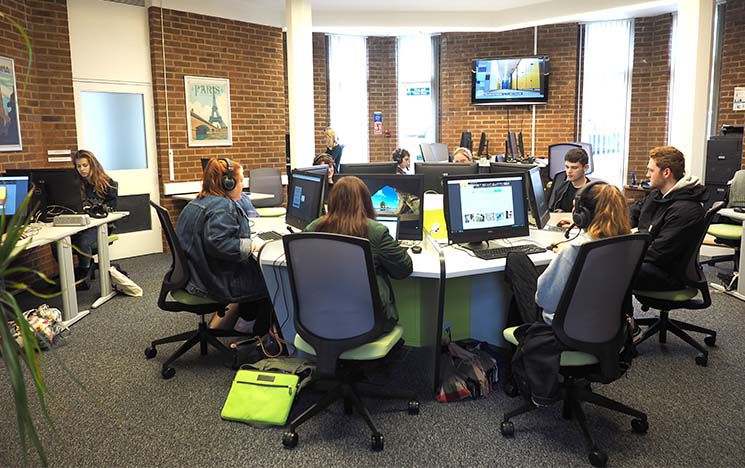 Facilities and resources
The Media, Arts and Humanities Resource Centre is an open-access area which has facilities for autonomous study. You will have access to:
study materials for many world languages
a large library of feature films and documentaries
PC workstations with access to digital audio and video
a group viewing study area
digital language laboratory for class work.
If you're looking for informal language practice, we have a Language Exchange noticeboard. We have also worked with the Students' Union to establish a regular Language Café, bringing together Sussex students who are learning foreign languages with international students who are studying English.
We are adding new stock to the main Library catalogue, so you can also search our collections online.
We are proud to be members of the Association of University Language Communities in the UK and Ireland (AULC) and the Confédération Européenne des Centres de Langues de l'Enseignement Supérieur (CercleS).
Where to find us
The Media, Arts and Humanities Resource Centre is open 9am-5pm, Monday to Friday.
It is based in the Arts A building on campus. Download our campus map to see the location of all campus buildings.
---
Online resources
If you're considering studying languages at Sussex, see the following language resources to get an idea of the support available to you.
Use our translation platform
We are using Phrase in our Translation Studies MA course free of charge. Phrase TMS is a complete translation platform that includes translation memory, integrated machine and human translation, terminology management, and both online and desktop CAT tools.
Modern languages
General language resources and toolkits
Language learning resources

News and media

The University of Sussex Media, Arts and Humanities Resource Centre receives satellite TV in several languages and takes several newspapers and magazines; the main Library has more newspapers.

Visual media

More collections of links

Tools for studying a language

Authoring

Organisations and Journals

Interesting

Old projects

Resources for teachers

Language Box is a bank of language teaching resources, which you can contribute to: store, manage and publish your teaching resources on the web. It's a repository for Open Educational Resources (OERs), enabling us to share handouts, exercises, podcasts, videos etc.
It's often useful to incorporate pictures and video into teaching material, online and offline:

Wikimedia Commons is similar
This link to Google Images has been pre-set to search only for images which free to use, share or modify (even commercially); you can do this yourself using Search Tools at the top of any image search results page.

And for videos, try searching on JISC MediaHub and EdMediaShare as well as the usual suspects (YouTube, Vimeo etc)

JISC Digital Media offers advice for the UK HE community on the use of still/moving images and sound.
Video for All is an EC-funded project bringing together current digital video ideas and innovative practices for teaching and learning languages.

Telecollaboration is a rewarding use of the Internet for language classes, 'e-pals' or 'key pals' by email, blogs or synchronous meetings.
The BBC have an area on their site dedicated to their language programmes, including lots of interactive material and transcripts, and a section for tutors.

The BBC's commercial arm BBC Active publish their packaged courses, and have a Teachers' Club where you can sign up for a genuinely useful monthly email newsletter which ranges far beyond their materials.

Languages without Limits supports language teachers in their efforts to make effective provision for learners of all abilities, including dyslexic, deaf or autistic learners, for instance.
Resources in Language Testing including reviews and a database of journal articles on the subject.
Online Books Page at the University of Pennsyvania is a good starting point for browsing the treasure trove of online literature - there's a list of links to foreign language repositories.

Organisations and Journals

See also individual language links pages for organisations, journals and mailing lists specific to a particular language - lots are listed on our page for EFL teachers.
Explore more facilities
---
You might also be interested in: