Our doctoral training centres and partnerships
You want to make breakthroughs and inspire others. We want to help you do it. That's why we're committed to helping you get the funding you need. Below are some of our largest doctoral training grants, plus links to our complete range of PhD scholarships.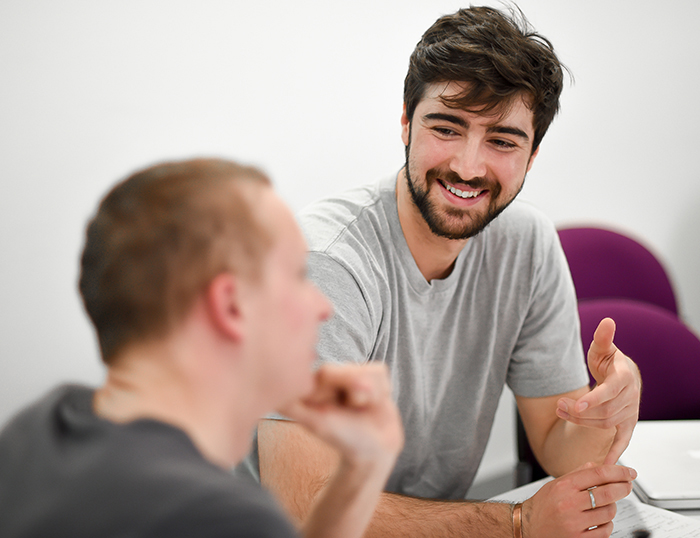 As an international student you may be eligible for funding from your country.
Search by country to find more PhD funding sources
Some of our scholarships are funded, or jointly-funded by Sussex and external funding bodies. Current international funding bodies include:
be.AI Leverhulme Doctoral Scholarships (Leverhulme Trust)
be.AI – biomimetic embodied Artificial Intelligence – is a Leverhulme Doctoral Scholarship programme. Over a period of seven years we will train 18 scholars in a unique interdisciplinary environment involving supervisors from many Schools and Departments at Sussex.
Find out more about the be.AI Leverhulme Doctoral Scholarships.
---
CHASE (funded by the Arts and Humanities Research Council)
We co-ordinate the Consortium for the Humanities and the Arts South-East England (CHASE) and host 5 to 12 scholarships each year at Sussex.
Find out more about CHASE scholarships at Sussex
---
Consejo Nacional de Ciencia y Tecnologia (CONACyT)
If you are a research student from Mexico, you may be eligible for the CONACyT scholarship.
CONACyT offers a scholarship programme to help further scientific and technological innovation in Mexico.
Find out more about CONACyT at Sussex
---
DISCnet CDT (STFC)
The Data Intensive Science Centre in the South East Physics Network – DISCnet – funds 4 year studentships in particle physics, astronomy and cosmology which have a significant data science element. The DISCnet consortium is led by Southampton with Sussex, Portsmouth, Queen Mary University of London, and Open University as partners. Students follow a four-year programme including some intensive taught courses and 6 months of industry placements.
Find out more about DISCnet scholarships at Sussex
---
Engineering and Physical Sciences Research Council Doctoral Training Partnership (EPSRC DTP)
The Sussex EPSRC Doctoral Training Partnership supports PhD students conducting research in a number of subject areas. These include: Informatics, Engineering, Chemistry, Maths and Quantum Physics.
Find out more about EPSRC scholarships at Sussex
---
SoCoBio (BBSRC) Doctoral Training Partnership
The University of Sussex is a member of the SoCoBio Doctoral Training Partnership, funded by the Biotechnology and Biosciences Research Council (BBSRC). Successful applicants in the Schools of Life Sciences, Psychology and Medicine follow a four-year research skills training programme. They will benefit from laboratory rotations in year one, a placement outside academia, taught modules in entrepreneurship and data management and from Socobio summer schools and conferences.
Find out more about SoCoBio scholarships at Sussex
---
Science and Technology Facilities Council (STFC) studentships
The Science and Technology Facilities Council provides funding for doctoral scholarships through a number of grants to Sussex.
Grants are for PhD students in the School of Mathematical and Physical Sciences and, in particular, research programmes in theoretical and experimental particle physics and astronomy and cosmology.
Find out more about STFC scholarships at Sussex
---
UKRI Food Systems Centre for Doctoral Training (PSFF)
The 'Partnership for Sustainable Food Future – Centre for Doctoral Training (PSFF)' offers 4 year scholarships focussing on novel ideas to transform the UK food systems. Students will have the opportunity to develop interdisciplinary projects across the social and natural sciences, reshaping how we make, transport and consume our food.
---
Other funding opportunities
You can also check the Alternative Guide to Postgraduate Funding Online for other funding opportunities.
The guide features alternative sources of funding, comprehensive guidance written by successful applicants, and numerous tools to help you prepare a winning grant application.
The guide is password protected and you can use the following authentication PIN to register for the guide: 6789.
---
You might also be interested in: