Study abroad fees and costs
You pay different tuition fees to Sussex during your year abroad, and you may be eligible for grants and extra funding to help you cover some of the costs of studying abroad as a Sussex student.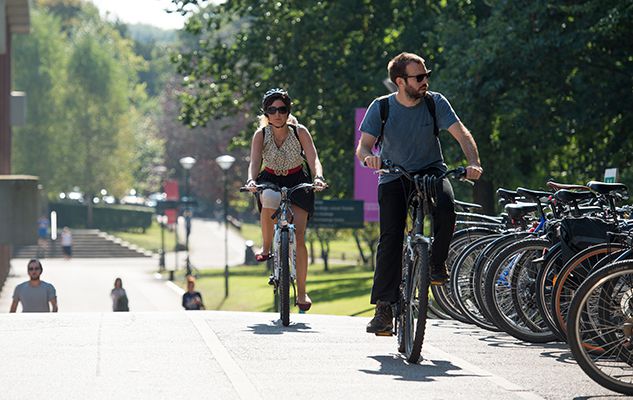 How much you pay to study abroad
How much you pay in fees and costs during your year abroad depends on your study abroad programme.
If you're a student starting in 2022/23 or 2023/24 and you study at a partner university abroad, you won't pay any tuition fees to your host university. Instead, you will pay 15% of your tuition fees to Sussex during your year abroad. Please note that your host university may charge you other non-tuition fee costs. Full details of this will be on their webpages for exchange students.
If you study abroad for a semester rather than a full academic year, you pay your normal tuition fees to Sussex but you do not pay tuition fees to the host university. Again, you may still be charged other non-tuition fees.
If you study at a summer school abroad at one of our international partner universities, you may be required to pay the tuition fees and associated costs for the summer school. Some scholarships may be available towards participation.
The above rates are correct at time of writing. However, these tuition fees are subject to Government policy changes.
Costs
If you study abroad, you need to pay for:
flights
travel cover
vaccinations (if necessary)
visa (if necessary)
medical tests (needed by some countries to obtain a visa)
rent
meal plan, if in the USA
other non-tuition costs, such as campus fees.
If you want to study abroad in North America, Australia, or Asia, you will likely be required to present a financial guarantee to get a visa. You should also budget for an extra £3,000.
This figure for the financial guarantee is set by the national government of the host country to ensure you can meet expenses without resorting to unlawful employment or public funds. Amounts required are available on the host university's web pages.
Students will need to pay for insurance at host universities in Australia, Canada and the US. These costs can be particularly high at universities in North America. Please note you will be required to take out this insurance in addition to the insurance you take out before you leave the UK.
Grants and funding
If you get a student loan, you will still get your loan payments during your year abroad. The Student Loans Company also administers a 'travel grant', which is means-tested. You can apply for this additional financial support if your household income is under an agreed threshold.
Insurance cover
For your studies abroad, you will need to take out travel insurance cover against emergency medical expenses and accidents.
You have the option of taking out a policy brokered through our insurance team or you can carry out your own research and take out a different policy - as long as it meets the same minimum requirements.
You will be required to pay a travel cover contribution before you go abroad. The current insurance cost for the study abroad period (usually 10 months), changes from year to year, but currently ranges from:
£100 to £150 for European destinations
£140 to £210 for destinations outside Europe, such as Asia and South America
£155 to £230 for the US and Canada
If you will be studying at a host university in Australia, Canada or the USA, you will be required to take out insurance with your host university in addition to the UK insurance. This is a requirement of the host university and is a pre-requisite to studying with them.
The current insurance cost changes from year to year, but currently ranges from:
£300 to £400 for Australia
£400 to £550 for Canada
£760 to £2,980 for the USA
Study abroad budgeting tips
Before you go abroad, talk to our Global Mobility team, and attend the study abroad sessions that are offered during the autumn and spring semesters.
These sessions often have talks from students who have been abroad, and are a great way to find out what it's like to study in another country.
You should also check:
you have applied for any grants and funding you are eligible for
whether there are scholarships or schemes offered by external organisations for study abroad
the cost of living in the host country
the cost of getting to and from your home country and the host country (such as flights costs)
if you need a visa, health insurance or vaccinations
if there is any student accommodation you can apply for
the cost and process of renting via the private rental market (if required)
money advice for the country you'll study in (Foreign Office travel advice pages)
if your bank charges you to withdraw money abroad or pay for items. Find out more about travel money.
---
You might also be interested in: