Study abroad fees and costs
You pay different tuition fees to Sussex during your year abroad, and you may be eligible for grants and extra funding to help you cover the costs of studying abroad as a Sussex student.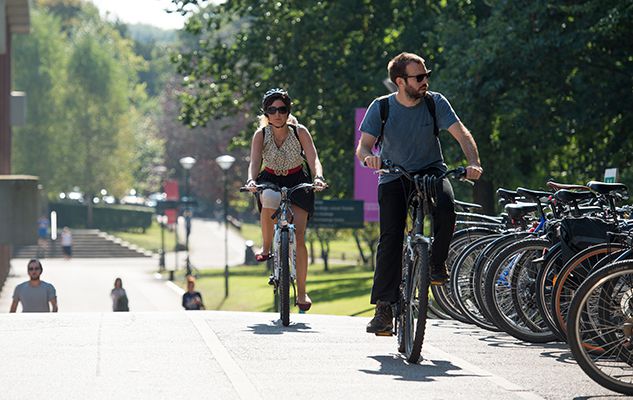 How much you pay to study abroad
How much you pay in fees and costs during your year abroad depends on where you go and your study abroad programme.
If you're a home/European Union (EU) student starting in 2019/20 or 2020/21 and you:
study abroad at a university, you won't pay any fees to your host university. Instead, you pay 15% of your tuition fees to Sussex during your year abroad
do the British Council Language Assistant Scheme, you get a basic salary and you pay 20% of your tuition fees to Sussex during your year abroad.
If you study abroad for a term rather than a full academic year, you pay your normal tuition fees to Sussex.
If you study at a summer school abroad at one of our international partner universities, you may be required to pay the fees and associated costs for the summer school. Some scholarships may be available towards participation.
These tuition fees are subject to Government policy changes.
Costs
If you study abroad, you need to pay for:
flights
insurance
visa (if necessary)
rent
other costs.
If you want to study abroad in North America, Australia, or Asia, you are required to present a financial guarantee to get a visa, as well as a budget for an extra £3,000.
These figures are set by the national government of the host country to ensure you can meet expenses without resorting to unlawful employment or public funds.
Students will need to pay insurance at host universities in Australia, Canada and the US. These costs can be high at US universities. Please note you will be required to take out this insurance in addition to the insurance you take out before you leave the UK.
Grants and funding
If you get a:
student loan, you will still get your student loan payments during your year abroad
a Sussex undergraduate scholarship, you may get extra money during your year abroad
funding through the Erasmus scheme if you study at a European partner university.
You may also be able to apply for a travel grant from Student Finance England.
Insurance cover
You will need to take out insurance against emergency medical expenses and accidents for your studies abroad.
You have the option of taking out a policy brokered through our insurance team or you can carry out your own research and take out a different policy - as long as it meets the same minimum requirements.
You will be required to pay an insurance premium before you go abroad. If you will be studying at a host university in Australia, Canada or the US, you will be required to take out insurance at your host university in addition to the UK insurance.
The current insurance cost for the study abroad period (usually 10 months), changes from year to year, but currently ranges from:
£130 to £200 for European destinations
£185 to £320 for destinations outside Europe, such as Asia and South America.
£400 to £1,500 for the US, depending on where you study.
Study abroad budgeting tips
Before you go abroad, talk to our Study Abroad team, and attend their study abroad sessions.
These sessions often have talks from students who have been abroad, and are a great way to find out what it's like to study in another country.
You should also check:
you have applied for any grants and funding you are eligible for
whether there are scholarships or schemes offered by external organisations for study abroad
if you need a visa, health insurance or vaccinations
if there is any student accommodation you can apply for
money advice for the country you'll study in (Foreign Office travel advice pages)
if your bank charges you to withdraw money abroad or pay for items. Find out more about travel money.
---
You might also be interested in: