How to become a solicitor
Find out how the route to becoming a solicitor in England and Wales is changing, and how our law degrees have been designed to prepare you for your career.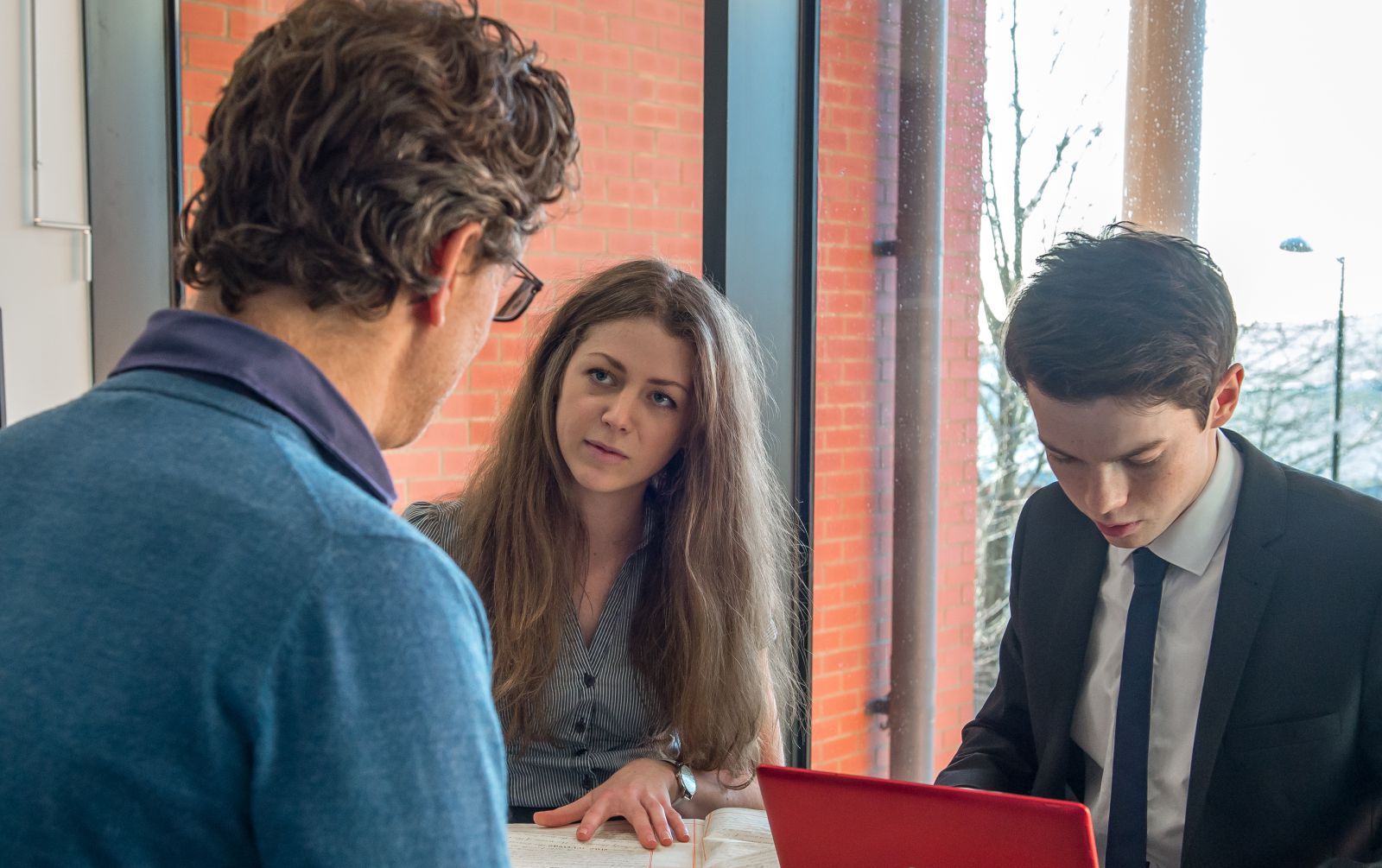 Information is correct as of February 2021. Before deciding whether to pursue a career, you're advised to contact your careers service for the most up-to-date guidance.
How do you become a solicitor?
Solicitors are lawyers who are qualified to give legal advice and are generally office-based rather than representing clients in court like barristers. They may work with private or commercial clients depending on the size of their firm. Although they usually specialise in one area of law, a solicitor's training is more broad than that of a legal executive. With changes being made to how you qualify as a solicitor, here's everything you need to know - including how a Sussex law degree can give you all the preparation you need.
Qualifications required
Changes are being made to how solicitors qualify. The introduction of the Solicitors' Qualifying Exam (SQE) in September 2021 means law conversion courses, like the Graduate Diploma in Law (GDL), and law degrees in general are no longer a requirement to qualify as a solicitor. From 2021 onwards, anyone aspiring to become a solicitor in England and Wales will need to take the SQE. You can learn more about the new requirements from the Solicitors Regulation Authority (SRA).
Although no longer formally required, law degrees still offer one of the best routes into a career as a solicitor - including the development of practical skills like arguing and persuasion, and the opportunity for real-world legal experience.
How Sussex can help you become a solicitor
At Sussex we offer a range of undergraduate law degrees that will give you an excellent understanding of English law, as well as an opportunity to explore international, European and Canadian law. Over the course of three years you'll be able to gain valuable experience through our Sussex Law Clinics, and can even train to offer legal advice to the public, setting you up for a career in law.
Even if you already have an undergraduate degree in another subject, our newly launched MA in Law will not only provide you with a solid foundation of legal knowledge, but also provide a solid grounding for future SQE preparation. This MA additionally covers all the areas required by the Bar Standard Board for anyone wanting to become a barrister.
Our partnership with the global legal education provider BARBRI also means that our Sussex students (as well as our alumni) will receive a discount on the prep fees for the first stage of the SQE assessment (SQE1).
If you haven't studied a degree yet, and you're considering one, you may want to browse our related subject areas at Sussex (you should check your course is accredited by the correct body):
How to get experience as a solicitor
It is important to get as much work experience as possible if you want to become a solicitor. Here are some of the ways you can get experience whilst studying a law degree with Sussex:
give legal advice assistance to the public through our Sussex Law Clinics
take part in national and international mooting competitions, sponsored by leading law firms
undertake a placement at a solicitor's, with advice and information from our dedicated careers team.
join the Student Law Society.
You could also try:
getting voluntary work in a legal setting
sitting in the public gallery at criminal court hearings so you can witness proceedings
getting a part-time job at a solicitors or law firm
working in a court in roles such as a court usher.
How to get a law degree
To get on to a law degree you usually need three A-levels and a range of GCSEs. See what qualifications you need to study Law at Sussex.
Your subjects don't have to be law-related but it might be helpful to take courses with strong research and communication elements, such as law, history, geography, politics, the sciences and languages.
Taking these kind of subjects may also help you when writing about your decision to study a law degree in your personal statement.
See our guide to writing a UCAS personal statement and writing a Masters personal statement.
Skills required
You will need to be:
analytical
accurate, logical and methodical
a good problem solver
confident
meet deadlines and work well under pressure
a good communicator.
Careers website Prospects has good advice about becoming a lawyer and a job profile of a solicitor.
Earning potential for a solicitor
£25kstarting salary for qualified solicitors in a regional firm or smaller commercial practice (but this depends on your employer).

£58kstarting salary in larger commercial firms (but this depends on your employer).

37hour working week is what you'll generally be contracted to, although you can expect to work longer hours during busier periods.

6 years is how long it can take to qualify as a solicitor.
salary based on information
from careers website Prospects
.
Other career paths in law
See some of the other legal roles/careers you can go into in the UK:
arbitrator
barrister
chartered legal executive
costs lawyer
detective
paralegal.
How to become a barrister in the UK

Barristers are lawyers who work in courts of law representing clients. They work on criminal cases in magistrates or crown courts, civil cases, employment tribunals or other specialist areas.

Qualifications

You can:

study an accredited undergraduate law degree and pass with at least an upper second-class (2.1) or above
take the Bar Professional Training Course (BPTC) and a pupillage. From September 2020 the BPTC will be replaced with a series of vocational courses (some undergraduate law degrees will already include the vocational component).

You will then be able to apply for a tenancy as a self-employed barrister in chambers or join a practice or agency such as the Crown Prosecution Service.

How long does it take to become a barrister?

It usually takes around five years to qualify as a barrister.

Learn more about how to become a barrister.

How do you become a magistrate

Magistrates sit and hear criminal cases in a magistrates court. They hear from a defence lawyer and a prosecution lawyer and then, based on the defendant's plea, make a decision on sentencing or send the case up to crown court.

Magistrates work on a voluntary basis and do not get paid for their time. Some people balance their magistrates duties with a full-time job. By law, employers must allow you to take time off for magistrate duties.

Qualifications

There are no formal qualifications to become a magistrate. But you should:

be aged between 18 and 65
be able to volunteer for five years
not have a criminal record.

Some professions are not allowed to be a magistrate because of potential conflicts of interest, such as the police.

You will need to be organised, a good communicator, logical and have the ability to understand complicated documents.

If you think you meet this criteria, you can apply to become a magistrate through the UK government's website. If you're accepted you will be given around 21 hours of training.

Find out more about becoming a magistrate on the UK government's website.

How do you become a judge

A judge officiates at a court hearing. The judge will hear from defence and prosecution lawyers, a number of witnesses, and sometimes police or medical staff over the course of a trial.

They will ensure the trial runs smoothly and fairly and may address the jury from time to time, they also sum up the case at the end of a trial. If the jury returns a guilty verdict, it is the judge who decides on a defendant's sentence.

Qualifications

You may need to have studied an accredited undergraduate law degree and either a Legal Practice Course or Bar Professional Training Course. From September 2020 the Bar Professional Training Course will be replaced with a series of vocational courses.

You may then need to work as a qualified solicitor or barrister for around five years before you can apply.

During this time, to prove you are committed to becoming a judge you could:

volunteer
develop a specialism
join a professional legal body
write articles and get them published in law journals.

You may benefit from work shadowing a judge. If you're a qualified lawyer, the Judiciary Office runs a work shadowing scheme where you can spend three days observing the main duties of a judge.

Find out more about becoming a judge from the Judiciary Office.
Studying at Sussex
If you choose to study your degree at Sussex, you'll benefit from:
careers support for up to three years after you graduate
the chance to join our alumni network Sussex Connect
mentoring schemes so you get real-world advice, support and experience while you study.