Showcase of students work
See examples of our students work in Media Production and Filmmaking.
36-hour film challenge
Seven teams comprising around 80 students took part in the 36-hour Film Challenge as part of Cinecity. Students from across the whole suite of practice courses took part alongside volunteers from other courses including film studies, music, visiting and exchange, media and communications, and drama.

Each group received a prop, a location and a mystery parameter. These included many familiar Brighton locations alongside props such as a spanner, a teapot, a pair of candlesticks and a clock. The students also had to get '36' into their film. The top three films as judged by Professor Sasha Roseneil (Vice Chancellor), Tim Brown (Cinecity) and Professor Kate O'Riordan (Dean of Media, Arts and Humanities) were created by:
Big Top Bando - Abby Hunter (Actor), Lillian Godfrey (Actor), Asa Boufrahi-Wade (Director), Adam Cennell (Writer), Lewis Alford (Producer), Sofia Constable Maxwell (Director of Photography), Rebecca Chitolie (Editor), Ed Thompson (Sound Mixer), Oscar Bussell (Sound Editor and Boom Operator), James Ely (Composer), Production Assistant (Taylor Lodge), Chenying Cannell (Unit Stills Photgrapher). With special thanks to Mike Berry
Red Panda - Alice Langston (Actor), Jasper Pagan (Actor), Reuben Johnston (Director), Micah Sakar (Writer), Lewis Kerr (Producer), Joe Shale (Director of Photography), Brydie Edwards (Sound Recordist), Jasper Pagan, Isla Thorpe (Editors). With special thanks to Matthew Knapp
Momentum - Cast: Giulia Di Bella (Actor), Madeline Tavaré (Actor), Daniel Fararooy (Actor), Ömer Dernik (Director), Daniel Farorooy (Writer), Stavros Apostolopoulos (Director of Photography), Kitty Read (Producer), Melis Samdanci (Editor), Ethan Truss (Sound)
---
Animation
Title: Darren
By: Emily Downer
Synopsis: Darren (excerpt) by Emily Downer is a short, 2D, digital frame-by-frame animated film following a man experiencing homelessness in a cashless society. It explores the limitations and effects a future without cash would bring to those who are unbanked and without a permanent address. The story begins with Darren struggling to get by, using a QR code donation system linked to his bank account. When his bank account is blocked due to him failing to update his address, he has nowhere to go, until he meets Stevie, who is part of a small resistance using the old physical currency systems to trade resources and essentials.
Please note that due to COVID-related issues, this project is not fully realised.
---
Documentary video
Title: Mati: Trapped in Fire
By: Semeli Loukeri
Synopsis: 'Mati: trapped in fire is a short documentary created by Semeli Loukeri, which investigates a wildfire in Mati, Greece. Although wildfires are common in Greece, especially during the summer season, the destruction the fire caused in Mati was unusual. Extreme weather conditions and unexpected winds meant that the residents and authorities were unprepared for the scale of the coming disaster. This is an account of that fateful day in July, 2018.
---
Interactive Design
Title: Intensify Game
By: Lola Awoderu
Synopsis: 'Intensify' is a web-based game that is designed to be used for people to engage in conversation with those who might not look, speak or act as we do. Opinions are personal and so is perspective, the game encourages all players to be open minded and understanding of how we view other people's perspectives. The game has been developed over the course of the academic year, with layouts and designs continually being refined to reflect the happenings within society e.g. Black Lives Matter and race, the environment and gender equality. The impact of Covid-19 makes it more important than ever to communicate and strengthen connections with people around us In order to challenge loneliness, through encouraging depth within conversations and to learn from the experiences of others. "Technology has actually given us new tools to study love. It's helped us do very rigorous research, and get consistent results across studies which are replicable, on topics which re-ally matter, both practically and theoretically" (Varghese, 2019).
---
Photography
Title: Son Of Man
By: Zi Lu (Perilu) Huang
Synopsis: This project illustrates an alternative representation of scenes from everyday life through a series of abstract manipulations of photographs. By manipulating such documentary photographs, the project presents an alternative virtual world apart from modern society. The photographs' composition and colour also go some way to disguise the feelings of the first consciousness, removing some of the subconscious stereotypes of inherited cultures and natural landscapes. The surreal nature of this project is also intended to provoke fantasies of the future and focus on the present state of being. In this project, elements emphasise the recreation of natural and human landscapes while depicting the psychological state of 'awe' and 'fear' that mystery brings to people. At the same time, the project is partly inspired by the society affected by the pandemic, and the group of photographs aims to provoke a subconscious reorganisation of memories of the present and fantasies of unknown space and time. The creation of which will process the real scenes recorded in the camera in an absurd style and with unreal colours, thus creating altered information and bringing about an invented memory. See the full gallery.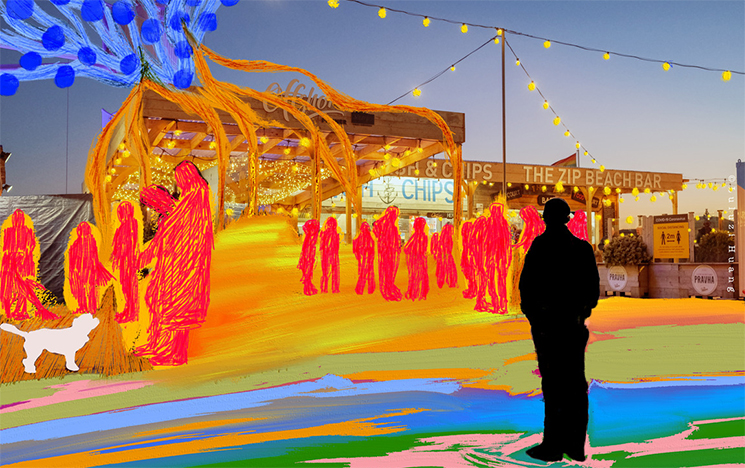 ---
Screen drama
Flutterby
'Flutterby', is a short film that follows a young man struggling to find his place in the world. He has never and will never act upon his urges because he knows them to be morally wrong; he is a paedophile. As he tries to rid himself of his curse and integrate himself into society, he battles with the hatred of his own existence, loneliness and isolation.This film begs the question: Is this character a bad person? You'll have to decide for yourself.
Missing moments
A queer romantic comedy about a career driven lawyer, Michelle, who moves back in with her old friend Chris, a painter and dreamer. We follow them as they rekindle their old friendship which soon turns to romance and we follow along with all the complications that go with it. When Michelle starts looking for a new job out of town, tensions rise. and Will Chris step out of her comfort zone or will she simply let Michelle go?
---
Sound
Right to Remain Silent
Made in collaboration with the University of Sussex, starring Hana Stewart and Carl Wharton.Previous examples of audio drama have often focused on dialogue as their primary device for conveying information, while sound effects act as supplementary additions to the greater story. In Right to Remain Silent, sound effects become the dominant narrative tool, with the objective of exploring the boundaries of storytelling through sound.Following an unnamed protagonist as her morals are tested and pushed to their limits, we learn facing up to the consequences of her actions are inevitable. We all have a right to remain silent, but what will she do when pushed to make a life-changing decision?
---
36 hour film-making challenge
In November 2019, as part of CineCity film festival, Filmmaking students took part in a 36-hour filmmaking challenge. The event started with a draw in which groups received a prop, a location and a mystery parameter. These included many familiar Brighton locations alongside props such as a candle, a pitch fork, wind chimes, and a bunch of grapes. They also had to include 'cinecity' in the film. Students then worked in teams to produce 5-minute films that were screened at Attenborough Centre for the Creative Arts (ACCA) in front of a public audience and a panel of judges.
The winners were:
Best Film - Gorillas in the Mist for their film 'Despondent'.
Best Effort - The Fantastic Five for 'In the Moment'.
An honourable mention went to Just for Fun for 'Mediator'.
Despondent
In the Moment
Mediator
You can watch the other films on our Vimeo page.
---
Showcase 2019
A selection of images from the BA Media Practice Showcase at the Attenborough Centre for the Creative Arts in May 2019.
---
---
---
You might also be interested in: