News
Interested in learning more about sustainability research with impact?
Posted on behalf of: Sussex Sustainability Research Programme; Summer of Research
Last updated: Monday, 26 June 2023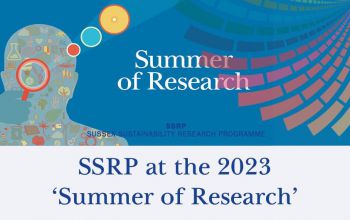 Join the Sussex Sustainability Research Programme (SSRP) at the university's 2023 'Summer of Research' festival for a series of inspiring and interactive events about people and planet.
Between 5 June and 14 July, the new Summer of Research festival celebrates research excellence, knowledge exchange and impact here at Sussex and features insights and observations from sustainability experts and the SSRP community. Come along and explore the latest findings and trends in sustainability research and share your own research and ideas on how we can make a change.
The sessions organised by the SSRP community cover a wide range of topics and formats celebrating the impactful work undertaken by sustainability researchers in tackling real-world problems:
Read more about the 'Summer of Research 2023' and sign up to all sustainability-related and research events here.
---
For those intersted in joining the SSRP community, the programme has just re-launching their annual small grants funding opportunity for interdisciplinary projects to help Sussex researchers tackle global and local sustainability challenges in local, national and international locations. Projects up to £20k will be funded and SSRP particularly welcomes applications from researchers across the University who have not previously led or engaged in earlier SSRP funding rounds. Researchers can apply for the next SSRP funding round by Wednesday 27 September.