News
Rights of Nature triumphs once again. Ecuadorian court suspends $3bn Llurimagua project to protect biodiverse land
Posted on behalf of: Lauren Ellis
Last updated: Wednesday, 12 April 2023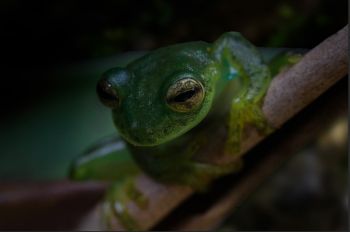 The Rights of Nature case in Llurimagua, Ecuador has been ongoing since 2014, but the court has now revoked the Environmental License initially granted to the mining company for the US$3bn copper-molybdenum project. As a result, all mining activity must be suspended.
The decision was made on two main areas. Firstly, the lack of consultation with communities and secondly the impact to species extinction.
Mining in the area will remain suspended until consultation guidelines are complied with, and a new impact study and environmental assessment plan for the advanced exploration phase has been carried out. This will need to ensure that communities are involved and that future projects cause no risk to species extinction.
Mika Peck, Professor of Conservation Ecology at the University of Sussex provided evidence in the first court hearing of this case back in September 2022. Prof Peck and his ecoforensic* team have been building the capacity of the local community to collect ecological evidence highlighting the risk to species extinction. The evidence provided helped to underpin the latest decision to revoke the Environmental License for Llurimagua mining project.
Prof Peck explains:
"This is a big precedent and a huge achievement for all involved. The Llurimagua case was a community owned protected forest, so not government registered, meaning this case was based on the value of nature. From now on, the efforts to ensure future assessments do not breach rights will take a significant amount of time, effort and money. We hope this will deter mining companies seeking to undertake projects in biodiverse rich areas, where activity threatens the ecosystem.
"This case was in Ecuador, but we hope this sets a precedent for the world."
Prof Peck's team has an ongoing project with the local community in the Intag Valley to empower them to protect nature and collect vital ecological information to help guard ecosystems and monitor the environment.
Prof Peck was also involved in Ecuador's first Right of Nature case, which saw the court rule in favour of the threatened Los Cedros Protected Forest, one of the most biologically diverse habitats in the world. Prof Peck first investigated the biological importance of the reserve in 1995.
Llurimagua is the second positive court hearing in Ecuador. The decision is a historic step in the defence of the Rights of Nature in Ecuador and around the world. It is a demonstration that justice can be fair and equal and that the Rights of Nature can be respected and fulfilled.
*Funded by the Sussex Sustainability Research Programme and the Higher Education Impact Fund (HEIF), Ecoforensic brings together Rights of Nature legal practitioners, Non-Governmental Organisations and academics to create new ecological knowledge exchange, empowering communities to protect nature. This short film provides insight into the emerging Rights of Nature movement, its impact and future direction