News
SSRP Week exhibition highlights importance of arts and media for sustainability
Posted on behalf of: Sussex Sustainability Research Programme
Last updated: Monday, 12 December 2022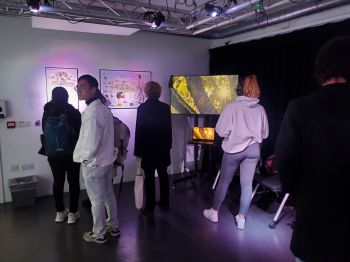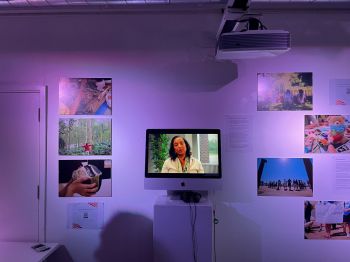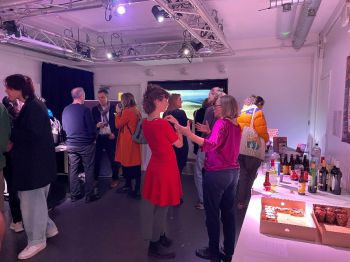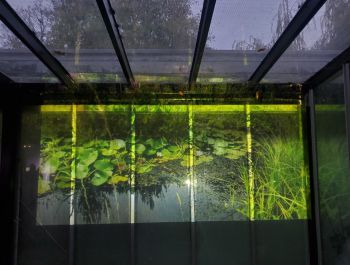 Coinciding with COP 27, the Sussex Sustainability Research Programme (SSRP) hosted a series of events last month to launch its second funding phase and highlight projects, activities and research with impact undertaken by the SSRP community and its partners throughout Phase I. SSRP Week featured a range of topics aligned with the programme's new five core research themes and was hosted by researchers from across SSRP's schools.
Now with the start of Phase II, SSRP is delighted to officially welcome Media, Arts and Humanities (MAH) as a partner school to the programme and is looking forward to working more closely with the Sussex Humanities Lab (SHL) on advancing arts-based ecology and the use of media to engage with and educate on pressing sustainability issues.
An evening event during SSRP Week curated and hosted by SHL co-Director and SSRP Research Fellow, Dr Alice Eldridge, illustrated the value of arts and media for sustainability and kickstarted a closer collaboration between SSRP, MAH and SHL.
SSRP's new Programme Manager Katie Hiscock highlights the value of this closer partnership pointing out that "innovative and creative methods of engagement, storytelling and evidencing provide opportunities to cross boundaries and inspire future leaders dedicated to creating a positive impact towards a more sustainable future. More than ever these interdisciplinary approaches create and deliver unique opportunities to raise awareness and reimagine the complex challenges societies face across the world. This interactive event showcased the talent, dedication and inspiring nature of MAH's research, and we are delighted to work with the School and teams to continue to inform positive and meaningful progress towards the SDGs."
The open lab event provided a great opportunity for staff and students to network and enjoy ecologically-engaged arts and media in an interactive way. Held at the well-equipped Sussex Humanities Lab, this immersive exhibition showcased existing projects and activities in the Humanities from across SSRP, MAH, the local area and beyond.
Inside the lab, staff and students were greeted by a brilliant mix of sensory projects and exhibits. From informative and inspiring short films; beautiful imagery by Ecuadorian-based artist Sozapato around the Rights of Nature; to an interactive climate education game; soundbites from the Ecuadarian Amazon rainforest; and pictures from local school projects on educating for uncertain sustainability futures, visitors had the chance to admire artwork, try out various forms of media and meet old and new faces.
Another highlight of the evening included an installation by Alice Eldridge in the SHL garden which featured soundscapes from a freshwater pond, reminding us that beneath a pond's seemingly serene surface lies a complex acquatic sound-world. Some plants oxygenate the water, creating hypnotic, repetitive bubbling textures as they respire - photosynthesis, it turns out, sounds just like analogue synthesis.
Recalling the event, Sussex Humanities Lab co-Director Alice Eldridge highlights: "it was really wonderful to bring together works from colleagues across MAH, Education and Social Work and Life Sciences that inspired a rethinking of human-environment relations through innovative and vivid media arts. Most inspiring was feeling the response from music, media and conservation students; they sent a clear signal of interest in and appetite for interdisciplinary creative practice that addresses core sustainability challenges. I very much look forward to developing future opportunities in this area with SSRP"
If you're a Sussex or IDS researcher who is passionate about using creative media and arts to convey sustainability messages and would like to get involved with SSRP, you can apply to SSRP's latest small grants funding opportunity, (closing 16 January 2023) or get in touch at ssrp@sussex.ac.uk.


Interested in finding out more about media and arts for sustainability? Check out the SHL webpages and the following SSRP-funded projects:
Missed out on SSRP Week? Why not browse through the recordings, summaries and slides of all SSRP Week sessions under each of our themes and click through our SSRP Week Gallery?