People
Based in the School of Life Sciences, our drug discovery team us made up of medicinal chemists, cell and molecular biologists, protein structural biologists, electrophysiologists and assay development scientists.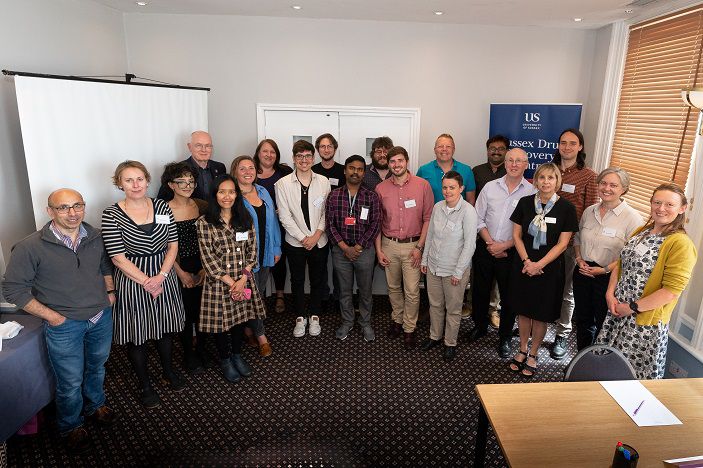 Meet the team
SDDC Director
Head of Medicinal Chemistry
Structural Biology Advisor
Trudy Myers
SDDC Coordinator
Scientific Advisory Board
Dame Margaret Brimble
Director of Medicinal Chemistry, University of Auckland
Prof Adrian Gill
Senior Vice President, Discovery Chemistry, REVOLUTION Medicines
Prof Martin Gosling
Honorary Professor of Drug Discovery (Biochemistry)
Dr Carol Austin
Senior Director Drug Discovery Project Management at Eurofins Discovery
Visiting scientists and associates
Prof Roger Corder
Visiting Honorary Professor
Dr Diane Lee
Research Fellow in Biochemistry
Emeritus Professor (Biochemistry)
Dr Daniel Guest
Visiting Scientist
Medicinal chemistry
Meet our medicinal chemistry team.
Chemistry co-leads
Claire Adcock
Research Fellow (Biochemistry)
Andrew McGown
Research Fellow (Chemistry)
Medicinal chemists
Dr Mukesh Kumar
Research Fellow in Medicinal Chemistry
Dr Damien Crepin
Research Fellow in Medicinal Chemistry
Biology
Meet the Biology team.
Electrophysiologist, Biology Lead
Electrophysiologist
Dr Kay Osborn
Research Fellow in Cell Biology
Dr Roy Fox
Research Fellow in Epithelial Biology
Helen Webb
Research Fellow in Biochemistry
Dr Mohan Rajasekaran
Research Fellow in Protein and Structural Biology
Dr Sarah Connery
Research Fellow in Protein and Structural Biology
Dr Jessica Booth
Research Fellow in Assay Development & Screening
PhD Students
Asma Kabiri
Asma is working towards the design and synthesis of drug-like molecules for LMTK3 for her PhD (iCASE-GSK). She obtained an MChem (1st Class Hons) from the University of Keele in 2019.
James Lai-Morrice
Prior to starting his PhD at the Centre James had been working as a Reserach Associate in Chemistry.