Visiting Fellows
The Institute hosts a number of prestigious named fellowships, and a wider community of visiting scholars to the School. All of these are welcomed as members of the Institute.
The Stuart Hall Fellowship
The Stuart Hall Fellowship is hosted by the School of Media, Arts and Humanities and is open to practitioners and academics as well as artists in residence in all areas reflecting the varied interests of the Foundation, inter alia cultural studies, film and visual arts. The Stuart Hall Foundation is a charity, established in 2015, committed to public education, addressing urgent questions of race and inequality in culture and society through talks and events, and by building a network of Stuart Hall Foundation scholars, fellows and artists in residence. Past Fellows have included multi-media artist, activist and curator Susuana Amoah, photographer Ingrid Pollard and investigative journalist Rebecca Omonira-Oyekanmi.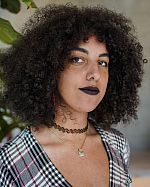 We are delighted to announce that the 2023 University of Sussex Stuart Hall Fellow is multi-disciplinary creative and activist Erin James.
The University also supports The Stuart Hall MA Scholarship. This is granted to one student in the School of Media, Arts and Humanities each year for a period of three years. Past recipients include Luiza Paiva, Marie Hasselberg and Andrew O'Connor.



Visiting and Honorary Fellowships and Research Associates
The Media, Arts and Humanities Research Institute welcomes visiting academics, colleagues and partners who enhance our research culture and participate in its collaborative intellectual environment. There are two main schemes offered: Research Fellowships (Visiting or Honorary) and Research Associates. In addition, the Weidenfeld Institute of Jewish Studies runs two prestigious fellowship schemes for scholars of German-Jewish history and Holocaust Studies: The Weidenfeld - Tel Aviv Visiting Exchange Programme and the Isaacshon and André Families' Visiting Fellowship.