Sofia Tirini
MA student Sofia Tirini talks about her experience of studying a Masters in Corruption and Governance and how it has helped her to develop new skills that she hopes will help her build a fairer world.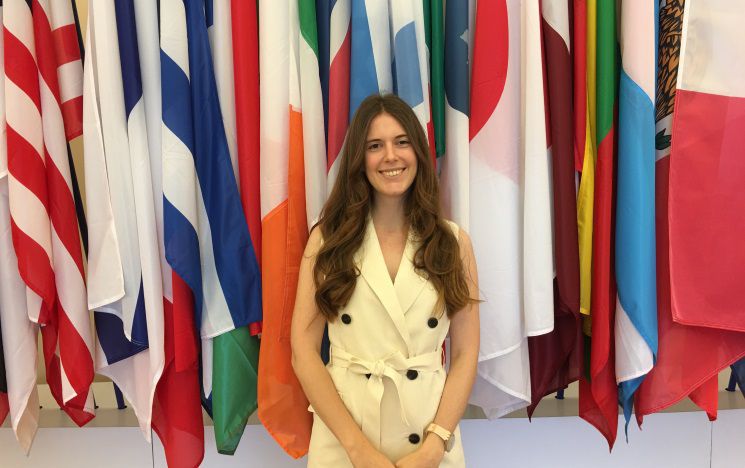 Why did you choose your course?
Whilst I was living in Argentina and working as a lawyer in the private sector, I started to get involved in some anti-corruption projects. The "corruption issue" was not new for me since the whole Latin America region suffers the consequences of this huge problem. After a while I realised I could actually do something to improve the situation in my country and the region which is why I started to read more about the topic.
What made you apply to Sussex?
I did some research to find postgraduate courses that could help me improve my professional skills and knowledge, and I was a bit surprised when I realised that there were very few options. Indeed, Sussex was almost the only University in the world with such a complete and comprehensive Masters course. I read some of Liz David-Barrett and Dan Hough's articles and publications from the Centre for the Study of Corruption and I was very excited to see the work they have done. Moreover, I read more about the University in general, which is ranked top for Development Studies.
What has been your experience of the University so far?
I consider myself a practitioner and activist, and someone who prefers actions rather than words. What I valued most about my experience at Sussex is that my professors challenged me constantly to develop my critical analysis skills to a higher level. After studying law for many years, I found at Sussex a new way of learning by applying my knowledge to real anti-corruption problems.
During the course, I had the opportunity to do an internship for 3 months at IBLF Global, a think-tank based in London where I was involved in many high-level international projects.
How has your masters at Sussex helped you develop?
I am now working in the Anti-Corruption division of the OECD in Paris. I am sure that without my experience from Sussex and the support from Liz David Barrett, I would never have been successful in securing this internship in such a competitive environment, with applicants from all over the world.
I also think I grew internally, as a person, thanks to studying and living in such a multicultural environment. I came from a city quite closed in terms of diversity and studying at Sussex and living in Brighton helped me to learn about things about which I was completely unaware. I've met people from different cultures, religions, and political opinions; I've made many changes in my life, from my diet to my investment decisions and I am more involved in addressing sustainability issues as a priority in my life.
What are your future plans?
In terms of future plans, I've learnt that the more you investigate and the more curious you are, the more likely you are to open new doors for yourself. The best part is that I am not afraid of new challenges or getting out of my comfort zone now that I have been through this experience at Sussex. I will probably work in an organisation (maybe OECD) where my work can have a real impact on people lives and help build a fairer and equal world – by fighting corruption among other things.
You might also be interested in: