About

Welcome to the Centre for Modernist Studies
The Centre for Modernist Studies is a research network. It supports conversations, conferences, talks, readings, exhibitions and other activities relating to the diverse practices and movements that have been associated with the term 'modernism'. Our understanding of modernism (or 'modernisms') is capacious, and we include within our interest the histories and legacies of Aestheticism, Decadence, Vorticism, Impressionism, Expressionism, Dada, and Surrealism. While we began within the School of English, we are an interdisciplinary Centre, exploring connections between literature, art, design, craft, architecture, film, performance and music.
Over the past few years researchers at the Centre have sought to provide a space for exploring modernism's cultural politics. In particular, we have been surveying modernist attempts to think about how the arts might reshape society; we aim both to historicise and to critique the often grandiose aims of modernism, while at the same time exploring what modernist enquiry brings to contemporary imaginings of reality and the future. We wish to understand better how the study of modernism might respond to global crises: climate emergency, racism, populism, enduring patriarchal systems, and the widening gap between the rich and poor. We also want to attend to the acute anxieties modernists often articulated about their own practices, their engagement with failure and loss, and their willingness to reflect, critique their own practice, and start again. We invite participants in our forthcoming events to trace together the different ways that modernists imagined the role of creative practice in shaping political change, and consider how far their often utopian thinking might resonate with contemporary concerns and demands.

Information on people, projects, partnerships, publications, news and events can be found on other parts of this website, as can descriptions of our teaching (modernism is taught at Sussex at both undergraduate and postgraduate level, and the Centre attracts a lively doctoral community). If you would like suggest a speaker, a conference theme, set up a reading group, or communicate with us about any of the Centre's activities, please write to one or both of the Centre Directors.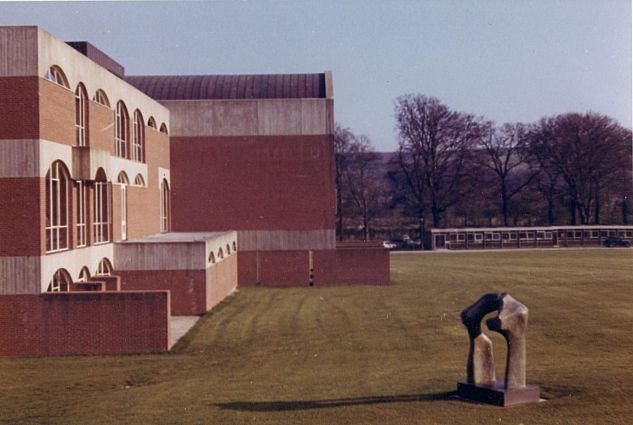 Many of the images on this website are the University of Sussex collection at the Keep. Images on this page: Design for the campus by Basil Spence, Entrance Arts A, 1961, blue crayon/pencil, (SxUOS1/1/5/21/18); Falmer House at the University of Sussex and Henry Moore sculpture, photograph by Michael Carr.