People news
Call for donations to equip lab in Nigeria and help train a new generation of scientists
By: Stephanie Allen
Last updated: Thursday, 16 January 2020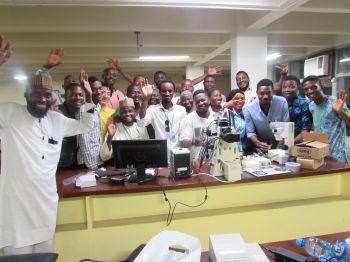 A University of Sussex research fellow is calling for donations of unused or unwanted, but functional science equipment to help equip a laboratory in Nigeria.
The equipment gathered will be used for research and to help train the next generation of African scientists.
Dr Maina said: "Most Universities in Africa do not have the basic equipment needed for research. This affects the training of scientists, the type of research questions asked by researchers, and consequently the quality of their research.
"The lack of science equipment also partly contributes to the migration of many highly motivated and well-trained scientists to developed countries where they have the resources to perform better, but many never come back.
"As an undergraduate student in Nigeria, I learnt about techniques like Western blotting and fluorescence microscopy only in books - I never got to see such equipment. My recent work reveals that only 8% of Neuroscience publications from Nigeria used techniques like western blotting in the last 20 years."
Dr Raouf Issa, a Research Fellow in Sussex Neuroscience and an instructor for TReND in Africa, is also part of this initiative. He said "During TReND courses, it's striking to see that many lecturers or researchers have never used a pipette or paraffin in their experiments.
"We've teamed up to support scientists in Yobe State University to establish a fully functional laboratory, powered by solar energy, that will be used for research in areas of biosciences, including neuroscience, biochemistry and cell and molecular biology.
"We're also hoping to establish a local research hub around the laboratory which will enable scientists from neighbouring institutions to use the lab and its equipment for their own teaching and research, building a stronger network with strong collaborations."
Dr Maina is asking for donations of functional equipment which is currently unused or unwanted, with the wish list ranging from a simple pH meter to more complex equipment like a confocal microscope.
Dr Takeshi Yoshimatsu, also a Research Fellow in Sussex Neuroscience and an instructor for TReND in Africa, said: "With donated equipment, we believe that we can empower African scientists to carry out research that makes real impact to their scientific field. We will refurbish, ship and install the donated equipment in Yobe State University and will make sure that each item will be used and maintained by local scientists."
Mahmoud has already received six dissecting microscopes, two PCR machines and one qPCR machine among other items. The laboratory will be established in August 2020, with shipment of items to Nigeria during January to March.
Dr Maina said: "There is a severe lack of science equipment, poor funding for researchers, and a lack of public awareness about the importance of science in Africa at the moment.
"I want to help support, train and inspire the next generation of scientists – but they need equipment first.
"With the establishment of a research hub, there will be regular seminars, webinars and annual conferences during which all those who donated equipment will be acknowledged. We'll also create a website to enable those who wish to, to follow updates of developments in the laboratory – with potential for future research collaborations too."
Dr Issa said: "Having an equipped lab in a country such as Nigeria will mean it can serve as a hub where researchers from all over, including other African countries, can go to learn or use the equipment installed for their research."
Dr Maina is the Outreach Director for TReND in Africa, a higher education charity dedicated to improving university level science education and research in Sub-Saharan Africa. He also founded the Science Communication Hub Nigeria (SciCommNigeria) which aims to promote public understanding of science in the country, while enhancing the visibility of African scientists more widely. In 2019, Dr Maina won a Kroto Award for Public Engagement from the University of Sussex's School of Life Sciences for his dedication to promoting public understanding, trust and support for science in Africa.
To donate or find out more about the project please contact Dr Mahmoud Bukar Maina on mb369@sussex.ac.uk