Successful online campaign continues to inspire a future generation of African scientists
By: Jessica Gowers
Last updated: Thursday, 23 August 2018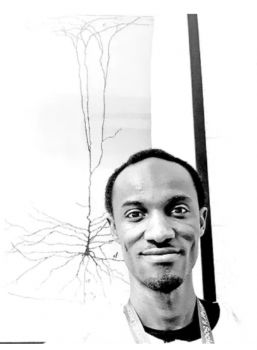 Seven months ago a Sussex researcher launched an online campaign to promote science in Nigeria. A recent report demonstrates its success so far.
Science Communication Hub Nigeria (SciComNigeria) was founded by Dr Mahmoud Maina in January 2018. This online community of Nigerian scientists, from students to professors, aims to promote public understanding of science in Nigeria while enhancing the visibility of African scientists.
A recent evaluation revealed that content published on the SciComNigeria website has on average over 5,000 views and over 222,000 engagements on social media.
Dr Maina, a Sussex Neuroscience Research Fellow studying neurodegeneration, said: "There is a high level of cultural and religious misconception about science in Africa. In Nigeria, Africa's most populous nation, science literacy is extremely low. To help tackle this situation, in 2013 I founded the TReND Outreach Programme, through which I came to meet and interact with nearly 1,000 students across Africa. I learnt that many often see scientific innovation as a thing of the West, partly because of the lack of visible science role models or stories of science driven by African scientists. In schools, many teachers also lack equipment for science teaching and do not employ alternative innovative teaching approaches, as such, many students never develop a passion for science.
"I realised that more is needed to be done to change how science is viewed and to provide role models for students. In Nigeria online news has become a popular media for news access. This is partly due to increasing accessibility to mobile phones which mostly have internet capabilities. To leverage on this for the benefit of science, I founded Science Communication Hub Nigeria"
Through the SciComNigeria website, Nigerian scientists can tell their stories and share their passions, successes and challenges. So far this has proved popular; a science story about a student's journey from a Nigerian public school to the UK in pursuit of science had over 500 views within days of publication. It is hoped such stories will inspire potential aspiring African scientists.
SciComNigeria also shares articles and interviews about scientific research that is relevant to society. They are targeted at a non-specialist audience and aim to inform and dispel common misconceptions about science.
SciComNigeria has also set up a local radio programme in Nigeria called "Ask A Scientist". African scientists are invited to talk about their research and directly respond to questions from the audience. Radio remains the dominant platform for news in Nigeria and a recent survey found 40% of respondents would like to learn more about science via the radio and social media. To broaden the engagement, these radio programmes are recorded via SoundCloud and shared via social media to a reach of about 9,000 fans.
"Meet A Scientist" is another feature on the SciComNigeria website. This database lists African scientists, their area of expertise, location and contact details. Dr Maina hopes this will mature into a science network that Nigerian and African students can visit to find mentors, journalists can use to find science experts and scientists to identify potential collaborators.
In analysing how SciComNigeria is engaging with people, it was found that young people are the most engaged with the content and have the keenest interest in science, giving hope that his work could inspire a future generation of African scientists.
Interestingly, it was found that while 35-64 year olds are typically the least interested, over 65's seem to have a renewed interest in learning more about science. It was also discovered that the percentage of female engagement was highest amongst 13-17 year olds and when Science Stories were published from female scientists, they engaged in greater numbers.
Feedback collected online was overwhelmingly positive. All of the respondents stated that reading content from either the SciComNigeria website or on social media had been inspiring or had increased their interest in science.
63% of those who have viewed the website are based in Nigeria. Other viewers were mainly from other African countries, the UK, USA, Malaysia and Maldives, suggesting a greater scope for engagement with science.