Winners of the Kroto Award for Public Engagement announced at symposium
By: Jessica Gowers
Last updated: Tuesday, 17 December 2019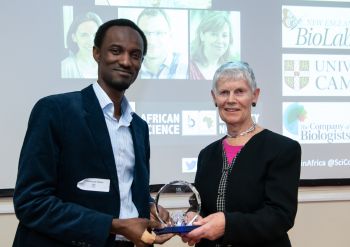 The joint recipients of the first Kroto Award for Public Engagement were announced at the Life Sciences Research Symposium on 10 December.
Dr Mahmoud Bukar Maina and Professor Dave Goulson were both declared winners after a panel of judges selected them from nine nominees.
The award is named after Sir Harry Kroto FRS, a former University of Sussex Professor who won the 1996 Nobel Prize in Chemistry with Robert Curl and Richard Smalley for the discovery of Buckminsterfullerene, also known as the C60 molecule. During his lifetime, Sir Kroto was also a keen advocate for outreach, taking part in numerous public engagements and encouraging researchers in his lab to do the same.
The award was presented at the Life Sciences Research Symposium by his wife, Lady Margaret Kroto. She said: "I was delighted to present this award to such worthy winners as science communication was something Harry cared deeply about and worked tirelessly to promote, with invaluable help from two of his former Sussex students, Jonathan Hare and Steve Acquah."
Dr Mahmoud Bukar Maina was recognised for his dedication to promoting public understanding, trust and support for science in Africa, demonstrated through initiatives such as Science Communication Hub Nigeria, TReND in Africa outreach and the African Science Literacy Network.
He said: "I am extremely honoured to be awarded the Kroto Award. This award is particularly very dear to my heart because I was partly inspired to start my African Science Project in 2011/12 when I first came to Sussex. I am very grateful for this recognition, coming from a place I consider home for many years.
"Many challenges limit science and scientists to prosper in Africa. My work, together with a group of fantastic individuals, helps to address these challenges via public engagement and workshops to enthuse and engage the public and inspire the next generation of African scientists.
"I sincerely thank my family, mentors, colleagues and most importantly, funders, who made it possible to make a difference in Africa, in my own little way. This award would certainly reinforce my commitment to this important work, which I hope will make a big difference someday"
Professor Dave Goulson also received the award for his long-term commitment to public engagement in conservation, including founding the Bumblebee Conservation Trust, launching a variety of citizen science projects, such as The Buzz Club, and writing several best-selling popular science books.
He said: ""I'm honoured and delighted to share this first Kroto Award for Public Engagement with Dr Mahmoud Bukar Maina, particularly since there are so many others in Life Sciences at Sussex who are involved in world-class public engagement and outreach activities, all trying to make the world a slightly better place."
Dr Katy Petherick, Public Engagement Coordinator in the School of Life Sciences, introduced the prize of £1,000, which will now be awarded annually.
She said: "The Kroto Award has been an opportunity for the School to reflect on those within our community who work to reach a wider audience with science. The diversity of projects nominated shows our strength in several areas of public engagement. Congratulations to our two winners and many thanks to our panel of judges!"
The panel of judges for the Kroto award were: Dr Stephen Hare, lecturer in Microbiology, Miss Stephanie Allen, Media Relations Manager, Mrs Suzanne Fisher-Murray, Research Communications Manager and Dr Katy Petherick.
Shortlisted nominees for the 2019 Kroto award:
Dr Jon Baxter for a citizen science project which engages local school children in research into genome stability
Mr Andre Maia Chagas for making science more accessible through designing lab equipment that can be built at home
Dr Raysa Khan Tareque for creating awareness of the importance of science at various public engagement events and for promoting women in science
Dr Jenna Macciochi for commitment to communicating the science of our immune system to the media
Professor Fiona Mathews for engaging public groups with her research into finding solutions to conflicts between the needs of humans and wildlife
Dr Chris Sandom for his work which enables young people to engage and re-think about the potential wildlife and management of their local areas
Professor Louise Serpell for engaging with patient and public groups about her research into neurodegeneration and dementia.