University features
University of Sussex rides high in new world sustainability rankings
Posted on behalf of: Lauren Ellis
Last updated: Wednesday, 26 October 2022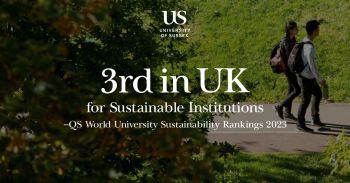 The University of Sussex has been ranked third in the UK for sustainable institutions and 55th in the world for overall sustainability performance in the first ever QS Sustainability Rankings published today (Wednesday 26 October).
Sussex's Sustainability Strategy outlines the university's vision to be one of the most sustainable universities in the world, and these rankings indicate that it is well on its way to meeting this vision.
The new QS World University Rankings: Sustainability 2023 provide a framework to show how universities across the planet are taking action to tackle the world's greatest Environmental, Social and Governance (ESG) challenges.
In its inaugural year, QS engaged with 700 published institutions globally, including 68 in the UK. Each university has been ranked based on environmental impact including sustainable education, sustainable research and sustainable institutions (which reflects on an institution's strategy and operations towards an environmentally sustainable future), as well as social impact including, employment and opportunities, equality, life quality, impact of education and knowledge exchange.
In addition to finishing third in the UK for sustainable institutions and 55th in the world for sustainability the rankings also found that University of Sussex was:
Eighth in UK and joint 35th in the world for environmental impact
17th in the world of sustainability institutions; and
Ninth in UK for impact of education, which assesses subjects that have the greatest potential to positively impact society
Vice-Chancellor Professor Sasha Roseneil said:
"Environmental sustainability is central to Sussex's mission and purpose. We already have an ambitious institutional sustainability strategy and a world leading strategic research programme on sustainability. Building on this, it is our aim for Sussex to be recognised globally as a university that is making a transformative contribution to tackling the threats to humanity and all life forms that are posed by climate change and environmental degradation.
"I am incredibly proud of the work the Sussex community has contributed to our position in the QS Sustainability rankings. But this work is only just beginning. I look forward to developing our agenda on environmental sustainability and human flourishing in the coming years, as we make Sussex a truly sustainable university."
Earlier this month, the University of Sussex was invited to join the prestigious International Universities Climate Alliance (IUCA). Made up of 57 of the world's most esteemed universities at tackling climate change, the IUCA is a central hub for universities to share evidence-based information on climate research. This is, in part but not limited to, a recognition of the work of the Sussex Sustainability Research Programme, University of Sussex Business School, the School of Engineering and Informatics, and the School of Global Studies alongside the University's strong research outputs and real-world policy influence and outreach on sustainability.
As a member of the IUCA, Sussex will now have the opportunity to further strengthen international partnerships between research teams across the globe, to support global leaders, policy makers and industry in planning for and responding to climate change.
Sussex students have also been at the forefront of sustainability developments, with five new Climate Leaders working to drive change for the Sussex community.
The Climate Leaders Scholarship was announced at the end of last year to help deliver the University's sustainability strategy and work alongside the student body. New Climate Leaders, Panayiotis Kleanthous, Charlie Simpson, Eleanor Radford, Nicole Gray and Júlia Bussab Fonseca were selected based on their climate impact to date and their willingness to work with both the campus and wider community to lead pledges and actions to tackle climate change. The students have been awarded £3,000 which will allow them to co-organise an event to engage and educate students and the community on a variety of local and global issues linked to the climate crisis.
Students have also been involved in a project to audit the university's entire curriculum for sustainability content. This audit explored how courses and modules are supporting students to see the relevance of sustainability in a range of disciplines, while providing practical experience to equip students with skills to contribute to a more sustainable world. As a result, the Vice-Chancellor and Pro-Vice-Chancellor for Education and Students are now doubling down on the university's existing commitment to ensure that sustainability is taught within all degrees as part of the curriculum reimagined process.
Sussex's Sustainability Manager, Sam Waugh said:
"We have been developing many projects to engage with the Sussex community and improve on our sustainability initiatives – it's brilliant to see the QS rankings reflect this.
"Becoming truly sustainable requires combined effort from staff and students alike, and we look forward to doing more work to ensure that one day, Sussex is one of the most sustainable universities in the world."