University features
New 'Rights of Nature' case will have major implications for protected forest and indigenous lands
Posted on behalf of: Lauren Ellis
Last updated: Thursday, 22 September 2022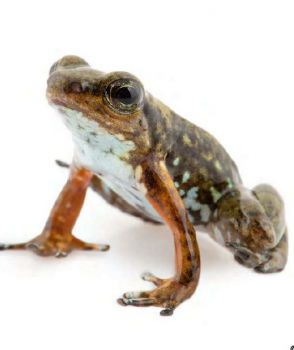 An upcoming ruling on a new 'Rights of Nature' case will have major implications for protected forest and indigenous lands, University of Sussex conservation biologist Dr Mika Peck has advised.
The new court case, due to be heard on 21 September 2022 in Ecuador, will see a coalition of local communities and biodiversity experts come together to argue that the unique cloud forest in Junín has legal rights of its own, and must be protected from those intent on mining it for copper.
Following the Los Cedros case last year, in which the court ruled that the constitutional rights of nature were violated by mining permits which harm the forest's biodiversity, University of Sussex researcher Dr Mika Peck, will once again be providing evidence in a court hearing on 21 September.
Dr Peck's intention is to protect another Ecuadorian cloud forest against a large-scale mining project. Expecting more cases to follow, Dr Peck is developing a knowledge exchange network, Ecoforensics, where ecological data can be used as legal evidence and shared more easily among local stakeholders.
Dr Peck, Senior Lecturer in Biology at the University of Sussex, explains: "Like with Los Cedros, this ruling will have major implications for protected forest and indigenous lands threatened by extractive industries. We hope that by continuing to provide essential evidence and in future, to have a database of readily available information for use in legal cases, we will see fewer biodiverse areas being destroyed by mining activities."
"Ecological Forensics could form a new interdisciplinary field linking law and ecology, which could have huge potential in Rights of Nature cases. We know the work of our team on the ground to date has had incredible success when highlighting how and why nature needs to be protected. An effective network supporting the resilience of rainforest ecosystems to ongoing threats will play a major role in addressing the climate and biodiversity crises."
What's the case about?
The unique cloud forest ecosystem at Junín in the Intag Valley is threated by the development of a large, open pit copper mine. In 2020, a judgment at the Ecuadorian Lower Court saw a win for the Rights of Nature community over the Llurimagua concession, but this was appealed and is still being argued. Having carried out research in the cloud forest previously, Dr Peck's expertise has once again been called upon, and on 21 September, he will provide evidence to highlight the environmental damage that copper mining will have in Junín.
As more and more of these cases arise, Dr Peck recognises that ecological data gathered by researchers and paraecologists could be key to their success. Paraecologists are community-level staff or volunteers specially trained to carry out a range of technical tasks including collection of field data. It's this type of data that is urgently required to challenge the Environmental Assessment for Advanced Exploration in the latest court case around the Llurimagua copper mining project. Currently, much of the data collected by paraecologists is not readily accessible by affected communities or legislative practitioners. But Dr Peck aims to put an end to the threat of mining across Ecuador's most biodiverse areas through the newly established non-profit company 'Ecoforensic'.
Funded by the Sussex Sustainability Research Programme and the Higher Education Impact Fund (HEIF), Ecoforensic brings together Rights of Nature legal practitioners, Non-Governmental Organisations and academics to create new ecological knowledge exchange, empowering communities to protect nature. This short film provides insight into the emerging Rights of Nature movement, its impact and future direction.
The Llurimagua case has become high-profile, drawing support from well-known actor and environmentalist Leonardo DiCaprio, who has shared social media posts about the Ecuadorian frog species at risk of becoming endangered, alongside the 61 other species at risk within the Intag Valley.
The background to Rights of Nature cases
Rural communities in Ecuador have been protecting land from mining for almost 30 years, but only recently did the country set a global precedent by becoming the first nation to apply 'Rights of Nature' laws to protect forests from mining activity.
In December 2021, the Constitutional Court of Ecuador ruled in favour of the threatened Los Cedros Protected Forest, which protects over 200 species with high extinction risk, against large-scale copper and gold mining. This was the first case of its kind in which the Rights of Nature laws protected the environment and set a legal precedent with enormous impact on biological conservation both nationally and internationally.
Scientific evidence which underpinned this decision, included information generated by Dr Mika Peck and his team of trained paraecologists.