University features
Sussex global partners come together to share their experiences of supporting students through the pandemic
By: Peter Boddy
Last updated: Friday, 4 February 2022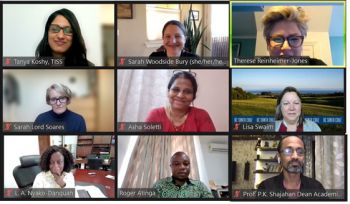 As the Sussex community continues to support students transitioning back to more in person study, our Student Experience team have met with their counterparts from some of Sussex's long standing global partners, to share their experiences and insights.
Therese Reinheimer-Jones, Associate Director for Student Engagement and Achievement, welcomed the group, recognising that countries and their universities in different parts of the world are at very different stages in their journey and face distinctive challenges.
As partners shared their institutional, and indeed their personal journeys in supporting students, and the evolution of their plans to help their communities navigate the pandemic, all noted that despite the huge challenges, their institutions had managed to make remarkable initial pivots under pressure. Schools, professional services units and partner universities, have worked together ever more closely, building future resilience.
Lisa Swaim, Director of Global Programming at the University of California Santa Cruz (UCSC), where in the midst the pandemic, the campus was forced to evacuate due to wildfires, said 'It was a fascinating conversation'. 'I was particularly struck by the universality of many of our responses and, in contrast, how each campus created their own unique and local solutions to a shared, global problem. That is, organizational culture matters, even as we are all interdependent and connected, and we have so much to learn from one another in how we consider and solve problems.'
Sharing the challenges and successes of delivering operational continuity, safety, hybrid models of learning, assessment and library access, colleagues particularly focused on mental health challenges. The University of Ghana, shared their particular trials associated with supporting the mental wellbeing of such large numbers of students, welcoming insights from the Tata Institute of Social Sciences (TISS) who shared their experiences of developing 'sharing circles' in order to bolster individual student support. Others shared both the organic and more purposeful means that emerged to replicate more traditional support structures and on campus encounters – everything from online self-help platforms to UCSC's knitting circles. They also reflected that the needs of students varied significantly and challenges remained in the provision of personalised support. Prof. Asha Banu Soletti, Dean, Student Affairs at TISS, where students have yet to return to campus, noted, 'I was intrigued by the commonalities of the challenges, and the resilience we have demonstrated. The mental health of students came across as a common concern, this is one area we should come together, evolve strategies and interventions in the coming days."
Peter Boddy, Global Partnerships Manager, said 'Delivering opportunities such as this for colleagues to learn alongside our international partners through their professional work is a key element of Engage for Change. The Global Engagement team helps to sustain a wonderful network of partners that underpin Sussex 2025, as well as our partner's own strategies. It's particularly rewarding to help to create opportunities for colleges to share best practice and gain diverse first-hand international perspectives on issues that often affect the ways we all work.' Staff wanting more information on opportunities to engage with our partners, such as via Professional Services Fellowships should contact the Global Engagement team.