Research features
Parenting in a time of anxiety: Psychologists seek 2,000 anxious parent volunteers for major new study
By: Anna Ford
Last updated: Tuesday, 16 March 2021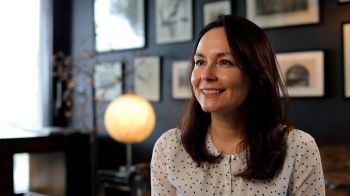 Study will help University of Sussex psychologists understand how to better treat anxiety in parents to improve outcomes for families living with the condition
Half of participants will gain access to a parent anxiety intervention with practical tips on how to manage their symptoms
Programme to be inclusive of dads who are currently underrepresented in dialogue and studies on parental anxiety
If you are a parent who is feeling high levels of anxiety, a team of psychologists at the University of Sussex want to hear from you.

Professor Sam Cartwright-Hatton and her team are today, Tuesday 16 March, launching their Parenting with Anxiety programme. It's an online, UK-wide research project to support anxious parents and their children.

The digital programme is based on a successful NHS face to-face course for parents called Raising Confident Children developed by Professor Cartwright-Hatton. It is known that anxiety transfers from parents to children. The course can help parents to limit the impact of their anxiety on their children and, in doing so, help to break the pattern of anxiety running in families.

But these in-person courses can only help a limited number of people. The online course has been developed to enable more of the millions of parents who struggle with anxiety to access support to help both themselves and in turn their children.

The last year has meant that fewer people can access in-person help at a time when rates of anxiety have soared among parents. Findings from the University of Oxford's Co-SPACE report included that parent and carer-reported anxiety, depression and stress scores in February 2021 all surpassed the equivalent scores in the first lockdown and that average self-reported stress, anxiety and depression were the highest they have been since first recorded in April 2020.

Professor Sam Cartwright-Hatton, a clinical psychologist in the School of Psychology at the University of Sussex who is leading the study, says:

"Parenting can be challenging at the best of times, but parenting while you're struggling with anxiety can be really tough. Lots of mums and dads feel very worried about the risks in the world at the moment, and understandably so. Some may be feeling overwhelmed by pre-existing anxious behaviours and how they might manage them when they re-enter social situations.

"Research shows us that parents who are highly anxious can inadvertently pass that anxiety onto their children, who may grow into anxious adults themselves. But we also know that targeted interventions can be really successful in helping patients to overcome or manage their anxiety.

"What we're aiming to do is to give parents the skills they need to become confident mums or dads and, in turn, to help their children to grow into confident adults."
Chloë Elsby-Pearson, a mother who participated in the Raising Confident Children course, has trialled the online course. She is part of the research group:
"I have struggled with anxiety ever since I was a child and now, as a mother, I am an anxious parent. Part of my anxiety was around whether my daughter would inherit my anxiety and I was keen to find ways to prevent this from happening. Two years ago, I completed the Raising Confident Children course and it really helped me to identify my triggers and ways to manage my anxiety. The course also highlighted my tendency towards overprotectiveness and I feel I have made real progress with this. I am really pleased to be involved in the development of the online course and hope that other parents like me find it helpful in managing their anxiety."
Simon Anthony, a dad who participated in the Raising Confident Children course, would encourage other parents to sign-up:

"Designed for the best family mental health, the online Raising Confident Children resource has provided my family with easy, practical, everyday techniques that work. The resource is based on a vast amount of research, produced and collated by psychologists, so is information I trust. A big thank you to all involved!"
Nicky Lidbetter, the CEO of Anxiety UK said:

"We welcome the launch of this research which will help parents manage their own anxiety and in turn help to reduce the impact it has on the rest of the family. We are particularly pleased to see the focus on dads given men traditionally find it more difficult to ask for or seek help and support."

Adrienne Burgess, head of research and joint CEO at the Fatherhood Institute, says fathers' mental health is often ignored by mainstream NHS services.

"In our survey of father-engagement in maternity services, 'How Was It For You?', we found that fewer than a fifth (18%) of dads had been asked about their mental health, despite its great importance – not just for its own sake, but also because of its correlations with mothers' mental health. We are delighted to support this father-inclusive study and would urge any anxious fathers out there to take part."

Abby Dunn, a Research Fellow and doctoral researcher in the School of Psychology at the University of Sussex, said:
"You don't need to have been diagnosed with anxiety to take part in our programme. But if you are a mum or dad who struggles with your anxious thoughts and feelings, and this may have been since the start of the Covid pandemic or something that has been going on for longer, we'd love you to sign up for our project.
"We know that conversations around mental health can be challenging, particularly for dads, who are underrepresented in both public discourse around parental anxiety and in psychological studies. As such, we're particularly keen to hear from dads in order to ensure that we are developing an intervention that will make a tangible difference to fathers as well as mothers.
"Every parent who signs up, whether they complete the course or just answer the questionnaires, is playing an equally important role in the success of the project. Your contribution has the potential to improve the lives of anxious parents and children across the UK."
Half of the parents who join the Parenting with Anxiety project will be enrolled on the online course and half will only be asked to complete questionnaires at two or three points over the next 18 months. If the course is found to help parents in the study, the team hope it will be rolled out across the UK and to help the tens of thousands of parents experiencing anxiety.

The online course takes the form of eight interactive modules – each around 20–30 minutes long – which offer a range of approaches that anxious parents can use to raise confident children.

Parents will complete the course in their own time, at their own pace, at a time that suits them and on whichever device they prefer. Parents will also be asked to try out the skills they have learnt with their children.

Who can take part?
We are looking for any parents (birth, adoptive, step) who would describe themselves as follows:
A UK resident, parent of a child aged 2–11
Has at least 50 days' contact with the child per year and can confirm that they see enough of the child to report on the child's current anxiety level
Experiences substantial levels of current or lifetime anxiety (see notes).
Able to commit to completion of questionnaires at up to three time points over the next 2 years, even if allocated to the control arm.