Research features
Everyone is a prospect: new rap co-created by Sussex researcher offers climate hope
By: Anna Ford
Last updated: Monday, 4 January 2021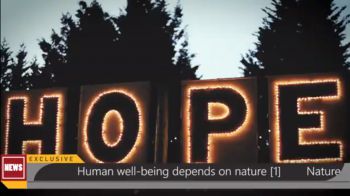 A new science-based rap, co-created by a Sussex researcher, offers hope as well as concern about the climate crisis, reminding audiences that every one of us has the opportunity to help protect the planet.
Dr Alice Eldridge, from the School of Media, Arts and Humanities, collaborated with a team at the University of Oulu in Finland and musician Joona Mikael Moilanen to create the music video "Prospects"
Dr Alice Eldridge, a lecturer in Music and Music Technology within the School of Media, Arts and Humanities at the University of Sussex, said:
"It was an honour and lots of fun to work on this climate crisis awareness-raising rap with colleagues at the University of Oulu and emerging artist Joona Mikael Moilanen. As a researcher I am interested in the role of sound in ecosystems and how this can be applied in conservation, and as a musician I explore new ways to tell stories, so working on this project spoke to my personal and professional passions."
"We are all deeply concerned about the climate crisis, but this rap reminds us that each of us has individual agency, and that we can all make important changes to boost the sustainability of the planet. In essence: everyone is a prospect."
Joona Mikael Moilanen, the musician who raps on the video, said:
"At the end of each of the three verses, there are ideas about what people can do to promote sustainability. In addition, the section after the beat switch represents a personal approach to environmental concerns. To reflect a personal touch, we made a video in which the camera goes around with me and the viewer spends time in the city with me cycling. Actions resulting from environmental concerns can be down-to-earth and even fun."
Simo Sarkki, the researcher from the University of Oulu who led the project said:
"The basic message of 'Prospects' is environmental concern, but also hope."
The video was funded by the Arctic Interaction profile action and the University of Oulu. The initial lyrics were written by researcher Simo Sarkki. The music was composed and performed by Joona Mikael Moilanen, and the video filmed and produced by Teemu Halmetoja.
Dr Alice Eldridge was part of an interdisciplinary team that included cultural anthropologists and an archaeologist.