People features
Professor Margaret McGowan CBE Obituary
By: Jacqui Bealing
Last updated: Friday, 1 April 2022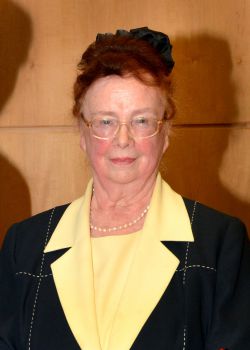 University of Sussex staff past and present have been paying tribute to their colleague, Emeritus Professor Margaret McGowan CBE, who has died at the age of 90.
Margaret, a leading academic figure in French Renaissance culture and a specialist in the history of dance, joined the University in 1964 as a lecturer in the School of European Studies (EURO) – one of the first 'interdisciplinary' schools. She became Dean of the School in the late 1970s, going on to become Pro-Vice-Chancellor (Arts) and then Senior Pro-Vice-Chancellor until her retirement in 1997.
In 1998 she was appointed Commander of the British Empire (CBE). She was also a Fellow of the British Academy (from1993) and in 2020 was appointed the French honour Chevalier de l'Ordre des Arts et Lettres for her contribution to the influence of the arts and letters in France and throughout the world.
Emeritus Professor and former Sussex Vice-Chancellor, Professor Alasdair Smith, who was Dean of EURO when Margaret was in senior management, recalled: "Margaret worked hard to make the University function effectively. She was always on top of complex business, and she had firm and principled views about how things should be done.
"She may have seemed formidable, but those who worked closely with her saw her humour, warmth and kindness. Remarkably, at the same time, she pursued a research career that achieved the highest standards of recognition."
Former Sussex PVC, Professor Nigel Llewellyn, said Margaret made "an immense contribution to the University", especially in securing Sussex's status as a centre for research.
"Margaret's capacity to manage paperwork was unparalleled," he said. "She remained active in research throughout and into her long retirement. Indeed, until the very end of her life she was collaborating with French colleagues on new projects."
Art Historian, Professor Liz James, who joined EURO in the 1990s, said: "I remember, at my interview, she sat marking scripts and interjecting the odd sharp question or comment. Often severe and unyielding at work, though with the most marvellous high-heeled footwear, she was nonetheless funny and kind."
The Vice-Chancellor's PA, Zoe Varney-Burch, who came to Sussex to be Margaret's PA during the mid-1990s, said Margaret's commitment to the University and to the work her role involved was phenomenal, yet she also displayed a very human side. "She always showed her appreciation – and made a point of thanking me as I left the office at the end of every working day. And, despite slightly terrifying most of us, she had the best laugh ever."
Margaret's skills in managing academic business were also recognised nationally. She was Vice President of the British Academy (1996-98) and is featured as one of only 11 female VPs of the BA in this 2001 portrait (which also includes Sussex's Professor Maggie Boden). More recently, she was working to help re-establish the Warburg Institute in London on a sound footing.
Professor Margaret McGowan CBE, dance historian, was born on 21 December 1931. She died of cancer on 16 March 2022. She is survived by her husband, Professor Sydney Anglo.