People features
This Sussex Life. Alumna Fumani Mthembi: "Sussex gave me aspirations to remake the world."
By: Jacqui Bealing
Last updated: Wednesday, 20 April 2022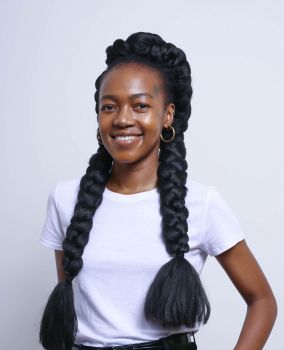 Sussex and IDS alumna Fumani Mthembi talks about her life as founder and director of South African renewable energy and development company, Knowledge Pele, and an exciting new connection with the band Coldplay.
I came to Sussex in 2008 as a Mandela scholar when I was 24. I'd always known about Sussex as oursecond president, post '94, is a Sussex alumnus. After my undergraduate degree in PPE [Politics, Philosophy, Economics] at the University of Cape Town, I worked in the banking sector for a short while, but I always wanted to do a Masters. One of my best friends had been a Mandela scholar at Sussex and she suggested I apply. I was reticent because I had my eyes on a different school in London, but doing the Masters, which is run jointly by Sussex and the Institute of Development Studies (IDS), was honestly the best decision of my life!
Sussex gave me a better understanding of how knowledge is constructed and importantly, the link between knowledge, power and what we ultimately experience as 'development'. Outside of theorising about this, I found that Sussex and IDS research fellows modelled this for us. They are actual players in the development world, generating the knowledge that we see reflected by the most influential organisations in the industry. They helped me to see how the world is constructed by individuals and through that, I developed the confidence and aspirations to remake the world in a different way, based on science.
Knowledge Pele, the company I then founded, is in many ways, a direct reflection of what I learnt at Sussex. I think what's most original about what we do is simply the fact that we have the courage to do it. We take the principles of development economics and apply them to communities that are often overlooked as economies in their own right. If you are developing a macro economy you need to worry about people, infrastructure and industry. We invest holistically in those three dimensions in the geographies where those investments are least likely to go: poor urban communities, peri urban communities and rural villages. These communities were historically constructed to be unproductive, labour reserves. What we're doing at Knowledge Pele is reconstructing these communities into what they ought to be: self-sustaining economic hubs.
My belief in development is rooted in my own upbringing. I grew up as South Africa was transitioning from apartheid to democracy. Although still very young, I was completely plugged into what was going on. I developed a passion for social service out of an appreciation of the sacrifices of the individuals who became protagonists in our country's liberation. So from a young age I wanted to be in some kind of services profession: a doctor or lawyer. But by the time I was actually old enough to go to university, the possibilities were even broader. That's when I discovered that I could bring all my hyphenated interests under a single umbrella, PPE: politics, philosophy and economics. That marked the start of a colourful tertiary education that ultimately led to Sussex, where I had the opportunity to delve into an even broader range of philosophical questions that had implications for development. And I must say, that's always been my happy place, academically. I've always enjoyed learning about how to think, not what to think.
Personally, I also experienced a lot of benevolence in my early childhood that made me appreciate the importance of development at the level of the individual or household. I remain appreciative of the fact that my school allowed my brother and I to remain in the school when my family fell on hard times. To have had the uninterrupted privilege of a Catholic education, from nursery school through to matric, is something I treasure. It is also what motivates me to create a world in which more people can access the resources and opportunities that are most vital for their empowerment. I know the difference this makes, from personal experience.
Sadly, there has been a lot of regression in South Africa. It sometimes feels futile to think about the things we achieved post 1994 because of how much we've undermined those gains. So much was achieved politically, socially, economically in the first two administrations and we were supposed to build on that foundation. As a generation growing up in a free and fair South Africa, with access to education, we expected to play a different historical role. We knew that political emancipation had been achieved, and our job was to pursue economic emancipation.
Whilst we had won the right to vote, we had not got our land back. This is the reason I became an entrepreneur. I understood my generation's role to be the creation of new and inclusive, economic value. While that remains an imperative, we are now faced with a challenge that we didn't anticipate: rebuilding the state institutions that are so vital for the delivery of public goods. And rather than confront the fact that we have let ourselves down, we have normalised rewriting our history, by devaluing the post 1994 achievements. Famously, a British PR agency became involved in generating a narrative that suggested that the failures of the democratic state could be attributed almost entirely to the apartheid regime. What's truly tragic about this kind of logic, of not assuming responsibility, is that it perpetuates our victimhood and lack of agency, It seems clever to blame apartheid, capitalism or even Mandela for all our problems, but in fact, only a defeated and incapable mind can hold all the power and present no solutions.
Even though I am not a politician, I am aware of the political and historical purpose embedded in our work. Despite our disappointments about the regression in South Africa, we are learning that the world is dynamic. It would be great if progress was linear, but often there are backslides, which remind us that we have to win our freedom over and over again. None of this is easy but the power of the mind is in imagining an alternative future and tackling problems in the present in order to get to the desired state. For this reason, I remain unjaded.
You can imagine my excitement, when, In 2020 a company reached out to us saying they represented a British band interested in working with us on issues of sustainability. That band turned out to be Coldplay! We are one of 12 organisations that were selected, globally. They have made a financial commitment to specific projects, and we are building a social impact fund on the back of this investment. Having the affiliation with Coldplay is helping to give Knowledge Pele more credibility, and it's made other parties want to partner with us because they recognise that working with us now comes with international impact. So yes, the world is not an easy place for those of us who are idealists. But instead of shying away, we must lean in. We are doing all of this because we still believe that 'good change' is possible.
This profile is part of our This Sussex Life series.