People features
"Disagreement isn't incompatible with dignity and respect"
Posted on behalf of: Internal Communications
Last updated: Wednesday, 2 February 2022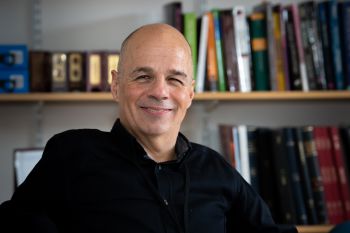 David Ruebain, Pro-Vice-Chancellor for Culture, Equality and Inclusion at the University of Sussex, is clear about his ambition.
"I want Sussex to be an exemplar of good practice in advancing equality, diversity and inclusion (EDI). We can do this by ensuring thorough policies and practices. But we can go further, through proactive consideration of the evolving theoretical and organisational landscape including for example greater understanding of structural and systemic disadvantage, consideration of intersectionality and the differing ways in which people are marginalised."
David is Sussex's first-appointed PVC for EDI. He took up the post in October 2021 – initially working alongside interim PVC Kevin Hylton, who was responsible for the university's first Anti-Racism Pledge. Now he has fully begun the task of overseeing, evolving and implementing the University's Inclusive Sussex strategy. Specific objectives include seeking to address the pay and awarding gaps, improving the representation and experience of minoritised staff, and improving accessibility.
A past winner of RADAR's People of the Year Award for Achievement in the Furtherance of Human Rights of Disabled People in the UK, David, who has a congenital impairment which affects his joints, has focused his career as an activist, lawyer and strategist in understanding inequality and exclusion and in seeking to bring about change.
"I was born in the 1960s with a noticeable impairment and that certainly shaped other people's reactions to me and inevitably my sense of self," he says. "At that time, anyone who was disabled was automatically sent to a special school (schools for disabled children), regardless of pedagogic or other needs. One was effectively seen as "defective" and in need of separation from the community. I had no real ambitions and left special school at 16 with virtually no qualifications."
This changed when he attended a local comprehensive. He proved academically capable and studied politics, philosophy and economics (PPE) at Oxford University. And, as a young adult, he became immersed in social movements that sought to address oppression – women's rights, anti-racism campaigns and gay rights (as it was then called). In particular, he became aware of campaigns around disability rights and the emerging 'social model of disability', which evolved out of other civil rights movements and conceptual frameworks of oppression, and which established a new theoretical understanding to explain the experiences of disabled people. He became Vice-Chair of the Rights Now Campaign, a coalition of over 100 civil society organisations campaigning for anti-discrimination laws for disabled people and was involved in establishing the first national organisation of LGBTQ disabled people.
"I began to see the exclusion of disabled people and those with other marginalised identities as essentially structural and systemic, which played-out in relationships and communities," he says. Importantly, he also began to understand the essential nature of allyship. "A common view is that only those of a particular identity can speak of it. Of course, the voices of marginalised people must be prioritised but as a disabled person, I find the perspective of trusted non-disabled allies crucial, including in pointing out that which we may find it difficult to notice because of what is called 'internalised oppression'."
Following university, he embarked on a career in law, focusing on the emergent specialism of education law because of his early experiences, and equality law. Principally a litigator, he represented many children and students and acted for the Disability Rights Commission and others. But he also worked at the intersection of law and policy as an adviser on law-heavy policy.
After several years, he left private practice to become the first Director of Legal Policy at the Equality and Human Rights Commission, the newly established regulator for human rights and equality in Britain. There, he was responsible for the Commission's work in navigating the Equality Bill to Royal assent and in drafting their national legal strategy. As now, he was particularly interested in contested areas of equality and human rights and began to explore the boundaries of, and potential solutions to, areas of conflict within and between protected characteristics (the legal term for identities protected in law) which he had encountered in a number of instances, such as between disabled activists and abortion rights activists and even concerning the experiences of disabled people themselves. "I recall many debates amongst disabled activists on whether we should even acknowledge the impact of impairment or just focus on oppression."
He left the Commission after the enactment of the Equality Act in 2010 and has worked in higher education ever since. Amongst his current roles, he advises the FA Premier League on equalities issues; is a member of the Inclusion Strategic Advisory Board at the Wellcome Trust, a Visiting Professor of Law at Birkbeck College, University of London and a consultant to Black Thrive Global, which seeks to address the impact of systemic racism on Black communities.
The PVC job at Sussex appealed to him on several levels. He had considered Sussex as one of his options when at school ("I knew something of its radical, innovative and inter-disciplinary reputation"). He had also presented at the University when he was chief executive of Equality Challenge Unit, the UK higher education sector's EDI policy and research agency. But what appealed mostly was the strategic nature of the role.
"It's relatively recent that universities have begun to think about EDI and related areas beyond operational and regulatory requirements" he says. "That's partly because the complexities of structural and systemic inequality have become more evident, and that in turn requires a greater degree of strategic direction."
He continues: "I knew about some of the challenges when I came here but these are by no means exclusive to Sussex." But he points out an interesting paradox when an organisation places its values at the heart of its strategic ambition, as Sussex does. "Values-driven organisations often have more conflict around EDI, and I suspect that's because they make space for them to surface and to get talked about. So, it's not that these concerns are necessarily worse than in other organisations whose values are less foregrounded, it's that they are discussed rather than ignored."
David's priority is to build on Sussex's current EDI strategy: Inclusive Sussex. More generally, he hopes that the university can become more proactive in addressing current and emerging EDI issues. "I would like us to explore what good community relations might look like and how we might enhance them. What is effective allyship? How do we handle contestation and dispute, particularly around viscerally felt areas of identity? It's a process rather than an end. It will continue to evolve. For example, practices around disability inclusion or sex equality of 30 years ago, whilst important, are now arguably insufficient to thoroughly address disadvantage."
Importantly, he believes that strong leadership in the area of EDI includes setting a tone, beyond just ensuring good policies and practices. He says: "There's evidence that individuals who trust their leader on inclusion will manifest it in their work (beyond mere compliance with policies) and I hope to facilitate this."
Last year the University came under scrutiny over conflict and claims of bullying and harassment that led to an academic member of staff resigning. "We have to do better. My own view is that, putting to one side the impact of structural oppression, there is no inherent conflict between people. In part, I see my role as facilitating this understanding and knowledge of each other. In that way, progress cannot be a zero-sum game. The requirements of some needn't be to the detriment of others. Especially in a university, ideas and challenge is of the essence. At the same time, we need to continue to find ways to understand each other's lives and experiences, including recognising the hurt and upset people carry from exclusion, which is often the backdrop to contested areas. Sussex has a proud history of this work.
We aim to develop an allyship and listening programme to facilitate this. That's going to be easier in person when everyone is back on campus! Incidentally, like others, I do think that social media can sometimes mitigate against this work, in pushing us into 'echo chambers', hermetically sealed from accurate views and lives of others.
Dissensus and disagreement is not incompatible with dignity and respect for all, and indeed is commensurate with a rich diverse, rigorous, collegiate, inquisitive environment, where people can contest, challenge, laugh, be upset, evolve their understanding and ultimately thrive."