People features
This Sussex Life. James Hirschfeld, Professor of Maths: "I've never felt a need to leave Sussex."
By: Jacqui Bealing
Last updated: Wednesday, 8 September 2021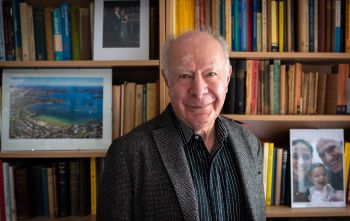 Professor James Hirschfeld has been a member of the University of Sussex maths department since 1966.
I grew up in Sydney, Australia. My parents left Germany in 1938 and I was born in 1940. In the Jewish community education was the most important thing; so I went to the University of Sydney and studied mathematics. I specialised in finite algebraic geometry at Master's level and I got a Commonwealth Scholarship to continue with a PhD in Edinburgh in 1963.
I came to Sussex in 1966 because the leading mathematician in my field, Beniamino Segre, was due to come here.He had spent the war years in the UK because he had lost his post under the Mussolini regime. I wrote to him to ask if he had a post-doctoral position in Rome. He wrote back that there was no such position, but he had been invited to give a series of lectures at Sussex. I'd only been in Europe for a couple of years and I didn't feel it was time to go back to Australia.
The university was expanding at the time, and as has often been said, Sussex was a very liberal, social environment at the time, and it had the advantage of being contained on one campus. I remember the protests, organised mainly by the Arts students, about participation in the Vietnam War; I joined one.
My children jokingly called me 'James Dean' when I became Dean of the School of Maths and Physics (MAPS) in 1988 – a role I did until 1992. I've had a standard academic career, which has involved publishing research, organising conferences, giving seminars and travelling widely – particularly to Italy, but also to Belgium, Germany, France, Canada, Brazil, the United States, Singapore and Australia. I've returned to Australia most years for holidays.
I met my future wife, Adrienne, on the day of my interview at Sussex. She was working in the accommodation office. We didn't get together until a couple of years later and were married in 1970. She also studied at Sussex – she took a Masters in counselling and worked as a counsellor for many years. We have two children, Rachel and Benjamin, and three grandchildren. Sadly, Adrienne died two years ago from cancer.
I believe I am the oldest and longest serving member of academic staff at Sussex. Not surprisingly I've seen many changes over the years. There were no computers when I started. We didn't have them until the 1980s, and then the World Wide Web from the early 90s. Later we began to put lecture notes online. I am still working now, mostly refereeing and marking. I found teaching online this year a bit of a struggle. I had much rather do face-to-face.
My field of maths includes exploring error-correcting codes, which correct errors when messages are transmitted through noisy communication channels. The channel may be a telephone line, a high-frequency radio link or a satellite communication link. The noise may be human error, lightening, equipment faults, etc. It is a highly relevant area of study for modern technology: all our phones contain error correcting codes.
At one point my research was not going so well; so I carried out a survey of the research in my field and produced three volumes on algebraic geometry. After that, my research went much better! It's rare that something fundamental is discovered in the sciences these days. You are mostly building on what is there.
I like maths because of the logical structure and it's what we all do. Also, being a typical male, I just think from one day to the next. I haven't retired because I didn't see much point, although if my wife were still alive, I think maybe we would be doing more travelling.
I was pleased to receive the 2016 Euler Medal, presented by the Institute of Combinatorics and its Applications to 'recognise distinguished lifetime career contributions to combinatorial research'. It would not have been possible without my two main academic collaborators, Joseph Thas from Ghent and Gabor Korchmaros from Potenza.
Every year at Graduation the Hirschfeld Prize is presented. It's a cash prize of £1000 for the best maths finalist at Sussex and has been going since 2010 I actually wanted it to be called the Senior Tutor's Prize, but was overruled. One of the great pleasures of my job is seeing the students being successful. I've never felt the need to leave Sussex. I like the continuity of being here.
When I'm not working I like to play golf. I've been playing it since I was about five and these days manage to get out on the golf course most afternoons. I also like wine, and ran the Sussex Wine Appreciation Society. And I did quite a lot of acting in my early days – including playing Cleopatra at school because it was an all-boys school.
This profile is part of our This Sussex Life series.