People features
Laura McDermott, ACCA Director: "We're moving to a place of healing."
By: Jacqui Bealing
Last updated: Thursday, 22 April 2021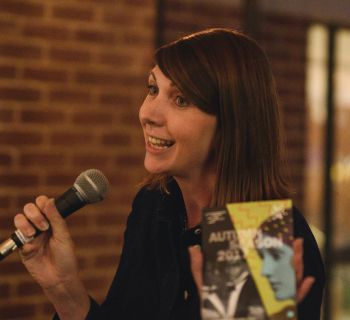 As Attenborough Centre for the Creative Arts (ACCA) prepares to reopen for May, its Creative Director Laura McDermott, reflects on lockdowns and the rejuvenation of the arts world.
When we were heading into the first lockdown last year, I knew we were in for a significant change, but it was still very hard to imagine what the parameters would be and for how long it would go on. We were preparing the building to be put to sleep, but making sure that ACCA was ready to spring back in action when the time was right. At the last moment, I remembered the fish in the pond and the plants in the café bar – these other living beings that are in our care. I had no idea if I'd be even be able to leave my own home to come back and look after them, so we had to put some alternative plans in place.
Helen Hardy and other colleagues in SEF have been feeding the fish throughout lockdown, and we owe them a huge debt of gratitude. The ACCA is such a calm and beautiful space on campus and a lot of people come to have a contemplative moment by the pond, and watch the fish swimming.
A plant rescue mission was organised by Alice Sharville who runs Spiderplant Shop in Brighton and who maintains our plants. Many of the plants in the cafe are enormous (some are over 70 years old) and are too big for my flat! Alice managed to get various people to adopt the plants for us temporarily. But they've now made it back to ACCA and Alice is busily sprucing and pruning and getting things ready for our eventual welcome to the public.
Quite soon into lockdown my entire team were furloughed apart from me. In some ways, it was quite a lonely experience, but I was happy and grateful to the University and to Chartwells that all of the front-of-house staff, the technical staff and eventually the café bar staff were furloughed. I think this is a real example of us living our values as an organisation.
I've spent a lot of time and energy connecting and collaborating with colleagues in the wider arts sector during this time. I've been active in What Next?, which is a national movement advocating for the importance of arts and culture in society. All the meetings are on Zoom, so I go to both the national meetings and the Brighton and Hove chapter. I've also taken part in a couple of other programmes to reflect on the arts and culture sector and how it could adjust its practices to become a more equitable place in future. As things return after this rupture, there is an appetite for a reset, rather than a return to business as usual.
I still feel fearful at this juncture. We have to protect against a shrinking of diversity in the sector, and a lost generation of people who feel that they can't commit to a life working in the arts because of the lack of security.
There will be a permanent shift in the way we do things, particularly around digital access. There has been an incredible burst of innovation in this area. The technology to work in this way has been available for quite a while but it hasn't been taken up on a wide scale. Disability communities have been campaigning for some time for measures like this to be put in place. It's interesting to observe the pace of change that was possible when the able-bodied people were affected.
My personal passion is about the gathering of people in shared space for a collective experience. I think this is a kind of primal human need that will not go away. It should not go away. I think it's very important for people to be in public space with people beyond their immediate circle. I think that's important for society.
Throughout the autumn term, ACCA was used for socially distanced teaching. The third-year drama and performance students made a performance about the history of ACCA and the Gardner Arts Centre. It was a three-day paean to the building, which included performance rituals at sunrise and sunset. Footage of the rehearsals even made it into the background of a piece by BBC 'Newsnight' when they came to film the COVID-19 test centre. I was proud of that because I felt it demonstrated the multi-layered nature of campus life. Despite the public health restrictions, the students made something poetic and profound.
We're planning to reopen in May, subject to government guidelines. It's part of a whole re-emergence of the city's arts and culture scene. We're presenting an installation in Brighton Festival by Brighton-based artist duo, Semiconductor. They have created an installation after a residency they undertook at CERN in Geneva, collaborating with University of Sussex physicists Dr Mark Sutton and Professor Antonella to Santo, who will give some talks around the installation.
The piece, which is called HALO, uses data drawn from the ATLAS experiment at the Large Hadron Collider. It's a sensory experience of matter formation in the early universe – the collisions that occurred just after the big bang. There are lights and strings around the edge of the structure that play sound – both are being actively driven by data from CERN. It's a brilliant collaboration between science and art. Audiences will be welcomed in very small groups, socially distanced.
The experience will be a moment for audiences to reflect on something that's so much larger than ourselves. People have been doing a lot of deep thinking in this time, asking questions about the world and their place in it. As a society we're moving into a place of healing after trauma. I believe art has a fundamental role to play in that healing, providing spaces for reflection. We have to acknowledge that there's been an enormous amount of hardship, grief, stress and uncertainty and the difficulties of distance from friends, family, loved ones and strangers. It's going to take us a little while to recover and move into whatever's next, because we've all been changed by this year.
After the Brighton Festival we're hosting events, mostly online, for the Media, Arts and Humanities Festival of Ideas, and working with some Students' Union societies. We're also looking ahead to what might be possible for the autumn.
I'm learning British Sign Language (BSL) on Zoom with the Centre For Language Studies. I wanted to keep my brain active when so much of what I usually do was put on hold. I wanted to get closer to D/deaf culture, and to understand it better – to help me continue to develop accessibility at ACCA. I've always found BSL to be a beautiful, expressive language. My dream is that perhaps everyone in the ACCA team – including our café and bar, front of house, box office, and technical teams – could learn a bit of BSL. It would be an amazing demonstration of our commitment to accessibility for visitors to our building.
This profile is part of our This Sussex Life series