People features
This Sussex Life. Drama graduate Bea Morris: "My role involves helping the museum to re-open post Covid-19."
By: Jacqui Bealing
Last updated: Friday, 14 August 2020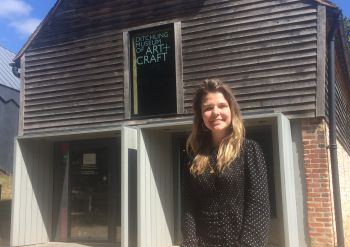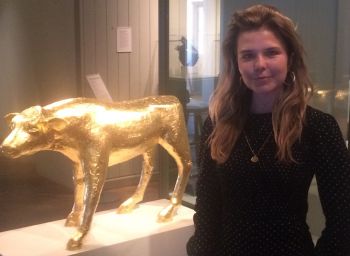 University of Sussex drama graduate Bea Morris has an eight-week internship with Ditchling Museum in East Sussex to help it to reopen during Covid-19.
This internship was advertised through the Sussex careers page. It was part of a Covid-19 response set of internships. I was really excited to see the opportunity advertised because, having just studied drama, I wanted to look at different careers in arts or events and I'm also interested in curation.
My role involves helping the museum to reopen post Covid-19. The museum has been operating time slots for visitors and has just a third of its usual capacity. There is an amazing team of volunteers, but the majority are over 70 and quite vulnerable, and they haven't been able to come back yet. I'm here to fill some of that gap.
It's exciting to have something different and interesting to do as my plans this year were to go travelling. We reopened on 16 July – a week after I started. There's a lot of reinforcing of social distancing for the visitors. We have moved our front desk outside the museum, and we ask visitors to wear face masks, use hand sanitiser and follow the one-way system.
It's impressive that the museum is one of the first to reopen in the region. It has a new exhibition by John Newling, a pioneer of public art, that's been reimagined and inspired by the difficulties of lockdown. He built most of the art at the back of the museum. The pieces include a work created from leaves donated by the people of Ditchling from their gardens and allotments.
The museum is a real community asset and that's what you can see, with exhibits about local practice, local history and also handicrafts inspired by local artists. I was excited to discover that the typography for the London Underground was designed here in Ditchling by the artist Edward Johnston. Being from London, I find that very iconic.
This is an opportunity for me to see how a museum is run. I sat in on an acquisitions meeting and learned about the collections that have been donated. We also discussed how you can encourage audiences to visit and engage with the work.
During my Drama, Theatre and Performance BA I became interested in performance designed for gallery spaces and how visitors to galleries might behave as they move through spaces. I love the idea of programmes being produced alongside the stationary elements of a museum or gallery to make a more celebratory social visit to an exhibit, for example the Tate's 'lates', although It might be a while before we can start doing that again.
My degree dissertation was about conceptual artists and performers Marina Abramovic and Adrian Piper. It flipped the idea of 'presence', which is the big tenet of live performance, on its head and looked at how things already seem absent once presented in museum and gallery spaces. I looked at how, when artists represent themselves in a live way, they have already become an object to their audiences and so have had elements of their humanity removed. The title was Performing Absence.
Because of Covid-19, everything has become mediatised recently. There's a big debate in theatre around the notion that a recorded element is not the same as experiencing it in real life. My friend and I virtually attended a Zoom exhibition with each other and we couldn't really get a feel for what the works were like. You cannot connect in quite the same way.
We had a virtual performance festival at the end of my degree. My group conceived a piece entitled Flight 1172. We used edited audio clips, news pieces or songs that put we together to create an inflight entertainment experience. The title was inspired by the fact that, at the time it was programmed to be in the festival, it had been 1,172 hours since lockdown had been officially announced and was in essence a flight to nowhere. It was about the frustration and helplessness of the lack of direction we were experiencing at the time; like time was passing and there was so much to listen to, but also a pointlessness. It connected to an Instagram account, where we asked audiences to share a picture out of their window to conceive how we are all going through a collective experience of looking out, looking in and watching in the middle of lockdown. It was strange and exciting to reconceive a project that we had been researching for a long time.
I loved my degree course because it offered very conceptual ways of thinking and working, and an insight into many different aspects of art and performance. We were always encouraged to think about doing things in a different way, or in a way that's so outside of what people expect.
My intention is to stay in Brighton for a little while because I like it so much, then apply for a Master's in curation or arts events. Working in the museum has definitely inspired me to continue in this area.