People features
Sussex alumna honoured at Graduation for public engagement of science
By: Jacqui Bealing
Last updated: Thursday, 13 August 2020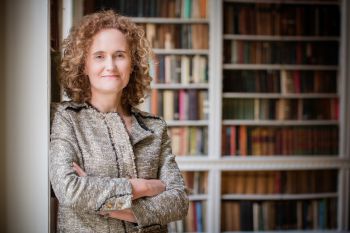 Professor Gail Cardew, who was conferred an Honorary Doctor of Science at the University of Sussex winter graduation on Wednesday 22 January, is an internationally recognised expert in the public engagement of science.
As Vice-President of EuroScience, a grassroots organisation supporting and promoting science throughout Europe, and Professor of Science, Culture and Society, Sussex alumna Gail's mission is to encourage people – particularly young people – to think more deeply about science and its place in our lives.
She said: "Knowledge about the natural world is too fascinating to keep under wraps in specialist journals that only professional scientists can access. And how we use science to shape our world should be discussed openly with the public, rather than just by scientists alone."
Formerly the Royal Institution Director of Science and Education, she was responsible for the organisation's charitable programmes, encompassing public engagement, education, policy and heritage activities. In 2014 she was appointed a Fellow of the Royal Society of Biology.
She attributes her initial interest in science to her school teachers "Mr Buckby and Mr Savill", who introduced her to the work of the renowned University of Sussex evolutionary biologist John Maynard Smith. "Discovering that John Maynard Smith would lecture me was one of my reasons for going to Sussex," she says. "I loved how he applied the elegance of mathematics to the messiness of biology."
Following her undergraduate degree in Biology, she went on to take a doctorate and then became a Postdoctoral Fellow, looking into genetic susceptibility to premature cardiovascular disease. She pays tribute to her doctoral supervisor, Chris Ford, "for opening my eyes to so many unanswered questions".
Gail moved into public engagement when she realised her real passion lay in addressing the complex interplay between science, culture and society, rather than spending hours at a lab bench.
"I lacked the necessary patience and meticulous nature to excel at practical work," she said. "But I was interested in exploring the exciting interface between different science disciplines. Then I became more interested in how external factors – like economics, ethics, policy, media and society – interact with science."
As Chair of Europe's largest general science conference, the EuroScience Open Forum, she has played a key role in highlighting the importance of science, policy and society issues throughout Europe.
She has worked alongside leading figures in European science research, including chief scientific advisors, science ministers and Nobel laureates, as well as the current and past presidents of the European Research Council.