People features
"Although I was a northern black kid, I found a way of fitting in"
By: Jacqui Bealing
Last updated: Tuesday, 22 January 2019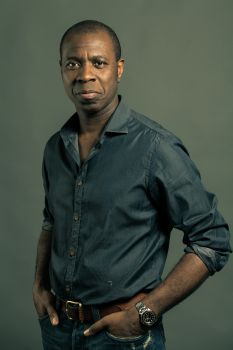 BBC broadcaster and Sussex alumnus Clive Myrie is receiving an honorary doctorate at the University's winter graduation on 24 January 2019. He tells Jacqui Bealing about his career journey.
We're in the foyer of the Hospital Club, a smart Convent Garden hang-out for media types, and Clive Myrie is trying to renew his membership.
"Clive…er, sorry, what's your surname?" asks the receptionist, who hasn't recognised the BBC News Channel anchor and award-winning foreign correspondent.
Although Myrie's modest ego is not dented ("Hey, no one recognises me," he responds when I later tell him my teenage children also don't know who he is), it is definitely a sign of the times.
When he first began filing stories as the BBC's Tokyo correspondent in the 1990s, households gathered around their TV sets for the news at tea time, or 9pm, and the reporters were as familiar as your neighbours and relatives.
But now, in the "fractured media landscape" as Myrie describes it, it is much more difficult for the broadcaster to reach younger audiences. And yet he points out that the need for the BBC is more important now than ever.
"There has to be an impartial view of the news. You have to have organisations you can trust. The fact that the BBC is paid for by the licence fee means that everyone is invested in it."
War zones
Myrie, 54, has reported from war zones in Afghanistan, Iraq and Kosovo, was the Washington Correspondent during Bill Clinton's impeachment, and stepped onto the red carpet for the glitz of the Oscars during a spell as Los Angeles Correspondent.
He has also been the BBC's man in Paris and in Brussels, presented a BBC Two special on Barack Obama, and is currently the evening anchor on the BBC News Channel and a presenter on BBC Weekend News.
From a young age the Bolton-born son of Jamaican immigrants was encouraged to work hard and have aspirations.
"It's the classic first generation/second generation immigrant thing. My parents didn't fly 6,000 miles, leaving behind everything they knew and landing in a place that's at times inhospitable – if you know what I mean – for their kids not to follow a good path.
"My mum had been a teacher in Jamaica, and education was important. If your grades weren't up to scratch, you knew about it. She was firm, but fair, and made it clear to me that, in a white-dominated world, you had to be twice as good to make it."
While a doctor or a lawyer, "a stable, so-called decent profession", would have been their preferred options for their middle son of seven siblings, Myrie had always set his sights on journalism.
He appeased them by taking up a place at the University of Sussex to study law. But his interest in what was happening in the world – and a desire to tell those stories – had been whetted firstly through doing a paper round during which he consumed the news he was delivering, then by the globe-trotting journalist Alan Whicker "giving a window on interesting places I had no clue about", and most notably by the veteran news broadcaster Sir Trevor McDonald.
"I thought, he looks like me, that's something I could do. Growing up, I was aware that there weren't many black faces on the telly, and if they were there they were in the sort of context that wasn't flattering, whether it was famine in Africa, or riots in Brixton, or some social issue in Notting Hill."
Sussex
During his time at Sussex, Myrie began to hone his broadcasting skills. He had a music show on the student-run University Radio Falmer (URF), playing jazz and funk and softening his northern vowels until he sounded more like "the posh southern kids" he was surrounded by (although he admits a regional accent is no longer a disadvantage in broadcasting).
The experience also gave him an opportunity to work for BBC Radio Brighton, as it was then, interviewing music bands.
"I had a lot of fun," he remembers. "Although I was a northern black kid, and out of the norm, I found a way of fitting in - the same as I did at grammar school in Bolton. I liked it that Sussex had a bit of an edge. I joined a rent strike within my first two weeks, but I wasn't really a firebrand or into student politics. I just got on with my journalism."
At the end of his degree he was faced with several choices. He had applied to Middle Temple to become a barrister, was offered a place to do a postgraduate journalism diploma at City University, and was also awarded a coveted place on the BBC's graduate training scheme. He chose the latter.
"My parents were happy that I had employment," he says."That cushioned the blow, particularly joining the BBC, with its reputation."
Diversity
Taking the cautious approach and recognising the need to "learn the basics", Myrie worked in regional radio news in Bristol before moving to Independent Radio News, and then to BskyB as a TV reporter before presenting BBC's Points West in Bristol.
While diversity was – and still is – an issue that the BBC grapples with, Myrie has always wanted to be seen as a reporter who happens to be black rather than a black reporter there to do stories about race. In his early years he preferred not to cover "black events", such as the Notting Hill Carnival.
Since then Myrie, who lives with his antiques restorer wife Catherine in Islington, has reported from more than 80 countries on a diverse range of news, from the fall of the Taliban in Sangin, to the Ebola outbreak in Sierra Leone, to the Rohingya refugee crisis.
Finding a way to tell these stories that's respectful yet also packs an emotional punch is a perennial challenge, he admits. "There's a saying we have: 'Take them there, make them care'. You have got to make people want to watch things that are difficult, because if they don't, nothing gets done."
He also has no problem with news providers showing shocking realities ("although not beheadings"), adding: "The BBC sanitises too much, and as a result we look like we are behind the curve.
"I did some reporting from Mexico last year about the colossal murder rate because of the drug wars. There was a lot of the debate in the BBC about whether we were showing too much. My feeling was, well that's the story.
"And that's the point. It's easy to go to war if you don't understand its consequences, if you don't understand what war is all about. If you can find a way to avoid it, you must."
But there have also been moments of elation and joy while doing his job, such as the night Obama was elected US president. "I was in Atlanta Georgia, at Moorhouse College, where Martin Luther King had studied, watching the results come in. To be there at that time was quite remarkable.
"Obama is someone I greatly admire and I think history will record as one of America's first-rate presidents. He came from a family with a strong mother, who emphasised the importance of education and scrimped and saved for him to go where he needed to go. I like to think there is a little bit of a parallel there."