In November 2017, Dr Ruth Stirton from Sussex Law School joined forces with the World Breastfeeding Trends Initiative and the Emergency Nutrition Network to present on the topic of safe provision for feeding infants and young children in emergencies in the UK.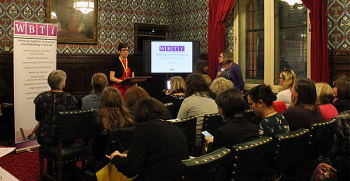 This WBTi UK first anniversary forum was hosted on 28 November 2017 by Alison Thewliss MP, chair of the All Party Parliamentary Group on Infant Feeding and Inequalities, at the Houses of Parliament.
Participants included infant feeding specialists and policy makers, emergency planners, international academics, and third sector organisations such as UNICEF UK Baby Friendly Initiative and Save the Children.
Clare Meynell and Helen Gray (WBTi UK) delivered the findings, gaps and recommendations from the WBTi report surrounding infant feeding in emergencies.
Ruth Stirton presented on the legal and regulatory framework and the minimal place of infants and young children in the current framework.
Marie McGrath (Emergency Nutrition Network) then described the recently published Operational Guidance on Infant Feeding in Emergencies, and explored how it might be adapted to the UK context.
The audience engaged in lively group discussion, considering:
the issues in the immediate response phase
how best to support formula feeding families in emergency situations
the existing local capabilities that emergency plans could call upon
issues surrounding communication with the public and front line responders about how best to support infants and young children in this context
the wider policy framework and how best to ensure, at a central policy level, that infants and young children are specifically provided for
issues for the recovery phase that arise from actions in the response phase to the emergency
A report will be published in 2018 making recommendations for improvements.
If you would like to contribute written comments to the report, please look at the presentations and group materials below and send comments by email to Ruth Stirton at R.Stirton@sussex.ac.uk.
Presentations

Presentations from the forum are available below:

Group discussion materials

Group discussion materials from the forum are available below: