"I can't change the whole world, but I can change this part of it"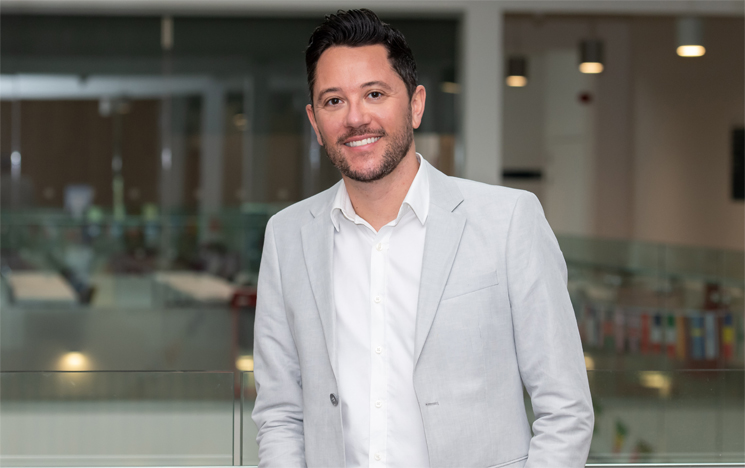 "Hate crime is insidious," says Professor Mark Walters. "It causes deep and lasting harm to both individuals and whole communities. Once a person has been a target of hate, they can be utterly changed. The fear and trauma are corrosive. And that effect is shared by those around them too. So the question is what to do about it, and that is the challenge which underpins my research."
Professor Mark Walters, from the School of Law, Politics and Sociology at the University of Sussex, researches the effects of hate crime and how society should respond to it.
The impact of his work has been striking. His research has informed the drafting of a new Bill introduced into the Parliament of Belize, and he has recently been commissioned to draft new legislation for the Seychelles. His research has triggered amendments to the Crown Prosecution Service's national Hate Crime Legal Guidance, has been given as evidence to the House of Commons Home Affairs Select Committee, and has been used by police forces to improve their practice. Walters' knowledge and research has also fed into the development of restorative justice programmes across the city of Brighton and Hove.
This is an already impressive list of contributions to improving justice for victims of hate crime. And yet, Walters' greatest achievement may still be waiting in the wings: his research might be about to bring about wholesale change in UK law. In late 2020, the Law Commission published a major consultation paper inviting views on his recommendations for changes to the law . The Scottish and Northern Irish governments also have consultation papers out derived from Walters' recommendations.
Walters explains: "Working with colleagues Susann Wiedlitzka and Abenaa Owusu-Bempah, we uncovered a number of limitations to the current legal framework for hate crime in the UK. It's disjointed, overly complex and it lacks clarity. It unfairly creates a hierarchy of hate crime victims. And it's causing problems for legal practitioners.
"Instead, there should be one law to cover all of hate crime. So we proposed a model. Our report was published in 2017 and attracted a lot of media attention. It was supported by many civil society organisations, and the Crown Prosecution Service responded to it in full.
"Since then, the Government announced it would carry out a full review of the law in this area and the Law Commission published their full report in 2020. I was really pleased to see that the work carried out at Sussex is referenced throughout the report, and I am thrilled to see that the 2017 report has helped to shape many of the Commission's proposals for reform."
In addition to improving the legal and criminal framework for addressing hate crime, Walters' research has also focused on finding the most effective way to address the harms caused by hate.
"If you want to find an intervention that helps repair harms, you need to understand what those harms are in the first place" he explains.
"I worked with Rupert Brown and Jenny Paterson from the School of Psychology to study the emotional and behavioural impacts on LGBT and Muslim communities. We found that hearing about hate crime in a person's community causes feelings of anger, anxiety and vulnerability. People told us how they changed their behaviour, stopped going out, or started avoiding places and situations."
It's clear that hate crimes are no ordinary offending . With this in mind, Walters studies restorative justice interventions, which create a dialogue between those harmed and those responsible. It enables everyone affected to play a role in repairing the harm.
Walters says: "My research shows that we need a legal system that criminalises hate, but we also need to look at the most effective ways of dealing with its effects."
Many people assume that restorative justice is a soft-touch approach. But Sussex research is finding that the communities targeted by hate crime can be supportive of restorative justice. One recent study of LGBT and Muslim respondents found that most people (six in ten in both groups) felt that a restorative justice outcome – such as reparative dialogue and community work – would be more effective than imprisonment.
"There's an argument that simply stigmatising a person as a racist or a homophobe doesn't address the underlying causes of hate. It simply labels them. What's more, the victim is left out of this approach – it's almost as if they're just a source of evidence."
Walters' research suggests that there are instances where the use of restorative justice means victims are better able to move beyond their experiences of hate. They're less anxious or angry and their emotional wellbeing is improved. His research has also found that continuous offenders are more likely to stop offending after a restorative justice intervention.
"We need to prosecute perpetrators where we can, and where it's appropriate," he says. "But there are some instances, or some sentences, for which restorative justice is a helpful option."
Research into this area has never been more urgent than it is now. The number of recorded hate crimes has increased significantly over the past five years and recently the coronavirus pandemic has seen the emergence of new forms of hate and hostility, most prominently against Asian, LGBT, and Jewish people, who have unfairly been blamed for the spread of the virus.
It's urgent and yet rewarding work for Walters and his colleagues. "I love being an academic," he says. "It's really satisfying. Teaching students, learning from that process, and then going out into the wider world, working with government, talking to the police… it's always different, always interesting. I'm not going to change the whole world but I can change this part of it. If I keep going, I will make a difference."
---