School Direct is an innovative new school-led route into teaching and Qualified Teacher Status (QTS), as well as enabling opportunities into PGCE (postgraduate certificate in education) study.
Course Leader: Sally Dudley
Primary and secondary partnership schools working in collaboration with the Department of Education at the University of Sussex share in the selection, training and assessment of beginning teachers. Schools - or networks of schools - also decide which subjects or 'phases' they wish to train based on potential employment needs, and select a training route and provider which suits their expertise, partnership and specialisms.
In partnership with over 18 successful local Lead Schools, we are offering School Direct training routes across Primary and Secondary phases.
Training routes
Applicants can choose to train either via School Direct: Training or the School Direct: Salaried route.
The School Direct: Training route is a postgraduate course funded by tuition fees paid by trainees (supported by Student Finance) who may be eligible to receive a bursary from the Teaching Agency (TA). Trainees are registered on an appropriate PGCE course via which they can obtain both QTS and an academic award.
The School Direct: Salaried route is employment-based and requires the trainee to be employed by a school as an unqualified teacher on a salary of approx. £16,000 whilst they train. Candidates get 60 days training and can be required to teach up to 80% of a teachers' timetable. As an employee of a school, candidates have the same rights and responsibilities as any other teacher at that school. This route is therefore aimed at high-quality graduates with three or more years' worth of career experience. No fee is payable as the £3,000 tuition charge is paid by schools on trainees' behalf.
For most Initial Teacher Education courses, some 'home'/EU trainee teachers will be able to draw on a tax-free non-repayable training bursary of up to £25,000 - the amount will depend on your degree classification and subject/phase specialism. Additionally, scholarships of £25,000 are offered to graduates of Physics, Mathematics, Chemistry and Computing by various professional bodies. For the latest funding opportunities, see our PGCE & School Direct Trainee Fees & Bursaries: 2023 and the Scholarships and bursaries page on the Department for Education's website for information on fees and eligibility for financial support. This page is also helpful if you are a British or EEA citizen and are eligible for government-funded tuition.
Check out this Apple Podcast by English School Direct teacher trainee (and former book editor), Ella Parsons (2021/22), with authors Russell Tovey and Robert Diament in which she describes her experience of training to be a teacher at Sussex. The podcast is a collaboration with the Government's Department for Education 'Get Into Teaching' campaign.
How to apply
Applications for all Initial Teacher Education courses are made online via the Government's Department for Education website. This portal allows you to search for local Lead Schools offering School Direct places in the subject or type of route you are interested in. Applications are processed by the University of Sussex. Shortlisted candidates will be invited to interview at the University and, subsequently, in school. All applicants will be advised on the decision regarding their place on a School Direct route within 40 weekdays.
To see PGCE and School Direct places available for teachers training in 2023/24, see the latest PGCE and School Direct Place List.
NOTE:
All candidates offered a place on a teacher training course will be required to satisfactorily complete an Enhanced Disclosure and Barring Service (DBS) check (formerly known as a CRB check), including a check of all cautions and warnings as well as convictions, before their place can be confirmed. The University will pay the costs of this check on your behalf.
Queries and applications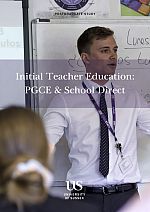 Download the ITE leaflet.
ITE Admissions
E iteadmissions@sussex.ac.uk