How to apply for teacher training
Read through our advice and guidance so you can be well prepared ahead of applying to a teacher training course.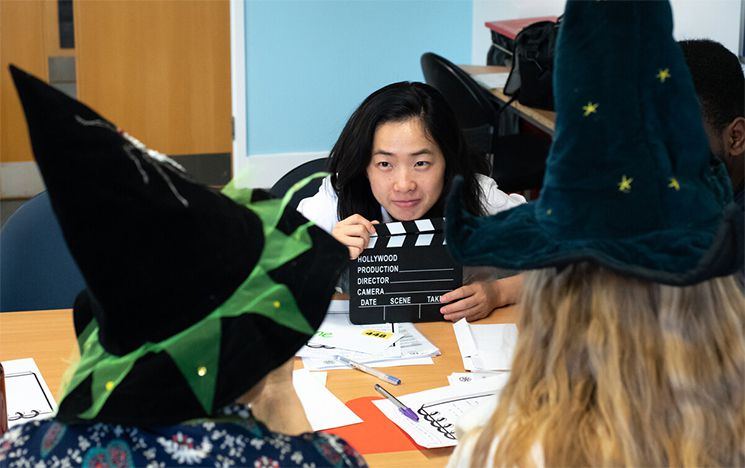 Find out about:
Before you apply
Before making your teacher training course application, it's a good idea to find out what you can prepare in advance.
Research in advance
Get a feel for what teaching actually involves by talking to teachers who are acquaintances, friends, neighbours or family members. You could also arrange to visit your former school, your children's school or a local school to observe classes and talk to staff and students. UK Education blogs, TV documentaries and media articles may also help to inform you.

Think carefully about your reasons for wanting to be a teacher of the age range you prefer or (if secondary) the subject. What can you offer to students? What do you think are the essential characteristics of an excellent teacher? How do you believe that your knowledge, skills, attitude, personal qualities and experience will help you become one?

To gain an overview of the content and skills you will need to teach, you can look at either the Primary National Curriculum for Key Stages 1 and 2 or the Secondary National Curriculum Key Stages 3 and 4.
If you're looking to teach at secondary level, you should also look at GCSE specifications showing course content and past papers for your subject through Exam Boards AQA and Pearson. If you are intending to train to teach Business, Psychology, Social Science or Media (subjects taught in age ranges 14-18) you should also look at specifications for A level/AS and BTEC. You will then be able to map your own subject knowledge against what will be required, and gain a clearer idea of both your strengths and areas for development.
You should also view our PGCE courses to check that you meet entry requirements.
Previous school experience
There is no requirement to have spent time in a school prior to training to teach. However, most potential trainee teachers find it helpful to visit schools to see how teachers plan and teach lessons.
Part of our interview process includes delivering a short teaching task as well as showing an awareness of the curriculum and school life. Observing recent teaching in action in an appropriate school setting for the subject/phase you intend to teach will help prepare you.

Depending on where you are located, you may find the Government's School Experience Programme useful in helping you secure some time in a school. Alternatively, you may be able to use your own personal or professional contacts to arrange school visits.
Subject Knowledge Enhancement (SKE)
Subject Knowledge Enhancement (SKE) courses help to get you into teaching by improving your knowledge of a subject area. If your degree isn't in the subject area you want to teach, or you want to transfer your professional experience into a teaching context, then an SKE course might be perfect for you.
---
Making your application
You can search and apply for our teacher training courses through GOV.UK Postgraduate Teacher Training.
You can apply for up to four PGCE, Sussex School Choice or School Direct: Salaried courses, in any combination. Our teacher training place list [PDF, 452KB] will will give you the codes for all of our PGCE courses, and help you find schools offering School Direct places in your phase or subject.
Personal statement
You'll also need to write a personal statement that sets out why you want to teach, what experience you have with children and young people, and what skills and personal qualities you have that will enable you to become an effective teacher. You can make reference to any visits to schools where relevant, and draw on examples from your own education, employment or wider life experience. You should also think about your knowledge and awareness of current themes in education, including those relevant to your specialist subject.
Find out more about writing teacher training personal statements.
References
Additionally you'll need to provide two referees who will support your teacher training application.
If you are still at college or university, a lecturer should be able to give you an academic reference.
If you graduated less than five years ago, one of your referees could still be a tutor or lecturer you studied with who is able to comment on your academic achievements as well as your personal qualities.
If you finished your studies more than five years ago, your principal referee should be a responsible person who knows you well enough professionally to write with authority about you, such as an employer.
If you are currently working in a school, your head teacher or line manager should be one of your referees.
Your referees will only be contacted by the UK Government's Department for Education's application system after you accept your offer of a place.
Your place cannot be honoured by the University untill we receive details of two suitable referees. If references are not received in time, or if new information comes to light subsequently which makes you unsuitable for teaching, your offer of a training place will be withdrawn.
Suitable referees include:
your current or previous employer
your current or previous university tutor
if working in a school, the Head/Deputy (senior enough to be aware of any disciplinary issues)
if volunteering in a school, a member of staff in a senior role
a manager from a charity or voluntary organisation where you have worked or volunteered with children, young people or vulnerable adults
your line manager in current or previous employment.
Unsuitable referees include:
personal friends
family members
co-workers
an acquaintance (even if they hold a professional role elsewhere)
landlord or neighbour (even if they hold a professional role elsewhere)
your accountant or GP.
---
Your interview
If you meet the entry criteria, we will invite you to interview. You can choose whether to attend in-person or remotely. We'll also send you some information and guidance to help prepare you for the interview. You'll be able to let us know of any adjustments you need to help you participate successfully in your interview.
If your application does not meet the required entry requirements, we will notify you through the UK Government's Department for Education's application system. Being rejected will not affect your ability to apply for a place with us another year.
On your interview day you will:
have identity and qualification checks (if your interview is online this will be done virtually, but you will need to submit your original documentation before the start of the course in September if you accept a place)
undertake an individual interview interview with a panel consisting of at least one university tutor, and sometimes including a mentor or professional tutor from a partner school
deliver a short, pre-prepared teaching task to the panel (you will have received information regarding this in your interview invitation)
meet tutors and have an opportunity to ask questions.
We recommend that you disclose information regarding any disabilities or health needs on your application form, so that we can give you the relevant support and consideration – not only at the interview, but throughout your teacher training. This information is not considered until after your interview has been taken place.
We are unable to reimburse any travel or other expenses incurred in attending your interview.
---
After your interview
If the panel decides that you are not yet ready for teacher training, we will give you feedback to help you prepare for a future application.
If you are successful, the next steps differ depending on what teacher training course you applied for.
For Postgraduate Certificate in Education (PGCE) courses
If we are able to offer you a place on your chosen PGCE course, you will receive a notification from the UK Government's Department for Education's application system. This will be followed by a letter from the University of Sussex with more detailed course information and the conditions you'll need to fulfil before beginning your teacher training.
For Sussex School Choice or School Direct: Salaried courses
If you were successful at your university interview, we will send feedback about your performance to the school(s) you have applied to, recommending that you are now ready for a school interview. This will require you to plan and teach an activity with some school pupils.
The school will then make the final decision whether to offer you a place.
Responding to your offer
You'll have 10 working days from receiving an offer from the ­last of your three course choices to accept your place. You cannot accept an offer from more than one institution. Teacher training providers are not allowed to pressure candidates into accepting a place sooner than this. If you do not accept an offer from the University of Sussex within this timeframe, the UK Government's Department for Education will automatically withdraw your place offer.
Once you have accepted your offer of a place, you will receive further emails from us giving you information and some pre-course tasks to complete.
---
You may also be interested in: