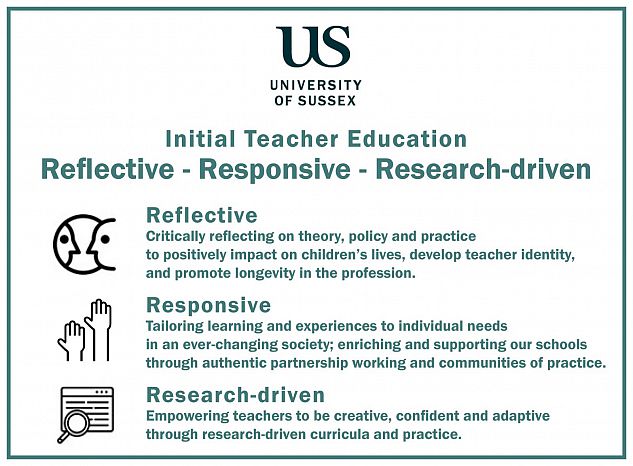 Our success
The partnership annually reviews the quality of its teacher education courses, as well as the progress of its trainees. Our courses are also quality assured annually by external examiners.
We are proud of our trainees and their success. Of our graduating cohort of 2021/22, 98% secured QTS.
Following a delayed Ofsted inspection in 2023 (the previous inspection was in 2014), our Early Years Initial Teacher Education provision was ranked "outstanding" in all areas. Both Primary and Secondary Initial Teacher Education were ranked "good" overall, with an "outstanding" ranking for Leadership & Management in Secondary specifically.
Our partnership
The University of Sussex has a history of innovation for its teaching courses: 45 years ago it pioneered the model of school-based teacher training, which has now been adopted by all training providers in England.
In 1993, the Sussex Consortium of Teacher Education and Research was established and has since overseen a partnership where over 200 local Secondary, Primary, Sixth Form Colleges, and Special Schools work together with the University to select, train and assess generations of new teachers. The result of this long-established relationship is that our trainees receive excellent support - both from schools offering professional practice placements, and from the experienced teachers who act as mentors supporting our trainees and offering models of good practice.
To see PGCE and School Direct places available for teachers training in 2023/24, see the latest PGCE and School Direct Place List. For funding opportunities, see our PGCE & School Direct Trainee Fees & Bursaries: 2023 and the Government's 'Scholarships and bursaries' web page.
Our offer
We currently offer a Postgraduate Certificate in Education (PGCE) in Primary (ages 5-11) and Secondary (11-16) with specialisms in Biology, Chemistry, Computer Science, Design Technology (DT), Drama, English and Drama, English and Media Studies, English, Geography, History, Latin & Classics, Mathematics, Modern Foreign Languages (MFL), Music, Physics and Religious Education (RE). In the secondary subjects, professional practice is focused on Key Stages 3 and 4, but training also includes inputs on the post-16 curriculum with teaching experience placements - where available and on request.
We also offer the following subjects at Key stage 4 and 5 (14-19) where these subjects are taught: Media Studies, Business Studies and Psychology.
To support candidates in shortage areas, we provide Subject Knowledge Enhancement (SKE) training in Ancient Languages: Latin & Greek, Design Technology (DT), English, Mathematics, Modern Foreign Languages: French and Spanish and in Science subjects: Biology, Chemistry and Physics.
For established and experienced school professionals without a teaching qualification or QTS, we also offer the Assessment-only route to QTS.
Our full PGCE course (worth up to 90 M level credits) is equivalent to a third of a Masters qualification. Following graduation, many of our trainees opt to enrol on our innovative Education MA (part-time) course which features a pathway specially tailored for early career teachers.