First in the world for Development Studies for the seventh consecutive year
In partnership with the Institute of Development of Studies (IDS) we have been named best in the world for Development Studies in the QS World University
Rankings by Subject 2023 for the seventh year in a row!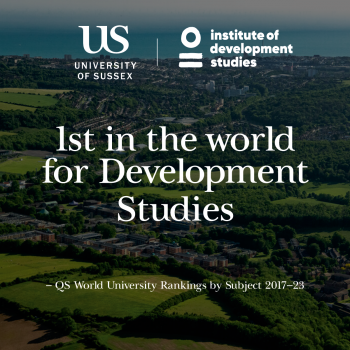 This ranking reflects our international reputation for excellence as well as the strength of teaching and research relationships between Sussex, IDS, our staff, students, alumni and partners globally. It has been achieved through the work of IDS and our Schools of Global Studies, Education and Social Work, Media, Arts and Humanities, and the University of Sussex Business School.
Head of School of Global Studies professor Elizabeth Harrison said: ''To be ranked number one in the world for seven consecutive years is wonderful recognition of our continued commitment to excellent teaching and research for a fairer, safer, more sustainable and inclusive world. We don't necessarily have all of the answers, but we will keep asking the difficult questions in ways that are both challenging and collaborative''.

Read more
School of Global Studies blog



SussexGlobal provides a space where students, faculty, alumni and associates can share research, experiences and opinions in their own words.
Contact us

Global Studies School Office (general enquiries)

E global@sussex.ac.uk
T (01273) 877540
F (01273) 876513

Room C168, Arts Building C, Arts Road,
University of Sussex, Falmer, Brighton, BN1 9SJ

Undergraduate and Postgraduate Course Coordinator

Address

International Development, School of Global Studies, University of Sussex, Falmer, Brighton, BN1 9SJ .
Global Studies events

Global Studies news