Research review
Delve into our annual publication of research taking place in the University of Sussex Business School.
Welcome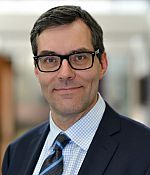 In this edition of our annual Research Review, we provide a selection of articles about the innovative research being undertaken here at the University of Sussex Business School and share with you our successes, recent activities and outputs, and plans for the year ahead.
We have all faced multiple crises over the past year: health, economic, and social. Here, at the University of Sussex Business School, despite these significant challenges, we have shown adaptive agility in our teaching provision as well as the continuing relevance of our research to the world we live in.
Our research portfolio includes core disciplines in business, economics and innovation studies, with a highly applied focus. As the feature articles in this edition illustrate, these strengths place us at the forefront of research into some of the key challenges facing modern government, industry and civil society: from climate change mitigation, through sustainable supply chains to understanding entrepreneurship and the world of work.
Furthermore, over the past year, we have produced some of the world's most cited research, with six of our faculty appearing in the top 1% of researchers globally – across all disciplines – according to citation metrics (source: Clarivate Analytics). We are also immensely proud to have secured top levels of research grant funding, now ranked second in the UK and best-performing non-affiliated business school by the Chartered Association for Business Schools (CABS), having received more than £11 million over the last three years.
As a Business School, we embrace the University of Sussex's institutional mission and overarching ambition to be 'a better university for a better world' and we are committed to making a positive impact on policy, business and society. This review gives a taste of our work over the past year.
Professor Steven McGuire, Dean of the Business School
Download the 2020-21 Research Review
You can download:
Introduction

As COVID-19 restrictions ease and the world emerges from lockdown, we look back at what has been another turbulent and troublesome year for UK research.
What we see, despite last year's radical pivot to an entirely virtual mode of working, is not a lost year of faltering effort and vanishing opportunity but a period of increased success and redoubled enthusiasm for our research: research that has proved to be more urgently required and globally relevant than ever before.
Our research responding to the pandemic has continued apace, with several new Covid-related projects commencing in 2020- 21, and several others coming to fruition with a slew of influential publications and policy engagements. For example, Prof Michael Hopkins led a widely publicised study comparing the UK's Coronavirus testing systems with those of seven other countries in order to determine their efficacy and inform international efforts to better diagnose and track the virus.
Our strengths in the fields of energy, innovation and sustainability have enabled us to contribute significantly to the global dialogue around climate change, informing policy making, regulation and business practice in the run up to what is widely considered to be a vital watershed moment for the global climate crisis: COP26, held here in the UK in November. Research by colleagues in all five departments has – along with work undertaken in several of our research projects, programmes and centres – helped consolidate our reputation as one of the country's most prominent centres for sustainability expertise. The Social, Technological, and Environmental Pathways to Sustainability (STEPS) Centre entered its 15th and final year, and continues to produce impactful research of the highest calibre; while the Sussex Sustainability Research Programme (SSRP), which has its administrative home in the School, succeeded in bringing together a host of international stakeholders to address the urgent need to better align the overlapping agendas of climate change and the SDGs (the UN Sustainable Development Goals) at its virtual international symposium in July.
Eleven of our energy policy experts are involved in a new research and innovation centre for UK industrial decarbonisation – the Industrial Decarbonisation Research and Innovation Centre (IDRIC) – which has received £20m from UK Research & Innovation (UKRI). Under the direction of Prof Benjamin K. Sovacool, Business School academics are leading on three key research topics focusing on smart policy and governance around industrial decarbonisation, just transitions for industrial decarbonisation in the UK, and the politics of industrial decarbonisation policy. The aim is to place the UK at the forefront of the global shift to Clean Growth, by driving the technologies, services and markets to produce low-carbon industrial products. It will support delivery of the Clean Growth Grand Challenge and the Industrial Clusters Mission, which has set an ambition to establish at least one low-carbon industrial cluster by 2030 and the world's first net-zero industrial cluster by 2040. And finally, our finance researchers are investigating how climate change is creating new opportunities in modern finance and economics – particularly the economics of green finance, environmental finance, climate risk, and the impact of weather changes on the economy.
Our work in other of the so-called 'grand challenge' areas has proved similarly influential. Research by the UK Trade Policy Observatory, for instance, has been picked up by media outlets the world over, reaching a total audience of millions and making it some of the University's most widely reported research. This includes ground-breaking research into the consequences of post-Brexit trade for equality and inclusivity, coming at a time when inequalities in the UK and around the world are at an all-time high, and when many of the country's international trade relations remain as complicated and uncertain as they did on the day the UK officially exited the EU.

That Sussex once again ranked first in the world for Development Studies (QS World University Rankings 2021) is due in no small part to the outstanding interdisciplinary research conducted here in the Business School. Our outlook continues to be highly international, despite the pandemic. Indeed, if anything, Covid has thrown into sharper relief many of the global challenges and deep social inequalities that have long been the focus of our research.
The Transformative Innovation Policy Consortium (TIPC), for example, continues to lead thinking in how to redirect economies and societies, post-Covid, towards more equitable, sustainable and resilient futures. The Organisation for Economic Co-operation and Development cited Transformative Innovation Policy (TIP) as a novel and emerging approach that can help governments looking to address global societal challenges in its new Science, Technology & Innovation Outlook 2021, a biennial publication that aims to inform policy makers and analysts about changes in global Science Technology and Innovation patterns and their potential implications for national and international policies.
Closer to home, and whilst many of us transition to 'hybrid working', Dr Emma Russell, a member of the Digital Futures at Work Research Centre (Digit) has produced a groundbreaking book on agile working and working from home. Agile Working and Well-Being in the Digital Age provides an in-depth understanding of the growing phenomena of agile working, flexible working enabled by new technologies, and e-working, to meet market needs as well as individual and organisational goals.
When it comes to funding, government priorities for research remain largely unclear. The Industrial Strategy was summarily scrapped; vital research supporting overseas development was abruptly closed down as ODA funding was clawed back; and while the total funding allocated to UK R&D has ostensibly increased, it is clear the portion attributed to university-based research has decreased dramatically. However, despite this bleak outlook, the School's research base has continued to flourish. Our project portfolio now ranks as one of the largest of any business school in the country, having again grown in both quantity and value. According to the Chartered Association of Business Schools' (CABS) annual rankings, we are now second in the country for research income (having ranked 3rd for the past 3 years). By this measure and several others, including citation and impact metrics, we continue to outperform our Russell Group competitors. We are also a partner member of the Responsible Research in Business and Management (RRBM) network, who recognise us as a pioneering institution.
These achievements are testament to the resilience, dedication and diligence – not to mention the phenomenal talent – of our research community. The following pages provide just a small snapshot of the important work we have continued to produce over the 2020-21 academic year.
Pictured first: Professor Constantin Blome, Associate Dean – Research; pictured second: Dr Richard Taylor, Research Manager.
In depth
read the previous years' articles
In the media
There were 1116 items of coverage in the UK media with a total reach of 223 million (1 September 2020 to 28 August 2021).
Coverage where staff or research were mentioned without the 'University of Sussex' affiliations is not included in these statistics.
Top five stories
Research on COVID-19, Brexit and cocky kids features in the Business School's top five media stories (largest reach per individual news item):
Top news stories by department
Download Previous Research Reviews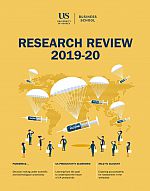 You can download previous editions of the research review. These are legacy documents that may not be fully accessible.
2019-20
2018-19
---
You might also be interested in: