Supporting the Sustainable Development Goals
Our commitment to the United Nations Sustainable Development Goals is world-leading.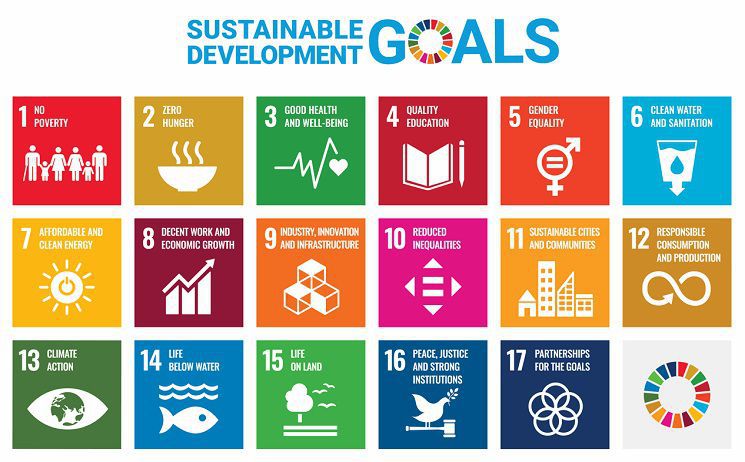 The 17 UN Sustainable Development Goals (SDGs) are a universal call to action to preserve our planet and improve the lives of everyone, everywhere – by ending poverty and hunger, providing education for all, protecting our environments, and combating climate change.
As we approach the mid-point of the UN's Agenda for Sustainable Development, with fewer than 10 years left to achieve the SDGs, academic research has a vital role to play in providing stakeholders and policymakers with the knowledge they need to meet the goals.
In 2022, the University of Sussex was placed 7th in the UK (and 37th in the world) for our SDG-related impact by the Times Higher Education World Impact Rankings – the only global assessment of universities' progress towards the SDGs. Our highest score – 3rd in the world – was for SDG 17 (Partnerships for the Goals) – reflecting the University's many successful collaborations with global and local partners.
This institutional strength is strongly supported by research taking place in the Business School. For example:
• Our work on the national minimum wage (see p13) addresses SDG 1
• Research by the Sussex Energy Group (see p16) explores issues relating to SDG 7
• The Digit centre (see p18) addresses SDG 8
• The Centre for Inclusive Trade Policy (see p20) contributes to SDGs 10 and 16
• The Transformative Innovation Policy Consortium (see p22) supports the achievement of SDG 9
• Our climate economics and climate finance work, along with our research into climate change mitigation, supports SDG 13
Much of the University's sustainability research is supported and funded through the Sussex Sustainability Research Programme (SSRP) – an interdisciplinary partnership between the University of Sussex and the Institute of Development Studies. SSRP is managed and administered from within the Business School but brings together and encourages sustainability research across the University, and has played a significant role in enhancing the University's reputation in sustainability science and policy. "Our mission is to be a world-class centre, delivering research with and for international, national and local stakeholders to help achieve transformative, positive change," explains Katie Hiscock, SSRP Programme Manager.
To date, SSRP has supported 53 seed projects in partnership with 117 researchers across the University, with 14 of those projects led by or developed in partnership with Business School researchers. Some of the 2021/2022 projects involving Business School colleagues are described below.
Agricultural Voices Syria
The award-winning Agricultural Voices Syria (AVS) project is promoting sustainable agricultural practices in Syria through an innovative series of podcasts for farmers – the first of their kind in a conflict zone.
During the Syrian war, the country's agriculture sector suffered major setbacks, including the collapse of support services for farmers. Dr Mirela Barbu (Management), together with Professor Martin Spinelli (Media), collaborated with the Syrian Academic Expertise NGO and the Council for At-Risk Academics (Cara) to fill this critical gap. Combining their expertise in global value chains, podcasting and agricultural practices, the team helped set up the AVS podcast to support Syrian farmers, improve food security and livelihoods, and aid the country's recovery.
The project won Emerald Publishing's 2021 Real Impact Award for Interdisciplinary Research, an award designed to 'recognise an innovative research project that promotes action on the UN SDGs and global challenges'. More than just a podcast, AVS is now being developed as a broader communication platform for local and international actors working to achieve food security in northwest Syria. The project is helping to address SDGs 2 and 12.
CarbonMap initiative for sustainable land management
Led by Dr Lokendra Karki (SPRU), this project developed the CarbonMap – a tool that provides information about carbon sequestration and emission reduction at an individual farm level. The tool can aid decision-making and contribute to carbon neutrality in the agricultural sector. This project addresses SDGs 13 and 15.
Developing an ecosystem of business networks to support SMEs' transition to the circular economy
Dr Shova Thapa Karki (Strategy & Marketing) is working with Circular Brighton and Hove and Brighton and Hove City Council to understand what support SMEs require to transition to the circular economy, and to build business networks to support this shift. This project addresses SDGs 12 and 13.
Environmental, social, and corporate governance in global supply chains
Dr Anthony Alexander (Management) explored indicators and metrics for free trade, following the recognition that labour and environmental dimensions were not integrated in the Regional Comprehensive Economic Partnership (RCEP). The metrics facilitated the evaluation of benefits and risks, underpinning visions of change and defining objectives and targets. This project addresses SDGs 3, 6, 7, 8, 12, 13, 16 and 17.
Scoping networks of support for sustainable forest frontiers
Led by Dr Anthony Alexander (Management), this project addressed drivers of deforestation, including global food demand and local economic development. It involved a scoping study, piloted in Peru, for a physical map of supply chains and a compendium of legal and voluntary drivers for commodities and jurisdictions. This project helped stakeholders support SDGs 1, 2, 8, 12, 15, 16, and 17.
Prospects for decent work in green economy initiatives after multiple shocks
Professor Ödül Bozkurt (Management) led an international team to establish a network of academics and stakeholders focused on generating decent work through green economy initiatives to support recovery from major shocks in developing economy city regions. This project addresses SDGs 4, 5, 8, 9, 10, 11 and 17.
UK Food Systems Centre for Doctoral Training
SSRP also leads the University's involvement in the UK Food Systems Centre for Doctoral Training – a consortium that aims to develop the next generation of food system change makers for a healthy and sustainable food future. Professor Fiona Marshall (SPRU) is the University's academic lead on the consortium management team.
Parliamentary partnership
In 2021, SSRP academics including Ruth Segal (SPRU) produced a key report, Saving Resources: Actions that achieve both climate goals and the SDGs. Written in partnership with the All Party Parliamentary Group on the UN Global Goals for Sustainable Development, it explains how aligning the climate and SDG agendas can help to meet critical targets.