Centre for Inclusive Trade Policy
The newest research centre in the Business School aims to be a centre of excellence for innovative trade policy research.
A major new research centre – the Centre for Inclusive Trade Policy (CITP) – was launched in April 2022. It is one of six new national centres funded by the ESRC to tackle urgent social and economic issues. Led by Sussex Economics Professors Alan Winters and Michael Gasiorek, the Centre aims to provide robust research evidence that can support decision-making in the crucial area of trade policy.
A response to a rapidly changing landscape
Recent years have seen huge changes in UK and international trade. Having left the EU, the UK is in the process of devising its own trade policy – one that will shape economic and welfare outcomes for generations. At the same time, international trade is evolving rapidly and becoming increasingly complex as the world's trading system faces major challenges – from Covid-19 to trade wars, disruptive digital technology and climate change.
Against this turbulent backdrop, the need for evidence about effective, inclusive trade policy is more important than ever. "International trade accounts for nearly a third of UK output and a third of what it consumes," explains Professor Winters. "Our research also suggests that perhaps 6.5 million jobs are linked directly or indirectly to exporting. The country really needs a 'go-to' location, both intellectually and for policy formulation."
The CITP approach
CITP aims to be a centre of excellence for innovative trade policy research. As well as conducting frontier disciplinary and interdisciplinary research into international trade policy and applying research skills to pressing practical trade problems, the Centre will:
• develop data, including a 'Jobs in Trade' dataset that will provide information over time to establish the effects of different policies on jobs and earnings across UK regions
• work with international partners to analyse broad challenges to the world trading system
• inform public debate and understanding of trade policy issues
• engage with policymakers, businesses and civil society organisations to support better and more inclusive trade policy-making.
As its name suggests, CITP is concerned with trade policy that is inclusive – both in policy formulation and outcome. It focuses on four dimensions of inclusiveness: geography, political domains, society and generations. "The Centre's aim is to equip the UK with the capability to formulate and implement a trade policy that's tailored to the needs of the whole of the UK," says Professor Winters.
The Centre builds on the work of the UK Trade Policy Observatory – a partnership between the University of Sussex and Chatham House that was established in 2016.
The importance of a trade strategy
The Centre's first briefing paper, First Things First: Start with a Trade Strategy, calls for greater clarity about the UK's objectives across the wide range of issues involved in trade policymaking.
"A sensible trade strategy should be one that seeks to support and contribute to domestic policy objectives," says Professor Gasoriek. "Given the gains from international trade, it's tempting to see the desire to sign free trade agreements as a step in the right direction. But this pays too little attention to broader public policy issues of equity and security. It also ignores what can be achieved multilaterally via international bodies such as the World Trade Organization."
The paper concludes that free trade agreements should be seen as a part of the Government's trade strategy, as opposed to being the strategy, and that trade liberalisation, including signing free trade agreements, needs to be done selectively, coherently and consistently across agreements.
The briefing has been shared with a range of policy practitioners across the UK.
Exploring public attitudes to trade policy
As part of its initial research, the Centre is conducting deliberative research on public attitudes towards UK trade policy, in particular the inevitable choices and tradeoffs that trade policy requires. Researchers will explore how people think their way through making these trade-offs, including what are essentially quantitative aspects. For example, what might somebody accept if it resulted in 2,000 new jobs that they would not accept if only 20 new jobs were created?
"We believe that understanding how people think about trade-offs in trade will help future governments identify optimal policy options and explain them," says Professor Winters. "It will also help to focus the Centre's research on issues that really matter to people."
The research involves five sessions with five groups of individuals in five different locations across the UK. The aim is to document public attitudes and aspirations for trade and how these differ across the UK nations and regions. Results are expected in mid 2023.
Addressing UK greenhouse gas emissions through trade policy
The independent Committee on Climate Change recently commissioned CITP and the UK Trade Policy Observatory to produce a report about trade policies and emissions reduction. This is a complex – and extremely important – area as countries struggle to reach their net-zero emissions targets. The CCC estimates that 46% of the UK's consumption emissions take place outside the UK, but the UK's net-zero emissions target for 2050 focuses largely on domestic emissions. If the UK simply outsources its emissions, it will not address its global contribution to climate change.
The report, Trade policies and emissions reduction: establishing and assessing options, focuses on whether and how the UK should introduce border carbon adjustments (which price the emissions embodied in imported products) and product standards (which require that imported products fall below specific embodied emissions thresholds). The EU has implemented these approaches in its Carbon Border Adjustment Mechanism.
Findings and recommendations from the report fed into the CCC's 2022 Progress Report to Parliament.
"The Centre's aim is to equip the UK with the capability to formulate and implement a trade policy that's tailored to the needs of the whole of the UK"
About the researchers
Prof Alan Winters is Professor of Economics at the University of Sussex Business School and Director of the Centre for Inclusive Trade Policy.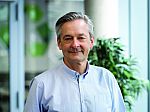 Prof Michael Gasiorek is Professor of Economics at the University of Sussex Business School and Director of the Centre for Inclusive Trade Policy.
The CITP team and partners
Bringing together expertise in economics, law, business management, politics and international relations, the CITP team comprises researchers from all four nations of the UK – from the University of Nottingham, the University of Strathclyde, Queen's University Belfast, Cardiff University and the University of Cambridge – as well as from several overseas universities.
The Centre also has nine non-academic partners: Ernst & Young LLP, Fieldfisher LLP, the International Trade Group of the Professional and Business Services Council, the British Chambers of Commerce, the Trade Justice Movement and trade officials in all four UK administrations, including the Department for International Trade. These partners bring practical experience and a direct link to users of trade policy research.
The Centre is supported by an £8 million grant from the ESRC and by funding from its contributing universities.
Read more
Recent briefing paper: First Things First: Start with a Trade Strategy