History of SPRU
Find out about the history of the Science Policy Research Unit (SPRU), from its beginnings in 1966 to the present day.
How it started
SPRU was founded in 1966 by Christopher Freeman and was one of the world's first interdisciplinary research centres in the field of science and technology policy.
Chris Freeman (11 September 1921 to 16 August 2010), an economist, was one of the most eminent researchers in innovation studies, and among modern Kondratiev wave and business cycle theorists.
Chris was invited to set up SPRU by Asa Briggs (then the University Pro Vice Chancellor) and became its first Director (a post he held until 1982).
Alongside his role as Director of SPRU, Chris was RM Phillips Professor of Science Policy and later Professor Emeritus at Sussex.
Together with colleagues at SPRU and internationally, Chris founded and edited the journal "Research Policy" which became the leading journal in the field and is today edited by Ben Martin (another former SPRU Director), Ed Steinmueller and Paul Nightingale.
The influence of Chris Freeman

Chris Freeman's fields of specialization were the economics of innovation and technical change, science and technology indicators and definitions of R&D (leading to the 1963 Frascati Manual), the diffusion of technologies, structural change in the world economy, and the 'catch-up' efforts of developing countries.

His influence on generations of researchers was wide and profound. Programs that have their origins in his work can be traced at leading public policy institutions across the world.

Chris passed away in 2010. Obituaries for Chris appeared in the Guardian, the Daily Telegraph and the Times [DOC 288KB] among other places.

Publications

Thinking about the Future: A Critique of The Limits to Growth
Developing science, technology and innovation indicators: What we can learn from the past
Systems of Innovation: Selected Essays in Evolutionary Economics
As Time Goes By: From the Industrial Revolutions to the Information Revolution
The Economics of Industrial Innovation
Work for All or Mass Unemployment?: Computerised Technical Change in the Twenty-First Century
The Economics of Hope: Essays on Technical Change, Economic Growth, and the Environment
Technology Policy and Economic Performance: Lessons from Japan
Unemployment and Technical Innovation: A Study of Long Waves and Economic Development.

See the Chris Freeman website for more information.
Pioneering spirit
Joined from the outset by Geoff Oldham and administrative pioneer Jackie Fuller, Chris worked with a number of other renowned academics and SPRU quickly became a pioneering institution, leading the field and breaking new ground throughout the 1970s and 1980s.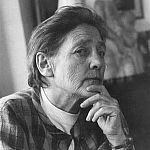 Attracting grants both from the UK and internationally, SPRU was able to attract many leading researchers and thinkers from around the world, including Martin Bell John Chesshire, Charles Cooper, Giovanni Dosi, Michael Gibbons, Jonathan Gershuny, Marie Jahoda (pictured), Mary Kaldor, Ben Martin, Ian Miles, Julian Robinson, Roy Rothwell, John Surrey, Luc Soete, Nick von Tunzelmann and William Walker, while many other eminent researchers were visitors to SPRU, in particular ,Richard R. Nelson and Carlota Perez.
SPRU's world-renowned, multi-disciplinary research has helped policy makers to address real-world problems for over 50 years. The innovative and collaborative approach taken by the SPRU team has seen contributions to both theory and practice, and also inspired countless researchers and students. This combination of theory and practice, alongside a strong focus on external engagement within academia, the policy world and beyond, remains to this day.
Running Masters and PhD programmes formally since the early 1980s, but committed to pioneering teaching and supervision in the field since the Unit's inception, SPRU is one of the largest academic bodies in the world studying science, technology and innovation.
Attracting top students from all over the world, many former SPRU PhDs and staff have gone on to influence science policy around the world and play leading roles in academia. Its international impact has been developed through SPRU's graduates around the world, a long-standing Visiting Fellows programme and extensive academic networks.
Celebrating 55 years
In 2021 we are celebrating our 55th anniversary, and are committed to building on past contributions to tackle pressing global challenges.
This important milestone allows us to reflect on SPRU's major contributions to the shaping of innovation policy and research since its inception, re-connect with alumni, colleagues and stakeholders and make new connections, developing partnerships and collaborations that align with our teaching and research to respond to a world in transition.
Today we have more than 50 faculty members at the forefront of new ideas, problem-oriented research and creative, high-impact engagement with decision-makers. Inspiring research-led teaching is core to our mission with an outstanding portfolio of taught Masters courses and PhD programmes developed over five innovative and exciting decades.
We are proud of our history and excited for the future.
Further reading
---
You might also be interested in: