Travel
One of the key objectives of our travel plan is to improve sustainable forms of travel to campus. We want to encourage people not to travel by car and instead offer various schemes to staff and students.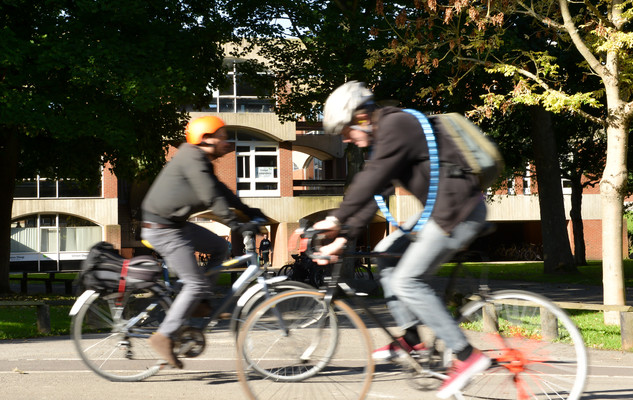 Cycle to work scheme
Our Cycle to Work scheme allows staff to buy new bicycles and safety equipment with savings of up to 42%.
Cycle to Work is a Government-backed initiative that allows staff to obtain a bike and/or cycling accessories to use for riding to work while making tax and National Insurance savings from their gross pay.
A staff member chooses their combination of bike and accessories and then rents the equipment through salary sacrifice from the University.
Director of HR, Sheila Gupta, said: "This scheme provides a great opportunity to buy a brand new bike and safety gear at substantial discount – and spread the cost over a year. We've installed new cycle parking on campus to make it easier than ever to find a space.
"Recent research indicated that people who cycle to work can halve their risk of cancer and heart disease. Besides the obvious health benefits there's our beautiful setting. There aren't many people who can commute to work along an iconic seafront or through a national park."
In order to deliver the scheme we have formed a partnership with Cycle Solutions - one of the UK's leading providers of Cycle to Work.
Find out more about the scheme from Cycle Solutions
---
Easit
Our staff are eligible to join a sustainable transport initiative that provides 15% discount on Southern rail services and 10% discount on many Brighton & Hove bus routes, among a host of other benefits.
The easit scheme is designed to make public transport and cycling more attractive to commuters – helping reduce congestion and carbon emissions in the process.
Other benefits include:
Free Day Rider Gold bus tickets with Stagecoach
Halfords cycling - 10% bikes, 20% servicing and 20% accessories
Electric Bikes Sussex - 10% discount
Free driving credit and free Co-wheels Car Club membership
Free driving credit and savings with Enterprise Car Club
£11k discount on the Nissan Leaf Acenta electric car
The scheme is open to all full‐time and part‐time employees of the University whose contracts will run for 12 months or more at the time of registering.
Find out more about the scheme

---
Discounted bus tickets for students and staff
Students are entitled to discounted bus tickets on presentation of a 'student mticket' and appropriate student ID.
Students can buy one-week, three-month and yearly tickets from One Stop Travel (North Street, Brighton) or Brighton & Hove Bus Company office (Conway Street, Hove). One-week tickets can also be purchased from USSU shops on campus.
Find out more about discounted bus tickets for students

Sussex staff can obtain a 10% discount on Brighton & Hove networkSAVER bus tickets (7 day, 28 day, 90 day and annual) using the key smartcard.
This discount is also obtainable by registering for the easit scheme. This discount does not apply to one day, Pay Monthly networkSAVERS and citySAVER tickets.
---
Improvements to bus services
We liaise with the bus companies to look at ways they can improve existing services and provide new ones.
Ongoing discussions are held between the Transport Manager and the bus companies to try to ensure that bus routes are reliable and frequent and that they meet the needs of our staff and students.
Since September 2017 there have been more buses on routes 25 and 25X, making 24 buses per hour between Falmer and Brighton centre during the day in term time.
The frequency of the N25 night bus increased to up to every seven minutes until 2am. On the route 23 to and from Queens Park, the service increased from two buses per hour to four during term time.
Bus shelters, including seating, have been added to all bus stops on campus to help improve the service.
Buses operated by Brighton & Hove Bus Company have facilities for wheelchair users and the bus stops at Bramber House, North/South Road and East Slope have been converted to enable wheelchair users to get on and off the bus at these locations.
---
You might also be interested in: