News
See our news stories for culture, equality and inclusion at Sussex.
David Ruebain: Inclusive Sussex update
Posted on behalf of: Internal Communications
Last updated: Friday, 2 September 2022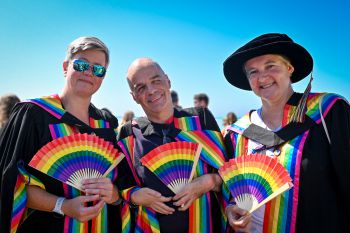 On 2 September David Ruebain, Pro-Vice-Chancellor (Culture, Equality & Inclusion) emailed all staff. You can read the message below:
Dear colleague,
I do hope that you managed to get a break and enjoy some of the fine weather.
In this update, I would like to focus on:
Black At Sussex
In Conversation at the ACCA on 1st November
Brighton and Hove Pride
Development of a new Trans and Non-Binary Inclusion Policy
Black at Sussex
First, I am delighted to announce that the university is funding a 5-year programme of events together with an annual project, in collaboration with national organisations including the Black Cultural Archives in London and local community-based organisations. Amongst other things, the programme will celebrate many of our outstanding Black alumni and is part of our work to improve the experience and support recruitment of black students in and to the University.
The programme which will be coordinated by the EDI Unit in collaboration with colleagues from schools and professional services across the university will build on and contribute significantly to a range of existing priorities at Sussex including our anti-racism pledge, student experience and widening participation.
To begin, we have two events coming up in the next few weeks, starting with a Black at Sussex TED Talk on 3 September which is part of our 60 Years of Sussex Alumni Reunion Weekend. On 22 September we will be holding a joint event with the Black Cultural Archives in Brixton, London from 6.30-8.30pm. The Black Cultural Archives was co-founded by Sussex alumnus Len Garrison. I'll be attending the event alongside VC Sasha Roseneil, and CMA Director Emily Tofield.
Also coming up: In Conversation with Dan Gillespie-Sells
I am also delighted that we are hosting our first 'In Conversation' event, featuring musician and songwriter Dan Gillespie-Sells along with staff and students, at the ACCA on 1 November. Dan is lead singer of The Feeling and has written songs for other artists including Sophie Ellis-Bextor and also for various television and theatre projects. In particular, Dan composed the music for the musical Everybody's Talking About Jamie about a young drag queen, which opened at The Crucible Theatre, Sheffield in February 2017, transferred to the West End and was subsequently made into a film which was released last year. Focusing on liberation and storytelling, the event is open to staff, students and the wider community. Further details will be available soon on our webpages.
Subsequent "In Conversation" events will feature individuals from many walks of life exploring issues of liberation, equality, diversity and justice.
Brighton and Hove Pride
I was thrilled and honoured to be part of the Sussex University contingent at Brighton and Hove Pride in August, another key moment in the year where communities come together in support of equality. I joined our new Vice-Chancellor Professor Sasha Roseneil, fellow UEG member Professor Kate O'Riordan, Dean (School of Media, Arts and Humanities) and a group of 50 staff, students and alumni in the Community Pride parade for Sussex. It was wonderful for us to be so well represented at an event which celebrates inclusivity and diversity, raising the flag for LGBTQ+ equality, both at the University, and also in the wider community across Brighton, Hove and beyond.
Trans and non-binary policy – for staff and students
Sussex has a range of policies to support our strategic ambitions and obligations to advance EDI. Alongside other university policies, these are periodically reviewed and amended or replaced where necessary to ensure they meet the needs of all our community and evolving regulatory and legal obligations.
We currently have a Trans and Non-Binary Equality Policy Statement, alongside transitioning at work and other guidance, and these have been updated. In consultation with the community we now want to develop a more thoroughgoing policy to address inclusion of trans and nonbinary members of our community. The EDI team, led by Assistant Director of HR Culture Equality and Inclusion Isobel Pearce and I will take forward this work.
With good wishes,
David Ruebain
Pro-Vice-Chancellor for Culture, Equality and Inclusion