Background

We are investigating the psychological and brain mechanisms underlying voice hearing experiences in people with a diagnosis of Borderline Personality Disorder (BPD)/Emotionally Unstable Personality Disorder (EUPD).
We know that voice hearing is common in people who receive a BPD/EUPD diagnosis, but unfortunately this is often not recognised by mental health professionals. Very little research has been done to understand what these experiences are like for people with BPD/EUPD. We are hoping that this research will increase our understanding of voice hearing, and lead to the development of new therapies for voice hearers with a BPD/EUPD diagnosis.
We are looking to recruit 50 service users with a diagnosis of BPD/EUPD, who are currently hearing voices (see box on right for a full list of study eligibility criteria).
What does the study involve?
First, a member of the research team will call you on the phone to tell you a bit about the study, and answer any questions you may have. Next, they will arrange a 15 minute eligibility assessment (over the phone, online or in-person) to check whether you may be eligible to take part.
If you are interested and eligible, taking part in the study involves three phases: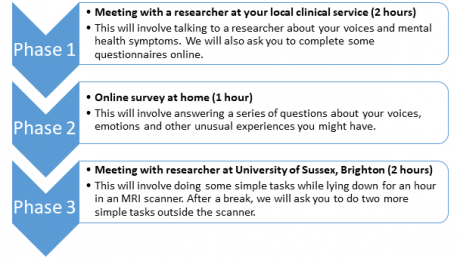 Taking part in this study will take about five and a half hours in total (split over the three study phases). You will be offered regular breaks, and can ask for further breaks whenever you wish.
At the end of the Phase 1 and Phase 3 assessments you will be offered £15 in exchange for your participation (£30 in total), and your travel expenses will be reimbursed.
What should I do if I am interested in participating?
We are currently accepting both clinician- and self-referrals:
For more information please take a look at the study Participant Information Sheet (PIS) - see right-hand panel.
If you are interested in participating, or finding out more, please complete the self-referral form (see right-hand panel)

If you are a clinician and wish to refer a client, please speak to your client, and complete the clinician referral form (see right-hand panel).
Alternatively, please feel free to contact our research coordinator, Charmaine Kohn Willbridge:
Mobile (Mon-Thurs, 9am-5pm): 07825 753 368
Landline (Mon-Thurs, 9am-5pm): 0300 304 4299
Email: charmaine.kohn@sussexpartnership.nhs.uk
If Charmaine is unavailable to take your call, please leave a message, and she will get back to you as soon as possible.