GiVE
Guided Self-Help CBT intervetion for Voices: Evaluated.
This project is part of an ESRC funded Doctoral studentship.
Study Information
Trial Registration: ISRCTN77762753
Study Background: Hearing voices is a common experience, however some people become very distressed by this experience. Cognitive behaviour therapy (CBT) has been found to be an effective intervention for people who hear distressing voices. The current economic climate, and limits on healthcare funding mean it is very difficult for people who hear voices to access CBT. A solution to this problem could be to find a different way of using current resources so that access is increased.
Study Aim: This study will trial a brief intervention for people who hear voices; specifically guided self-help CBT for voices. This study is a feasibility pilot study, therefore the aims are to find out whether participants find both the study and therapy to be acceptable. The outcomes of this study will help to inform a definitive trial of guided self-help CBTv.
Participants: (Recruitment has now finished) Recruitment to this study is based on whether the person hears distressing voices or not, regardless of their mental health diagnosis.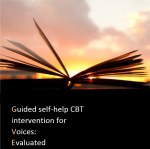 Participants must:
Aged 18 years or over
Currently distressed by hearing voices
Have experienced distressing voices for the preceding one year period
Be able to understand and communicate in English
Participants must not:
Have an organic illness
A current primary diagnosis of substance misuse
Be currently receiving or have confirmed plans to begin a psychological therapy for any mental health problem
Study Design: This study is a randomised controlled trial. Participants will be randomly allocated to receive guided self-help for voices or to join a wait-list control group. Everyone will receive the therapy, but some will receive it sooner than others. For those in the wait list, they will receive the therapy approximately 12 weeks after randomisation.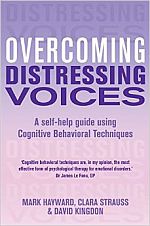 Intervention: Guided self-help CBT for voices is based on the Overcoming Distressing Voices self-help book (Hayward, Strauss & Kingdon, 2012). Participants will be offered up to 8 weekly sessions with a Clinical Psychologist. The therapy protocol has been designed in collaboration with clinicians and service users in Sussex Partnership NHS Foundation Trust. This therapy offers the participants the opportunity to take some ownership in the inter
Assessments: Participants will be asked to complete some questionnaires when they enter the study. This assessment will be repeated at 12 weeks. Those who are allocated to receive the therapy immediately will also be offered the chance to complete an exit interview to share their experiences of the therapy.vention by engaging is self-help. The aim of this therapy is to reduce the distress associated with hearing voices.
Timescale: Recruitment has finished.
If you would like more information about this study, please contact Cassie Hazell (Principal Investigator):
Cassie Hazell
E-mail: c.hazell@nhs.net
Phone: 01273 (67)8570
Mobile: 07738 758272
Twitter: @MissCHazell