26/02/20 Al Jazeera visited Tesoro Escondido last year and this is the documentary that just aired on the work to protect this biodiversity hotspot 'Women make Science: Ecuador's hidden treasure'
30/04/19 Link to the publication of the 'State of Primates in Ecuador' that provides an update of conservation status of primates in Ecuador
07/01/2019
A scoping trip to meet partners in Indonesia with the aim of establishing a marine paraecologist network has resulted in a successful funding proposal for 'Community-based data driven decision making for sustainable management of marine resources in Indonesia.'. We hope to get approval for research for fieldwork to begin in July 2019 and will update more as we progress.
08/07/18
Just returned from a 10 day visit to Ecuador to set up the Environmental Justice Project with the team at the Universidad Andina Simon Bolivar that aims to investigate how environmental justice conflict impacts the United Nations Sustainable Deveopment Goals. The trip included a visit to the Tesoro Escondido Reserve and the opportunity to see a Harpy Eagle and chick... this shows that the reserve is intact in terms of predators and top down ecological influebnces - a rare find in the degraded landscapes of NW Ecuador.
22/05/18
A few updates that include an article about the project in Ecuador to conserve the brown-headed spider monkey and a new project looking at environmental justice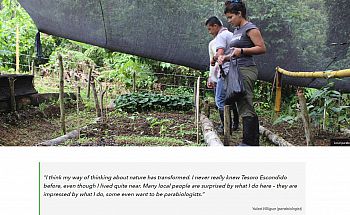 A great article by Synchronicty Earth Jim Pettiward on the Tesoro Escondido Reserve
www.synchronicityearth.org/conserving-the-green-heart-of-the-forest/
Also we have just been awarded and started on a Sussex Sustainability Research Programme (SSRP) project examining the impact of environmental Justice on the UN Sustainable Development Goals
www.sussex.ac.uk/ssrp/research/trade-debt-and-sdgs/environmentaljustice
27/12/17
Just back from the 10th year running the Ecuador Sussex university Field Course at Santa Lucia Reserve and delighted to see how they have taken on the scientific research. Also just had our article on carbon in Papua New Guinea forest carbon stock published
21/04/2017
A short article from Rainforest Trust who are supporting us to create the Tesoro Escondido Spider Monkey Reserve highlighting
empowerment of women through the parabiologist programme.
21/2/2017
BBC Radio 4 'Costing the Earth' talking about the Yasuni National Park
Some photographic memories of my time working with the Waorani in Yasuni National Park...
25/11/2016
Delighted that Rainforest Trust have supported establishment of the Tesoro Escondido Spider Monkey Reserve!!
20/06/16
Just returned from Ecuador and a visit to the developing Tesoro Escondido Spider Monkey Reserve. To date we have purchased 1100 hectares for forest and all is progressing well!
News from Papua New Guinea is that the new Wannag website is up and allows researchers and visitors to connect directly to them and organise stays...
http://baloun.entu.cas.cz/png/wanang/visitors/training
26/05/2016
Paper published in International Journal of Tropical Biology and Conservation highlighting role of spider monkeys as ecosystem engineers in maintaining Chocoan Rainforest tree diversity.
http://revistas.ucr.ac.cr/index.php/rbt/article/view/18415/24487
1/03/2016
Listen to the BBC's costing the earth to hear about the role of soundscape and ecoacoustics in assessing bioviversity
BBC Radio programme with Dr Alice Eldridge discussing the soundscape research carried out with Dr Mika Peck at Sussex on the BBC 'Costing the Earth Programme (Tuesday 1st March 15.30 – repeated Wednesday 2nd March 21.00)
http://www.bbc.co.uk/programmes/b071tgby
23/02/16
Piece on the Wanang Conservation Area on BBC inside Science (starts at 20 minutes 50 seconds)...
http://www.bbc.co.uk/programmes/b0707vvw
02/02/16
The website for the Tesoro Escondido Spider Monkey Reserve is now up. See how you can get involved at www.tesororeserve.org or on our facebook site Tesoro-Escondido-Spider-Monkey-Reserve
21/01/16
Following the Paris Climate talks I just wanted to add the work we have been doing in collaboration with Prof Carlos Larrea that is proposing a new way to address climate change - the Yasuni Global concept. We have a website with all the information behind this idea - in a world bereft of ways to deal with the multiple issues of climate change, biodiversity losss and sustainability this is a real solution.... but can selfish national interest be overridden?
Link to website: www.sussex.ac.uk/lifesci/pecklab/yasuniglobal/index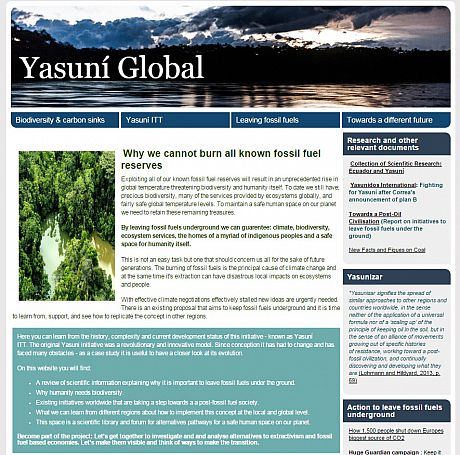 09/09
/15
Last week we had the privilege of hosting two of the parataxonomists from Papua New Guineas Binatang Centre as part of our Darwin Initiative project to develop an altitudinal transect in Papua. Salape and Joaquim spent a couple of days with me investigating methods to measure carbon in forest systems and some of the potential and problems with REDD++ projects in Papua New Guinea.
3/08/15
Returned from fieldwork in Ecuador where we are exploring the potential of 'soundscape' to assess biodiversity. The fieldwork took place in Tesoro Escondido where we are working on conserving the habitat of the critically endangered brown headed spider monkey. I addition to placing the soundscape recorders on the muddy, rainy forest I had the chance to meet up with the local community members who are part of the Conservation Chocolate Project. It was the first time I had met with all 12 signees of the agreement whereby we help provide training to improve processing of the Cacao they grow. The majority of the Cacao in Tesoro is of premium quality, and we are working to link them directly to buyers. This removes the intermediaries who take cuts from their profit. We also have an agreement with Bouga Cacao to transfer to organic certification for a few of the interested families. This ensures a good price and access to an expanding European market. The agreement they have with us is to no longer deforest their farm areas and to reforest if they have little forested area. This initiative aims to curd forest loss to the North of Tesoro Escondido and also build a network to help address issues such as land invasion.
I was also privileged to attend a 'cooperative workshop' run by Martin – the aim is to improve the ability of the Tesoro Escondido Cacao group
This year we have also sourced funds to allow an Ecuadorian Conservation Organisation to purchase forested areas from the local landowners interested in selling – to date we have over 200 hectares conserved.
I also managed to catch up with Diego, who runs Drones and GIS. They have been using drone technology to map the farms to ensure that all those in the agreement adhere to their conservation commitments – we are exploring the idea of forest conservation 'certification' by publishing the imagery online for potential purchasers and consumers of the conservation. Here is a short link of the latest flights undertaken with their new drone model aeroplane. This new drone maintains a constant height over terrain and has an automated flight path allowing it to traverse 5 km transects to build up imagery at high resolution – the final imagery is expected to be online by the end of the year and will allow us to monitor the success of the conservation chocolate project over the following years.
21/05/15
The Washu group in Ecuador have just reintroduced the first 7 critically endangered brown-headed spider monkeys to the Masphi Reserve. You can see more details in this article:
http://www.onegreenplanet.org/animalsandnature/rescued-endangered-spider-monkeys-take-steps-to-freedom/
14/05/15
Just returned from the Binatang research centre in Papua New Guinea and realised I have been absent from the blog for too long - and lots has been happening! In Papua New Guinea we have been working with the Wanag Clans to identify and develop income streams for 10,000 hectares of forest that would compete against logging. Surrounding communities have sold their forests to international logging companies and now see that the money has gone and they have a degraded landscape. The land no longer supports hunting and traditional activities. In contrast the Wanang clans have maintained their traditional forests however they also need aspects of 'development' such as access to education and health care. A number of alternative income streams are currently under investigation by Klant Alok (funded by teh Waterloo Foundation) and include the site as a centre for scientific research and income streams to local assistants, and through set charges to access the forests. Our scientific team, led by Graham Kina, has just finished fieldwork to investigate the carbon content of the forest. This was a phenomena undertaking involving over 2 months of fieldwork in a hundered square kilometers of forest, and reminiscent of the early expeditions to explore Papua in scale!
Richard Hazell undertook a bird survey as part of this expedition and is now recovering and analysing his data. We will review the data once analysed and determine whether it might be possible to include Wanang within the emerging ecosystems sytems markets using mechanisms such as REDD++. However there are currently major issues with these types of project that need resolution at both international, national governmental level and project level to ensure funds generated are distributed appropriately and with equity.
08/01/2015
Happy New Year to all and all the best for the new year!
In the short video below you can see the drone team flying a remote controlled plane over the Conservation Chocolate area to establish the baseline map. This map will be published online to monitor the success of the project by confirming whether individual Cacao farmers are adhereing to the wildlife/Landscape certification programme we are developing.
Short Video showing collection of high resolution imagery collected using the drone
This work applied the latest techniques to develop high resolution aerial imagery at low cost in regions where it is difficult to get satellite imagery due to high levels of cloud cover.
12/12/2014
The year ended with good news and the start of a major push to protect the remaining habitat of the critically endangered brown-headed spider monkey in NW Ecuador. We acquired 50 more hectares of forest at Tesoro Escondido in collaboration with Itapoa Reserve, the Washu Project, and Tropical Herping,
The aim is to expand the exisiting Itapoa Reserve and establish a permanent protected area for this 'top 25 most endangered primate'. We are currently talking with other landowners in the area willing to sell. In parallel we are supporting landowners who live in Tesoro by establishing a Conservation Chocolate Project. We are working with local Cacao growers to develop a quality organic product and linking them to direct trade organisations to gain a better price for their Cacao whilst conserving the spider monkey and its habitat. The aim is to help then gain more from their exisiting farmed areas without cutting more forest so they have signed agreements with our project to not deforest and to allow natural forest regeneration of forest on 10% of their lands if they have less than 40% forest at present.
We are using drone technology to map the farm forest areas to ensure that agreements are kept and this will form the basis of our wildlife certification open to the public to ensure that the product they buy is directly benefitiing this biodiversity hotspot.
21/08/2014
It has been an incredible Summer season working in the Santa Lucia Reserve and the Huorani Reserve (Ecuador) with Operation Wallacea and I will update more when I am finally back in September. There is some excellent news regarding the brown-headed spider monkey but will await to confirm...
Just a couple of interesting links following publication of our paper earlier this year on the illegal trade in night monkeys:
http://www.scidev.net/global/governance/news/colombian-monkey-research-lab.html
http://e360.yale.edu/feature/primate_rights_vs_research__battle_in_colombian_rainforest/2788/
21/05/2014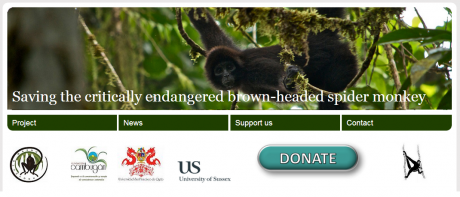 We have just launched our fundraising campaign to save the critically endangered brown-headed spider monkey - click on the image and browse the website!!
21/01/2014
See the video outlining the research and conservation work by US and the Washu project in NW Ecuador and the reintoduction project planned with Mashpi lodge
Click image below to see the collaboration with Mashpi lodge where we hope to reintroduce captive spider monkey to the forests - rewilding in practise
1st November 2013
Publication of the 'Toolkit for conservation of the critically endangered brown-headed spider monkey'. This publication by Pamela Ferro of Client Earth in collaboration with the University of Sussex analyses the feasibility of a range of conservation actions providing clear direction to bring a critically endangered primate (the brown-headed spider, Ateles fusicieps) back from the brink of extinction.
10th October 2013
In collaboration with Entropika in Colombia we are investigating rapid methods for identification of tropical forest trees using remote controlled drones to expand on our previous work in Ecuador (Peck M.R., et al 2012). The new Quadcopter, build by Dr John Murray from Lincoln University, is under test in Europe before work begins in Colombia in December. See http://www.entropika.org/en/projects.html#pattern
4th October 2013
Since 2005 we have been working on identifying priority conservation areas to protect one of the top 25 most endangered primate (the brown-headed spider monkey, Ateles fusciceps) in NW Ecuador. We have now identified one of the last strongholds of an estimated 150 individuals, however these last fragments are under threat from logging and agricultural encroachment. The document just published highlights the importance of this region from a number of biological perspectives and calls for urgent action to conserve both this species and its last remaining habitats. The document is in Spanish as its aim is to initiate national action in Ecuador - we will produce an English version in the near future. In January 2014 we will launch a site to fundraise to support effective grassroots action. The science is complete - we have clear action plans that can bring this species back from the brink of extinction and we now need both financial and logistical support to do this.
Call for action to conserve the Ecuadorian Chocoan Rainforest [PDF 1.98MB]
20th March 2013

>> Launch of the 'Stand Up for the Amazon Expedition' 2013
1st October 2012 - Amacayacu National Park
The Darwin Initiative has funded a scoping visit to develop a project in the triborder area of Colombia. This frontier area separates three countries, Colombia, Brazil and Peru. The Amacayacu National Park and three indigenous territories sit on the Amazon River about an hour by boat upriver from the border town of Leticia. I flew in to Leticia on the Friday and met Angela Maldonado of the NGO Entropika, an overnight in this quirky Amazonian border town populated by scooter riding Tikuanas and first thing Saturday we catch a boat from the banks of the Amazon River. After a wet season that saw the river rise higher than recent records we are in a dry spell that has seen its level drop dramatically. An hour and a bit on and we arrive at the first Tikuanan community that Entropika has been working with and is interested in engaging with a Darwin project. Our objective is to meet with the Indian Tikuana community to describe the Darwin Initiative and carry out a participatory workshop to identify what the community itself actually wants for its future – then look for ways to get there that includes how the community can do it themselves without external help and where external expertise can make a difference. The first day, led by Angela and Adriana – with me as the stand up gringo comic act - flows like a textbook case of participatory engagement with a list of problems/solutions identified and groups to work on project ideas established.
BIONET Amazon
Photographs from the Darwin Initiative Scoping visit to Colombia
The key to get community meeting to happen seems to be the after-meet communal Colombian cook-up (Sangoche) and we all share the pot of chicken and rice between us.
At 5pm we head upriver to the Amacayacu national Park with Daniel, a park ranger and member of Entropika. The flood season this year saw the river rise higher that most years past and resulted in the Amacayacu Park infrastructure (already on stilts) being flooded and the ecotourism operation shut down. This has had devastating consequences on the neighbouring communities that depended on the flow of tourists to support a range of sustainable livelihoods. The insurance claim has taken months and at present the ecotourism business has been shut down – all the infrasturucture needs rebuilding but we are staying at the ranger station at an interesting time with a small group of researchers. The place has a 'survivors' feel to it and a great spirit.
Early the following morning we get up and take a parks boat up a nearby tributrary for about 45 minutes to th community of San Miguel. This community has maintained its Tikuana roots – many speak Tikuana and the workshop gets interpreted to this language. Again the workshop identified problems and solutions that we hope to weave into the Darwin application in 2013.
My overriding emotion is the immensity of this beautiful river, incredible level of acceptance from the communities and the dedication of the Colombian conservationists and researchers. The issues raised by the communities are those that face many poor rural communities – lack of potable water, sanitation, employment. It has been interesting to note that they also identify a lack of community organisation as a major part of their difficulties in changing things. Tourism via the Amacayacu National Park is expected to restart in the new year bringing fresh hope but a new system is needed to better integrate communities with the flow of tourists.
16th July 2012 (University of Sussex) - Good news (after recovering from a broken neck!) is that we have received funding from the Darwin Initiative for 2 projects. A scoping award to develop the 'BIONET - Amazon' project in collaboration with Amacayacu National Park and Fundación Entropika in the Colombian Amazon and full project funding (with Dr Alan Stewart as lead PI) to work on the Darwin Initiative 'Building biodiversity research capacity to protect PNG rainforest from logging' project that started in April.
I will work on establishing a training programme for community level monitoring of carbon using emerging smartphone technology with the aim of developing a revenue stream from avoided deforestation (REDD+) to compete with income from logging (http://darwin.defra.gov.uk/project/19008/) for the Wanang Conservation Area http://www.entu.cas.cz/png/wanang/homepage.
17th May 2012 (University of Sussex UK) - Work on the laboratory at the Santa Lucia Reserve is progressing well with a new blog site now set up that highlights the research at the reserve (You can see it at http://santaluciascience.blogspot.co.uk/).
We presented further information on the impacts of internal wildlife trafficking in Ecuador using information from rescue centres at the Primate Society of Great Britain conference. Helen smith presented the poster (download by clicking below) at this years annual conference.
Risks to squirrel monkeys [PDF 777.82KB]
22nd February 2012 (University of Sussex, UK) - Paola Moscoso (funded by the RGS International Capacity Building Grant) has just finished a year of work in the lowland forests of NW Ecuador where we have identified one of the last remaining healthy populations of the brown-headed spider monkey (Ateles fusciceps). She has been working to identify future conservaton options and gain a better understanding of issues such as land ownership. She has also trained local community members as 'parabiologists' to monitor the population of spider monkeys. We now begin the phase of implementing conservation activity based on this report - with the aim of working with the local community to conserve habitat and the species.

You can download the report here Conservation strategy for the critically endangered spider monkey at Tesoro Escondido (NW Ecuador) [PDF 4.13MB]
Paola has also published the first Primate Observation Guide for Ecuador - highlighting Tesoro Escondido as the best site for seeing the critically endangered brown-headed spider monkey. We are now working with the local community and local NGO's to build the first visitor center allowing ecotorists and primatologists to visit the area, and hopfully ensure long-term conservation of teh habitat and species. You can download a copy of the Guide here: Primate Observation Guide of Ecuador [PDF 11.01MB]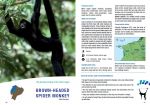 13th July 2011 (Quito Ecuador) - Just a quick update from the field. Since we started the PRMENET project in 2005 with Darwin Initiative funding research has been ongoing with a number of small grants (RGS, Holly Hill Trust) maintaining the network. We now have a great and dedicated team and have identified the priority region - and populations of the critically endangered spider monkey (Ateles fusciceps). This year the aim is to raise funds to establish a research centre in the Ecuadorian lowlands, in Esmeraldas, close to the last few remaining populations of this monkey to conserve the last remaining areas of pristine forest and carry out further research on teh species and on conservation mechanisms - you can see some background on our work on http://www.ukfuturetv.com/natureenvironment/index.htm. More information and photos to follow from the field..............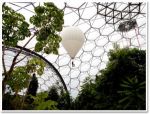 10th May 2011, Eden project - For the TREETRACK project, that involves working with Dr Stephen Pearce to develop an innovative generic fingerprinting tool to identfy illegally logged timber, we have a collaboration with the Eden project in Cornwall who have leaves and wood from a range of tropical hardwood species. I visited to collect the samples and had the chance to use the personal helium balloon to collect samples from the canopy!
You can see a bit more at http://www.edenproject.com/blog/index.php/2011/05/rainforest-biome-suppors-struggle-against-illegal-logging/ & a bit on the Telegraph blog http://www.telegraph.co.uk/sponsored/gardening/eden-project/8542665/Rainforest-Biome-Eden-Project-against-illegal-logging.html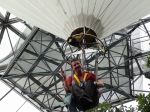 27th April 2011, Sussex University - Helen Smith from the University of Oxford-Brookes MSc in Primate Conservation worked with me in 2010 visiting rescue centres in Ecuador to compile information on species entering these centres and their survival rate, the results from these animal 'refugee centres' make sobering reading and you can download the summary poster presented at the Primate Society of Great Britain Conference this week by clicking here -> Rescue centre trends information [PDF 458.65KB]
18 April 2011, Sussex University - this is when planning for the 2011 field season at the Santa Lucia Reserve begins. In two months we run an intensive research project in the cloud forests of NW Ecuador with number of teams made up of a team of scientists and members of the general public.
This year we will be focusing our wildlife surveys in the canopies of the trees some 30m above our heads. We also will be setting up a carbon dynamic plot to provide information about how the cloud forest is reacting to global change and contribute to the global network of forest plots run through RAINFOR. Full details of the project can be found on the website http://www.earthwatch.org/exped/peck.html
Citlalli Morelos will begin her PhD fieldwork to determine the impacts of hunting on primates in NW Ecuador by trialling a number of systems to determine hunting behaviour and decision-making both in the mountains and lowland forests where she will be working with Paola Moscoso, already an expert on the critically endangered brown-headed spider monkey. I will keep you updated on how things progress and drop notes in, with photos, from the field (actually forest!).