How to become a social worker
Find out how to become a social worker in the UK, including how long it takes to qualify.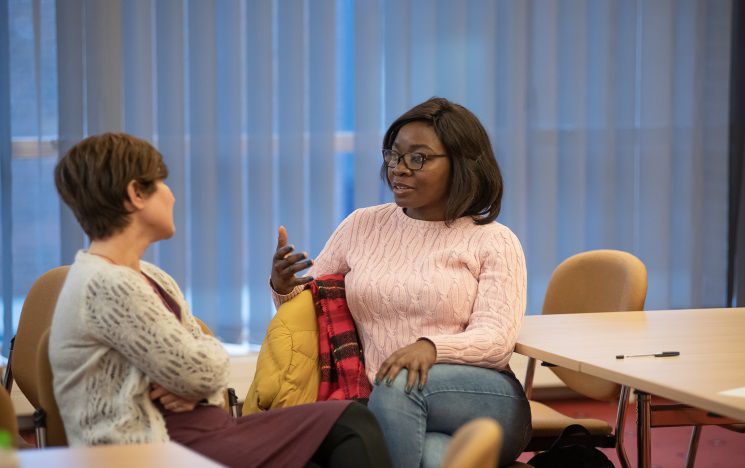 Information correct as of January 2020. Before deciding whether to pursue a career you're advised to contact your careers service for the most up-to-date guidance.
How to get into social work
Social workers provide guidance and support to people when they are experiencing a difficult period in their life. They also ensure that vulnerable people are safeguarded from harm.
Social workers can work in areas including:
hospitals (working with patients)
local authorities (working with children and families, the homeless, people with mental health diagnoses, people with substance misuse issues and people experiencing domestic abuse)
prisons (working with adults and young offenders)
residential care (working with people with learning difficulties, the elderly, or those with physical disabilities).
Already a Sussex student? See our social work sector guide.
Qualifications required
You will need an undergraduate or postgraduate degree in social work.
When you have completed your social work degree you may be able to apply for registration with Social Work England, the professional regulator for social workers in England. If your application is successful you'll become a registered social work practitioner. Throughout your career, you'll need to attend regular training to keep up-to-date with social work developments and practices.
How to get a degree in social work
To be eligible for a degree in social work, you must have GCSEs (or equivalent) in Mathematics and English, both with at least grade 4 (or grade C). You should also have a broad range of GCSEs 9-4 (A-C), including good grades in relevant subjects. You may also need three A-levels or equivalent qualifications).
You will also need to complete an Enhanced Disclosure and Barring Service (DBS) check and have a health check as part of the application process.
Find out how to apply for a Social Work course at Sussex.
Part of the application process consists of an interview. Read up on how to prepare for a Social Work interview.
Skills required
To be a social worker you will need a number of core skills. These include:
communication (especially listening skills)
empathy
problem solving and decision making
advocacy
an ability to write accurate and factual assessment reports
critical reflection and analysis
time management and organisational skills
an ability to work under pressure in challenging environments.
The careers website Prospects has some good advice about becoming a social worker.
Earning potential of a social worker
£24kstarting salary (but this depends on your employer)

£40kaverage salary (for an experienced social worker, depending on your employer)

37hours a week (but hours are variable with some evening and weekend work)

3 years is how long it takes to become a social worker, although this does vary and depends on whether you decide to study a postgraduate degree or need to take on further training with your employer
Starting salary and average salary taken from
National Careers Service
.
How to get experience in social work
Relevant work experience (voluntary or paid) is always an advantage when applying onto a postgraduate social work course. It may also be beneficial to get work experience even if you're applying for an undergraduate course.
You may be able to look for paid or voluntary work experience positions in hospitals, youth clubs or other charitable organisations. Try looking for positions on Do-it or Volunteering Matters.
Specialist roles in social work
You can see some of the popular social work roles below.
How to become a child or family social worker

Child or family social workers help to support families or children when they are going through difficult times. For example, if a child is placed in foster care.

They also put measures in place to safeguard children who are at risk of harm.

See the qualifications needed to qualify as a social worker. When you are qualified as a social worker, you can apply for jobs in various areas including children's services.

When you have this experience, you may be able to choose to continue your training and specialise in a particular area of child or family social work, such as adoption, fostering or child protection work.

For more information see this blog post from socialcare.co.uk

How to become a clinical or adult social worker

Clinical social workers primarily work for NHS trusts in hospitals. They support hospital patients by working on safe discharge plans, helping families when a loved one is in hospital, carrying out mental capacity assessments and working closely with medical staff to advocate for the patient's best interests.

Social workers working in adults' services can work with people experiencing or at risk of homelessness, social isolation, substance use issues, mental distress, physical and learning disabilities as well as older people and adults with support needs (carers).

See the qualifications needed to qualify as a social worker. When you are qualified as a social worker, you may be able to apply for jobs in various areas including health.

Find out more about clinical support worker roles from the NHS.
Studying at Sussex
If you choose to study your degree at Sussex, you'll benefit from:
careers support for up to three years after you graduate
the chance to join our alumni network Sussex Connect
mentoring schemes so you get real-world advice, support and experience while you study.