How to prepare for a Social Work university interview
Whether you've been invited to a social work interview and you're not sure what to expect, or you're looking for advice to prepare – we've got a handy guide to help you stand out on the big day.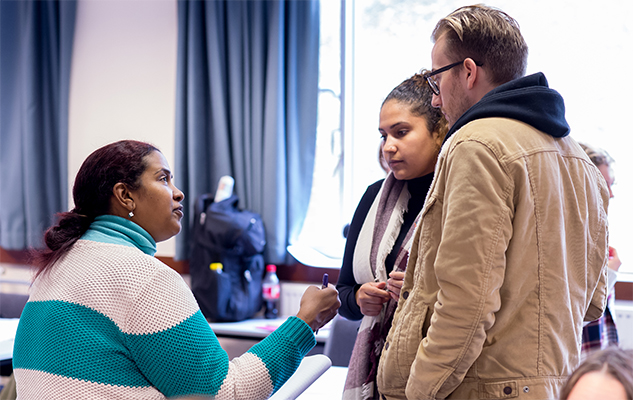 The interview
If you successfully pass stage 1 of the application process for the Social Work BA at Sussex, you're invited to visit us for a selection day.
A key part of the selection day is your social work interview, where you will be asked a series of questions about why you want to study your university degree.
If this is the first interview you've had you may feel nervous and unsure about how to prepare. Feeling unsure is completely natural, but doing a little research and forward planning beforehand will give you the best chance at success.
The aim of the interview is for us to get to know you, and to understand why you're interested in Social Work at Sussex.
It might help to remember that the interviewers will have been in the same situation themselves, and they know how it feels. They will be looking for your potential, they will want you to do well, and they won't be trying to catch you out.
They might want to understand:
what it is about social work that attracts you
where you might want this course to take you
what characteristics or experience you might have which could be valuable to you on this course.
Important update: Monday 16 March
Given the current situation regarding Coronavirus (Covid-19), applicant interviews for the Social Work BA at Sussex are currently taking place online until further notice.
Please email sw.admissions@sussex.ac.uk if you have any questions on this.
---
How to prepare
Before your interview, it might be a good idea to think about the kind of social work questions you might be asked and plan some answers.
You could consider:
past experience, such as volunteering or working with young people, and what you learned from these experiences. Don't feel discouraged if your experience is limited, instead focus on what you learned or took away from these experiences
why you want to study social work, such as reasons why you have a genuine interest in social work and why you want to be a social worker (don't worry if you haven't decided if you want to do this as a career yet). You are not necessarily expected to have specific knowledge on particular areas, but should be able to show a general knowledge and interest in the subject and demonstrate some awareness in this field
reading information from different sources so you can build up an idea of the 'big picture' of social work and draw on this knowledge in your interview. You could check out the British Association of Social Workers website. You could take a look a look at online professional journals such as Community Care, or read articles about social care that interest you in the press: The Guardian Social Care Network is a useful resource
talking to people who already work in this area. As well as social workers, health-care professionals and teachers may have valuable insights into the field of social care. Think about the questions you want to ask a social worker about their job, for example you could ask about roles, tasks and challenges in this field.
---
Social work interview tips
The more that you familiarise yourself with the interview process, the more comfortable you will feel on the day.
It's also important to look back over your application documents before the interview and reflect on what you have already told us. The interview panel might ask you about your personal statement, so you should be prepared to expand on what you have already said.
When answering questions, try to think of real-life examples that back-up what you are saying:
Example:
Don't: 'I am empathetic.'
Do: 'An example of a time I feel I demonstrated empathy was when I...'
Why not ask a friend or family member to practice your interview with you? Getting used to the interview process will help you feel more comfortable when you join us for your selection day.
If your mind goes blank or the question doesn't seem clear, it's fine to ask us to repeat or clarify it.
---
You might also be interested in: