Godfrey's story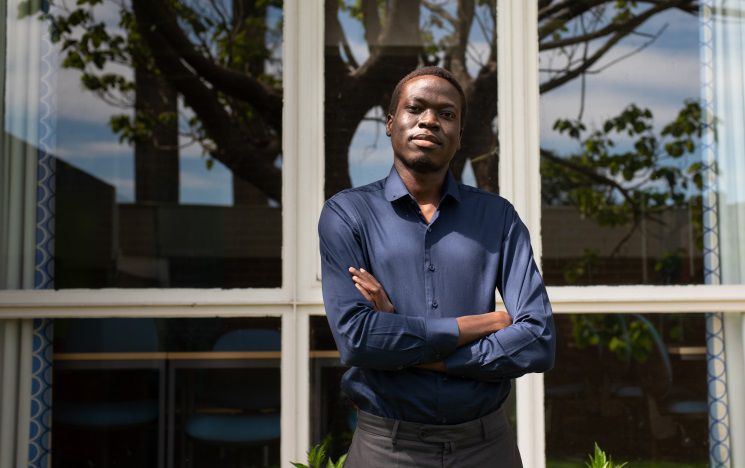 Sussex has provided me with the melting pot – now it's up to me to do the melting!"

GODFREY FULI


International Human Rights Law LLM
'I decided to do the LLM because I was managing the human rights clinic department in our law firm in South Sudan and had reached a point in my career where it felt necessary to gain in-depth knowledge about my chosen field. My rationale was to gain more expertise on how to critically challenge the unfortunate human rights situations in my country.
I researched the UK's top research-led universities in the field and Sussex was among the universities recommended. Although I received several offers from other reputed universities, something about Sussex just felt right. The University remained constantly in contact with me and helped me throughout, which made me feel included.
The teaching at Sussex exceeded all my expectations. The lecturers are mostly practitioners in their respective field which simplified their teaching style and, as a practitioner myself, this made it much easier to understand.
The Human Rights Law Clinic option also made my decision to study here worthwhile. Working at the Clinic pushed me beyond my limits, which contributed significantly to my overall academic growth, research skills and teamwork.
It helped me develop a critical mind to view issues from different perspectives, made me feel empowered and also increased my confidence in taking on my next career challenges.
The University adopts an open-minded approach where your story matters wherever you are coming from, and I found that people genuinely listened affectionately. In this way, the University was similar to Brighton itself, as the city has this communal sense and a tolerance towards others. Being different is embraced and celebrated!
I feel enthused now to take on my next challenges career-wise and, as an individual, I'm equipped with all the necessary tools to challenge the status quo back home. Sussex has provided me with the melting pot – now it's up to me to do the melting!'
You might also be interested in: