About us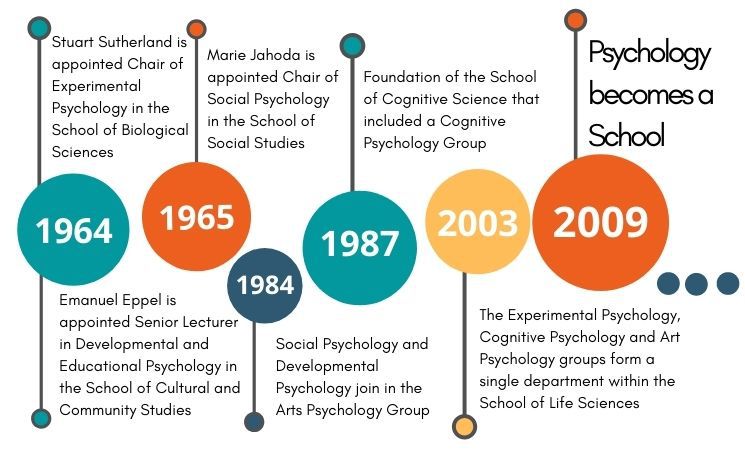 Timeline

1964 - Stuart Sutherland is appointed Chair of Experimental Psychology in the School of Biological Sciences

- Emanuel Epel is appointed Senior Lecturer in Developmental and Educational Psychology in the School of Cultural and Community Studies

1965 - Marie Jahoda is appointed Chair of Social Psychology in the School of Social Studies

1984 - Social Psychology and Developmental Psychology join in the Arts Psychology Group

1987 - Foundation of the School of Cognitive Science that included a group of Cognitive Psychology

2003 - The Experimental Psychology, Cognitive Psychology and Arts Psychology groups form a single department within the School of Life Sciences

2009 - Psychology becomes a School
Sussex Psychology has a rich history extending over 50 years, marked from the start by our variety of research and courses. From the groundbreaking work of scholars such as Stuart Sutherland and Marie Jahoda, we've grown to cover all areas of psychology.
The School was formally established in 2009, bringing together academics across biological, cognitive, developmental, clinical and social psychology. We've now entered the second decade of our existence as one of the largest and most influential academic communities for psychology in the country.
Anchored by our core values of kindness, integrity, inclusion, collaboration and courage, our research and teaching address societal challenges to create a better world.
Our research staff are involved in exciting projects in all areas of psychology that have a real impact on policy and practice. In REF2014, we ranked among the top 10 schools of psychology in the UK, and 91% of our research was considered world-leading or internationally excellent.
We prepare our students to become citizens of the world. We teach them to use cutting-edge research tools and software. And we help them hone their communication and numeracy skills. This way, we prepare them for a variety of future career options and we enable them to be critical thinkers and informed, engaged citizens.
We're ranked in the top 20 in the following league tables:
Complete University Guide 2021 - we're 16th in the UK, 10th for Research Quality, and 6th for Career Prospects
Times and Sunday Times Good University Guide 2021 - we're joint 20th for Research Quality and 19th for Graduate Prospects
Contact us
School of Psychology
Pevensey 1 Building, University of Sussex, Falmer, BN1 9QH
+44 (0)1273 876638
---
You might also be interested in: