News
A great start to the Early Career Researcher Symposium with Keynotes and a Careers Roundtable
By: Shin-Yu Tseng
Last updated: Monday, 7 August 2023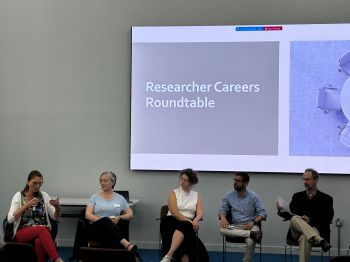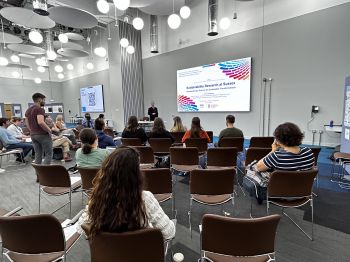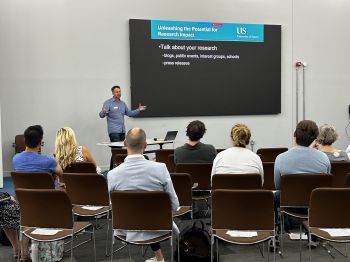 As part of the Summer of Research held across campus, the Research Staff Office hosted the inaugural Early Career Researcher (ECR) Symposium on 6 July, bringing together early career researchers and research staff at Sussex to celebrate their successes.
The Symposium started with two keynotes from Dr John Thompson, deputy director of the Sussex Sustainability Research Programme (SSRP), and Professor Chris Bird, co-director of Sussex Neuroscience.
Their talks explored how the work in these Centre of Excellence can empower ECRs, and introduced the potential for research impact and diverse career pathway opportunities.
We learned about inspiring and collaborative SSRP projects such as CLARITY, looking at ways to co-create and share novel approaches to climate adaptation in different locations, as well as hearing Early Career Research stories within SSRP-funded projects. If you are interested in finding out more, visit the SSRP early career stories webpage.
SSRP is relaunching their annual small grants fund for interdisciplinary projects to help Sussex researchers tackle global and local sustainability challenges. Projects up to £20k will be funded and SSRP particularly welcomes applications from researchers across the University who have not previously led or engaged in earlier SSRP funding rounds. Further information regarding the scope, eligibility, key dates and criteria can be viewed on SSRP's funding webpage.
Chris Bird shared insightful career pathway suggestions and offered advice to researchers whatever stage they're at, as follows:
Talk about your research. There are various channels that allow you to share your research such as blogs, public events, interest groups, schools and press releases. Explaining your research to different audiences gives you a chance to hone your communication skills.
Take on non-research roles such as organising seminars. Instead of focusing on research-only projects, take opportunities to gain experience that is not limited to academia.
Not all research is about IMPACT. We understand many funding opportunities expect to see research impact. However, this may not apply to every field to the same degree. Don't let it discourage your research development.
The keynotes were recorded and will be on the Symposium webpage soon, do keep an eye out if you missed the opportunity to join us on the day.

We welcomed a group of industry professionals and expert academics in our Researcher Careers Roundtable:
In a lively discussion with the audience they shared insights into their very different career journeys, and the diverse ways they have got to where they are now.
Highlighted advice to researchers :
Develop and highlight transferable skills. Take time to consider which skills you currently possess that can be transferred to a new employer. Your research role allows plenty of opportunities to develop things like communication and organisational skills so ensure you highlight them in applications and interviews. These skills will be useful whether you stay in or move beyond academia.
Connect to other researchers and be proactive. Being an early researcher, networking with other postdocs at Sussex will help you increase your research visibility and profile. It may lead to potential interdisciplinary collaboration opportunities.
Stay as close as possible to your passion and be positive. The job market is always challenging and sometimes you don't end up where you expected. Learn to accept the flow and find connection with research.
Roles beyond academia aren't second class. There are various career pathways for researchers - while you may not stay in academia for the next step, you might find it surprising that your area of knowledge is a great skillset in a different role. You may even prefer it! Take advantage of any opportunities for work experience. The experience you gain in a 'non-research' role is part of your learning journey and will shape who you are.
More on the ECR Symposium:
Research Image competition and Seed Fund awardees showcasing ECR Research
Early career researchers win funding at Sussex's first Dragons' Den