News
Transforming our region through a South Coast sustainability research system
Posted on behalf of: Chris Sandom; Sussex Sustainability Research Programme
Last updated: Monday, 5 June 2023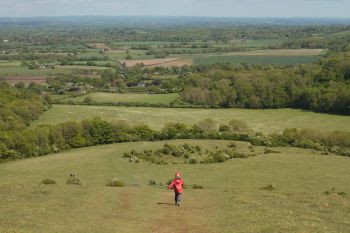 The needs of people and nature are diverse and transforming land use systems will play an important role in meeting these needs sustainably. But this leaves the question of how this transition will actually happen?
A new collaborative research project, funded by the Sussex Sustainability Research Programme (SSRP) has been launched by an interdisciplinary group of SSRP academics from across the University of Sussex and Brighton in collaboration with the Brighton & Hove Food Partnership and the Wiston Estate. It explores whether we can establish an interconnected system of living labs with the aim to support the transition to sustainable land-use across the South Coast region. The purpose of this research system would be to envision a sustainable future, map potential pathways to achieving it, conduct the research, and deliver the education and knowledge exchange needed to help develop effective and sustainable land use policy and practice.
In this short initial project, the research team are seeking to 1) conduct a broad scale 'situation analysis' of land use and related research in the South Coast region, and 2) to plan the development of a trans-disciplinary research system to catalyse the development of sustainable land use systems in the region. The team are tackling this by collating regional land use data and research findings, meeting with relevant academics and stakeholders, and running two workshops.
Adam Skirkowski, Sussex ecology graduate and Research Assistant, reflects on his time working on this project: "It's been great meeting a diversity of people all eager to contribute and make the South Coast sustainable! Being part of this project has allowed me to explore my interests in the agriculture-conservation intersection and sustainable livelihoods. Working with Dr Sandom and the other project investigators has been eye-opening to how ambitious and determined they are to make maximum positive impact. I look forward to bringing this initiative along and collaborate with local people to regenerate our landscape and tackle the range of unique sustainability challenges present on our doorstep."
The project leads have been reaching out to academics across the southern counties to come together and co-design future research and sustainability action which is vital for tackling local sustainability challenges. So far, many have registered their support and the list keeps growing! Soon, the project will be reaching out to the wider community of sustainability stakeholders to garner support and make changes in the field through inclusive transitional processes.
If you are interested in joining this ambitious project and helping to coordinate wider regional action to transition to sustainability, please don't hesitate to contact Chris Sandom (c.sandom@sussex.ac.uk) and Adam Skirkowski (adamskirkowski@gmail.com) to register your interest.
Further information: https://www.sussex.ac.uk/research/centres/sussex-sustainability-research-programme/research/sustainable-land-use-systems