News
Sussex joins consortium to create innovative Centre for Doctoral Training and help transform UK Food Systems
By: Stephanie Allen
Last updated: Tuesday, 19 January 2021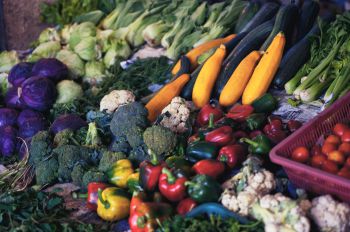 The University of Sussex has joined a consortium of seven UK universities and research institutes to help create future leaders in sustainable food systems, reshaping how we make, transport and consume our food.
Food systems are complex networks of people and activities that are responsible for ensuring that we all have safe, healthy, sustainable and affordable food every day.
Led by the Natural Resources Institute of the University of Greenwich and funded by UK Research and Innovation (UKRI), the consortium will develop a Centre for Doctoral Training (CDT), focused on developing the next generation of interdisciplinary food systems thinkers.
Supported through the Strategic Priorities Fund (SPF) of UKRI, the £5 million programme focuses on the urgent need to transform the UK food system for health and sustainability, recognising the importance of food systems to economic growth and social wellbeing.
Fiona Marshall, Professor of Environment & Development, Business School and Sussex Sustainability Research Programme (SSRP), led the bid for the University of Sussex. She said: "We are delighted to be part of this exciting initiative and to welcome the first cohort of students next year.
"This is a truly interdisciplinary endeavour which focusses on critical challenges facing UK food systems and plays to Sussex's strengths in problem-focussed research with impact. The food system academy provides a fantastic opportunity to extend our research and impact partnerships, and to collectively understand and nurture transformations to sustainable food systems.''
The 'Partnership for Sustainable Food Future – Centre for Doctoral Training (PSFF)' includes the Natural Resources Institute of the University of Greenwich, the University of Sussex, University College London, Royal Veterinary College, Institute of Biological, Environmental & Rural Sciences at Aberystwyth University, Centre for Food Policy at City University and Brunel University London; two leading Agricultural Research Institutes, NIAB EMR and Rothamsted Research, plus over 50 partners from business, government and civil society.
Professor Andrew Westby, Director of NRI and leader of the PSFF consortium, said: "We are very happy to be working with influential partners in research and training, together with food systems stakeholders from all sectors, to develop the next generation of food systems leaders in the UK.
"As a partnership, we are also excited to look beyond this CDT, to have the opportunity to help shape a truly resilient, healthy and inclusive food system in the UK, working closely with government and the private and charitable sectors to make this a reality."
Professor Melanie Welham, the Biotechnology and Biological Sciences Research Council (BBSRC)'s Executive Chair and Executive Sponsor for the UKRI Strategic Priorities Fund (SPF) Transforming UK Food Systems Programme, said: "Our food systems are complex and interrelated, with inevitable trade-offs between costs and benefits, and competing priorities.
"As the UK changes demographically, technologically and socially, and in the context of grave threats from climate change and pollution, we must train a new generation of leaders and innovators who can bring new ideas, provide evidence, and safeguard values to bring about healthy people, a healthy environment, a healthy economy, healthy animals and a healthy society."
The PSFF will train a total of 62 researchers to become future food systems leaders and innovators. At the heart of PSFF's challenge-led approach is an open Food Systems Academy, a dynamic learning network which brings together doctoral researchers, their supervisors, and government, business and civil society organisations to co-design doctoral projects and to co-create and disseminate new knowledge with lasting impact.
At Sussex, the initiative will be coordinated through the Sussex Sustainability Research Programme (SSRP) by Fiona Hurd and will have SSRP champions in Global Studies (Dr Pedram Rowhani), Life Sciences (Prof Jörn Scharlemann) and the University of Sussex Business School (Prof Fiona Marshall).
The 50-strong network of partner organisations also includes the Brighton & Hove Food Partnership and the South Downs National Park.
The first cohort of PSFF doctoral studentships will begin in October 2021; the call for applications will be announced soon.
For more information on the UK Food Systems CDT: https://foodsystems-cdt.ac.uk/doctoral-programme
If you are a Sussex academic and want more information on the CDT check the following site for regular updates https://www.sussex.ac.uk/ssrp/resources/ukfs-cdt